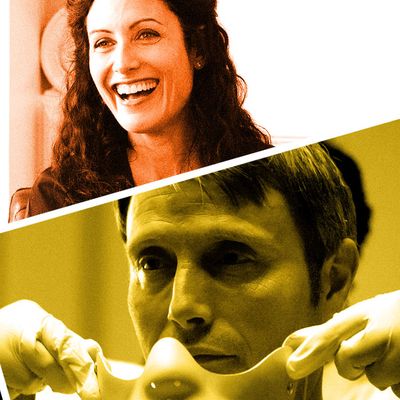 Photo: Showtime, NBC, Bravo
Welcome back to Stay Tuned, Vulture's TV advice column. Each Wednesday, Margaret Lyons answers your questions about your various TV triumphs and woes. Need help? Have a theory? Want a recommendation? Submit a question! You can email staytuned@nymag.com, leave a comment, or tweet @margeincharge with the hashtag #staytuned.
So … what am I gonna watch with the fam over Christmas? — T
I know, right? Here's the most important thing: Do not attempt to watch fancy, gripping television in a family-group setting over a holiday. There's a time and place for that, and it is not when some people will be tending to food prep, some people perhaps tending to child care, some people shushing one another, some people dozing, and some people asking "who's he again? Is that Mustache Good or Mustache Bad?" Here be dragons.
Watch those shows you've been saving on your own time, that way no one gets mad at anyone for being too invested in or for not being invested enough in those final few episodes of Mad Men. Group viewing — particularly if it's a group that does not watch TV together on a day-to-day basis — over holidays needs to prioritize pleasure and ease over prestige and intensity. And anything that gives an us-vs.-them feeling, where the "us" is "people in this room" and the "them" is "people on the TV," creates an additional bond. Don't worry: All the shows I'm recommending are available on Netflix, Hulu, OnDemand, or some combination therein.
As always, my No. 1 "what are we all going to watch?" recommendation is any ESPN 30 for 30 documentary, many of which are on Netflix. Let the complainiest person pick the sport, and then let the person least knowledgeable about that sport pick the specific documentary. Enjoy the transporting power of athleticism, friends.
Next up, any skill-based reality contest show is your friend, though the kinder-hearted, the better. The Great British Baking Show is a precious treasure from across the sea, and helps inspire a spirit of excellence in all of us. Someone will invariably quote the show at mealtime — "pih-fekt sponge" maybe? — and everyone will dutifully show his or her appreciation for gentle reference humor. Warning: The Great Holiday Baking Show is awful, and it is not a reasonable substitute even though it seems more thematically appropriate. Avoid. Next Food Network Star is also a good bet because almost all the contestants are pretty terrible, but the show is weirdly nice to them. It's also a good way to have everyone pretend to be a host of his or her own Food Network show whenever they swing through the kitchen. Project Runway's a safe bet, especially because basically everyone (except me) has stopped watching it at this point, so it'll be both familiar and new to the whole crowd. If you're looking for deep cuts, Project Runway Junior is surprisingly good. Hulu has Penn & Teller: Fool Us, which is weirdly okay.
What do you usually marathon? If you're tired of watching edited Sex and the City marathons on Oxygen, you and yours might like Girlfriends' Guide to Divorce. It's not good, but you will be very surprised how quickly eight episodes fly by. Have you seen your way through so many SVUs that you've maxed out on Ice T's incredulity? Try Madam Secretary, which has a more procedural feel than people expect. (Bonus: If anyone in the fam is considering getting new glasses, this show has some good eyeglasses on it.) Elementary's pretty solid if you just need crime-solving or if someone in your group claims to miss Monk.
Do you usually watch Friends or How I Met Your Mother marathons? Go for Brooklyn 99, which I think people skip over for some reason. It's very charming. If you're usually watching whatever's on the History Channel, or some kind of obscure Discovery Channel sister network that only airs shows about how ships were built during World War I (a.k.a. Dad Channel), try Drunk History. On the more serious side, This Is Life With Lisa Ling is one of the better newsmagazine shows in a long time.
Again, resist the urge to use this time to catch up on big, important shows. Save that for the flight.
Is there any show you love SOOOO much you cannot watch it again? Of all my favorites, Weeds is No. 1. Mad Men, House, and some others have been always included in my annual rewatch, but for Weeds, I just can't. Every time I try to push the button, I feel like, No, wait, today is not THE PERFECT day; maybe later. It's like I'm waiting for a time, maybe with a beach cabin, a warm summer afternoon, and nothing to worry about. Do I sound crazy? — Shane
Is it crazy to want a beach house? No, that's is the best damn idea I've ever heard. Who doesn't want to go to a beachy cabin and watch their favorite shows? If you didn't want that before, I can only assume reading this has cause that wish to take root in your heart.
I'll tell you what, though: Life is not the marshmallow test. Postponing joy sometimes seems like the responsible thing, but that's because we live in a puritanical society. More joy is good. You like Weeds? Watch Weeds again. It will still be good when you get to the beach, and in the meantime you've had the fun of rewatching your favorite show. Waiting for the perfect times for things means you'll spend a lot of your time waiting when you could have spent it being happy. P.S. If you like Weeds, try Orange Is the New Black.
Hannibal is on some critics' best-of-2015 year-end list. I want to watch the show, but I'm conflicted because I have never seen Silence of the Lambs. Is it worth it to watch the movie before I start the TV show? These days I'm more used to dedicating a half hour or hour to a show, so I need to plan ahead to watch a feature film. Plus I'm generally spoiler-averse, so I don't like to just read what happens. Same question for the shows Bates Motel and Being Mary Jane. — Kelly R.
Wait, Being Mary Jane? You should totally watch BMJ, but … I wouldn't loop it in with the other two whatsoever. The "movie" for Being Mary Jane is basically a testing-the-waters backdoor pilot; definitely watch that because it is part of the show. As for Hannibal, no, you do not need to watch Silence of the Lambs at all. The show is so tonally distinct, and the story is almost completely separate — there might be an Easter egg here and there, but nothing worth obsessing over. Same for Bates Motel, except you should see Psycho anyway. That's an essential part of the pop canon! You need to see Psycho, Kelly.