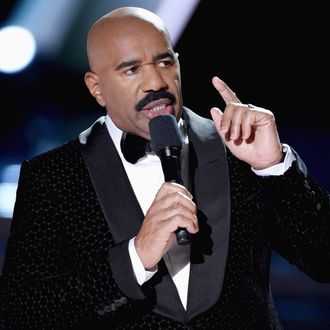 Photo: Ethan Miller/Getty Images
After Sunday's Miss Universe fiasco — which, let's face it, was probably the best pageant-related event ever, Miss United States notwithstanding — you'd probably think the organization would be quick to sever its ties as painlessly as possible with its disgraced host Steve Harvey. Alas, not really. According to Miss Universe producer Mark Shapiro, all is forgiven, and he even wants Harvey to reprise his hosting duties again in the future.
"I definitely want him back, and I would hate to see him not come back," he said on The Jim Rome Show. "He's going to want a shot to redeem himself." Harvey, who publicly apologized several times for his "honest mistake," misread the winner of the international beauty pageant as Miss Colombia, Ariadna Gutierrez, when it should've been Miss Philippines, Pia Wurtzbach. "Look, the world forgives, the world forgets. It could happen to the best of us," Shapiro continued. "He was so well intended, and he's such a good guy, and it was really such a mistake that I hope people don't hold this over him other than for just a good laugh and let it pass." Harvey has reportedly already signed a multiyear hosting deal with Miss Universe, even before his big snafu.
Let's all chip in to get Harvey some bigger cue cards, then.