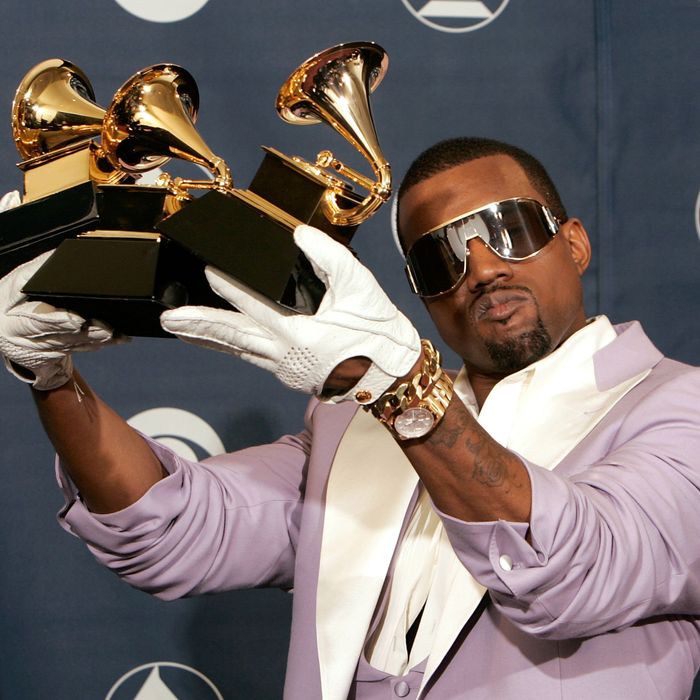 Photo: Kevin Winter/Getty Images
Everyone loves to complain about the Grammys. They're overproduced. They're too white. (Kanye.) White artists get nominated for traditionally black categories. Black artists get shoehorned into categories like "Urban Contemporary." They're predictable. They're backwards. They're egregiously out of touch. They're sexist. They don't reflect the music world as musicians and music fans know it. (Kanye.) But no one seems to spend much time thinking about how to fix them, either because we don't care enough about the Grammys to want to fix them, or because we don't think we have to the power to do so. The latter is where we'd be wrong. Like the Oscars, the Grammys are a peer-recognized sport, but unlike the Oscars, qualifying for the title of "peer" doesn't reduce the pool to mostly straight white men, and if the organization spent more time emphasizing that fun fact instead of focusing on its overhyped annual television show, music fans — and particularly those in the industry who love to rag on the Grammys — might start taking them more seriously.
The 2016 Grammy nominations were announced today, no doubt renewing criticism about the Academy's unacceptable levels of wackness, which will fester before coming to a head at the February 15 broadcast. Last year, we directed our vehemence toward notable freestyle rap legend Iggy Azalea's debut The New Classic being nominated for Best Rap Album. (She didn't win.) The year before, Macklemore bested Kendrick Lamar in the same category, an offense so unconscionable, he issued an apology. This new crop of nominations and subsequent wins will surely have its objects of derision as well. Personally, the biggest missteps in my book are that there's no love for Donnie Trumpet & the Social Experiment's Surf, which features some of Chance the Rapper's best work to date, nor Carly Rae Jepsen's Emotion, easily one of the year's best pop albums. Meanwhile, Dr. Dre managed to snag a nom for Best Rap Album for Compton, even though we're still shocked by Dee Barnes's gut-punching account of being assaulted by him 25 years ago (it's not that surprising considering that the Grammys have continued to support Chris Brown).
Getting things wrong has been a pattern at the Grammys for a long time, increasingly so as music has moved away from genre culture. In 1989, when Metallica was at the height of their powers, British classic-rockers Jethro Tull beat the band in the Best Hard Rock/Metal Performance Vocal or Instrumental category. Never mind that Jethro Tull is a band best known for its mastery of the flute solo, and that flautists are the exact opposite of metal. The loss "sort of reiterated what everybody had thought all along," Metallica drummer Lars Ulrich told Rolling Stone last year, recalling his band's embarrassing defeat. "It was the thought that the Grammys were out of whack with what was current, that it was still sort of a few years behind the curve in terms of what was really going on in the music world, rather than what was going on within the Recording Academy."
The Recording Academy knows how out of touch it sometimes seems, and has even been known to try to fix it over the years. (Kendrick is, after all, up for Album of the Year again this year.) After the Jethro Tull disaster, the organization created screening committees to make sure bands named after 18th-century agriculturists didn't mistakenly end up in the metal category. When they had over 100 categories on the ballot, all you had to do to get a nomination for certain obscure subgenres was make an album. So they pared it down to 78 to make the contest more competitive. When they realized that was too few, they restructured and added five additional categories, like Best Latin Jazz Album and Best Classical Compendium. When Chris Brown beat Kelly Price and El Debarge in 2012 for Best R&B Album, members realized that they needed to create more space for different types of R&B, so they introduced the Urban Contemporary category, which in its first year went to Frank Ocean's Channel Orange. Now there's concern that "urban" is code for "black," and the Grammys are currently considering changing that, too.
But these changes were not made in a vacuum, or by a group of old white dudes sitting alone at a big table smoking Cubans listening to Sinatra, scheming up the best ways to troll music fans. They were made by voting members of the Recording Academy.
Here's a quick breakdown on how the Grammy voting process works: The Recording Academy includes 13,000 voting members, all of whom must be music creators in some capacity. Submissions, on the other hand, can come from members as well as record labels, publicists, production companies, and publishers. (This year, there were over 22,000 submissions.) Once submissions have been sorted and categorized by the screening committees, nomination ballots are sent to voting members (i.e., music creators) who then determine the nominees for Album of the Year, Record of the Year, Song of the Year, and Best New Artist, plus up to 20 additional categories that correspond to their expertise. Once nominees are determined, a second ballot is sent to vote for the winners. Though members decide the winners, the common problem about music being miscategorized to begin with starts in the Grammys'$2 12 chapters nationwide, where the screening committees are formed under the supervision of the chapters' executives. (The Grammys declined to share details regarding the demographic breakdown of their executives.)
These chapters also elect the Board of Trustees, a group that receives about 20 proposals for tweaks to the voting process each year, typically only approving about six of them. Sometimes they make bad decisions, like adding a disco category in 1980, years after disco had fallen out of style. Sometimes they're on the money, like not adding a reggaeton category, as chapter members had proposed. (The Urban Contemporary category, for example, was proposed by the president of the Recording Academy's Philadelphia chapter, Ivan Barias.)
So, basically, anyone who is a professional working in the music business can take part in the Grammy-voting process on some level, whether it be submitting an album for nomination, signing up to participate with a local chapter and drafting proposals for changes, or, if you're a music creator, actually voting. The more people who do this, the better the Grammys will be.
However, the organization has done little to emphasize this. When I recently interviewed Bill Freimuth, vice-president of awards at the Grammys, he acknowledged that the organization would be improved if it were more diverse, but told me that substantive changes like encouraging younger people, more people of color, and more women to participate have to happen on the chapter level, which was incredibly frustrating to hear since an initiative as important as encouraging diversity should start at the top.
"There's been a real push to get younger people and more people of color [involved]," said Freimuth. "More women, but since that happens at the local chapter level, the national office doesn't really have a lot of say in that." But when I pressed for examples of what that push really looks like, he didn't have a good answer, which suggests to me that the Grammys aren't genuinely committed to diversity or change at all.
When I asked Freimuth if he and his colleagues had heard our cries about Iggy Azalea, and if they had done anything about it this year, his response was yes and no. "I would say no first of all because Iggy Azalea's album was in fact a rap album even though there were a couple of tracks on the album that were much more pop-leaning and ended up in our pop categories. But our rap-screening committee believed that it was in fact a rap album, so it stayed in there, and then it's really in the hands of our voters, and our voters decided at that time that that was one of the best rap albums of the year." In response to critics, he says: "Well, are you a member of the Academy? Did you vote? And very often the answer was no to one or both of those questions."
While that answer was also frustrating to hear, I get where he's coming from. In order for the process to work, music folks need to stop complaining, step up, and participate. Freimuth also pointed out that the dread inspired by Azalea's rap nom actually resulted in more people from the rap community becoming members, which may explain why this year's noms in the category (aside from Dre) don't seem all that out of pocket: J. Cole, Kendrick, Nicki Minaj, and Drake are all worthy of the prize. At the same time, Grammy executives need to do their part, too, instead of washing their hands of the heavy lifting and leaving the work up to the folks on the ground while they focus on the show. The Grammys are not perfect, and they will probably never represent music culture, at least in the eyes of insiders, but if the industry finds itself sick of hate-watching, such types should remember that they can do something about it.