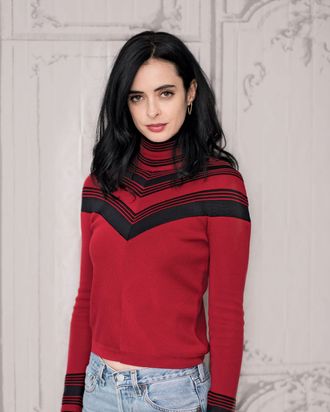 "I've just been trucking along, wishing for an opportunity like Jessica Jones."
Photo: Dave Kotinsky/Getty Images
I'm knitting like crazy," says Krysten Ritter, scanning bins of yarn at the Little Knittery, a store not far from her home in the Hollywood hills. She's been traveling like crazy, too, she says, "so now I need a hobby just for me." The breakneck schedule stems from the arrival of the Netflix series Jessica Jones, the adaptation of the Marvel comic Alias that was released in 13 ripe-for-bingeing episodes last month and is already showing up on year-end top-ten lists (including ours). At the moment, she's relishing the opportunity to stay put for a few weeks. Some months back, she rediscovered a half-finished blanket when her boyfriend, the War on Drugs lead singer Adam Granduciel, moved in with her, and now here she is, sizing up a red skein of thick-and-thin yarn. "I'm definitely going to buy that," she says. "I want to do something loose and big and chic."
It's her first time here, and Ritter roams the store eagerly. She apologizes for changing the time of this rendezvous at the last minute, but her rescue dog, Mikey, is sick, and she has to take him to the vet. "TMI, but he has terrible diarrhea," she says, making a sad face and rifling through a pile of wool yarn that we both agree is too itchy.
Before this November, Ritter was known for comedies, like the short-lived ABC sitcom Don't Trust the B— in Apt 23, or smaller guest roles in shows like Breaking Bad and Gilmore Girls. She admits that she was somewhat superhero-oblivious before reading for the part of Jessica Jones. "I'd be more inclined to watch Dirty Dancing or psychological thrillers like Damages and Bloodline," she says. "I liked great characters, and I just had this preconceived idea that that's not what Marvel did." She was happy to be wrong, because Jones is a juicy new type of role for the 33-year-old actress: a tough, moody alcoholic who's trying to put her life back together — and her superhero past behind her — after being exploited by the mind-controlling Zebediah Kilgrave (Dr. Who's David Tennant). "She's very unlikable, in the studio sense of the word," says Ritter. "But I don't find her unlikable, because you spend those vulnerable moments with her and see what she's struggling with."
"I've had opportunities to do different things, but not an opportunity to do everything — funny, dramatic, action-packed," says Ritter, who today is dressed, not unlike her alter ego, in all black. "I'm very involved with wardrobe," she says. "They said, 'She doesn't wear a costume — she's going to kinda be dressed like you are.' I loved that." She pulls a white-and-gray poncho from a rack and examines its wide stitches. "Is this just a bunch of yarn overs?" she asks the owner, who nods. "That's so dope." They exchange knitting lingo like bind offs and increases, with pauses for Ritter to translate for me. "You'd really have to pay attention with this," she says. "It's not like, 'Throw on American Horror Story and just go.'"
Ritter learned to knit from her grandmother back in Benton, Pennsylvania, before moving to nearby Shickshinny, which she says is as remote and cow-populated as it sounds. She got hooked again on the set of her first movie, 2003's Mona Lisa Smile, in which she played Art Student No. 1. "It was before cell phones, so that's what all the actresses were doing on set — Julia Roberts, everybody," she says.
The owner rings us up, and it's 90 bucks for Ritter — plus $55 for me, never mind that I have no idea how to knit. Ritter can be as persuasive as Jessica is, only much friendlier, and I somehow have come away with two shades of alpaca yarn and a pair of needles. "It's weird that we're buying stuff to make winter scarves and it's 100 degrees," she says, as we step outside into the unseasonable December weather. Ritter points out a Bikram-yoga studio where, she recalls, she once projectile-vomited after a session. "They're really hard-core about not getting up between poses." She stops to admire a dog that resembles Mikey. As we pass, his owner adds, "Love your show."
Ritter just returned from São Paulo, where she and Tennant were enthusiastically received at Brazil's Comic Con. "The fans were super into it," she says. I figure she must be used to that sort of thing, having reprised her role from the cultishly beloved series Veronica Mars for 2014's fan-funded movie, but she shakes her head: "I'm sure Kristen Bell had that experience, but I was barely in that."
Crossing the street, we duck into a café and sit down, and Ritter takes the yarn and needles from my bag. "I'm going to cast on for you," she says. "It's going to look really difficult, but it's not." Speaking of fans, I tell her that some have already begun 'shipping — that is, clamoring for Kilgrave and Jones to get into a romantic relationship. Ritter pauses. "I think that's a testament to David Tennant," she says. "He's a great actor, people want to watch him — I want to watch him, so I kind of get it. But it's twisted. He's a true villain." Jessica Jones creator Melissa Rosenberg (Twilight, Dexter) has been praised for making the subject of sexual assault — brought into the show via Kilgrave's ability to command total submission — much more explicit. "She's a feminist with a capital F," says Ritter of Rosenberg. "The comic book never uses the word rape. This is a story of how [Jessica] gets past feeling victimized." She stops to count stitches and then has me watch while she adds a second row. "This is going to be so good," she promises. Actually, I think it's all going to end in disaster when I accidentally undo all her pretty work, but I admire her tenacity.
At 15, she was discovered in a local mall by Elite Model Management and started traveling to New York for jobs. But she quickly wised up to the short career of a model and switched to acting. She spent a decade achieving what she calls "where have I seen her before?" status (a lot of only-okay rom-coms: What Happens in Vegas, Confessions of a Shopaholic, She's Out of My League). In the past few years, she's opted for the leads in smaller, better movies, like L!fe Happens, which she also co-wrote, and Refuge, as well as supporting roles in Listen Up Philip and Tim Burton's Big Eyes. "Those were amazing opportunities, as opposed to rolling my eyes in the background of another boy movie," she says. "I didn't have something that I thought would be a big hit and then wasn't. I've just been trucking along, wishing for an opportunity like Jessica Jones."
She hands me the needles and instructs me to push the right one under the top stitch in a T-formation. "Dude, you're doing it!" she says with enthusiasm. "Now you have to finish that whole row, or you're going to fuck it all up." It looked easier when she was doing it.
Ritter swears she doesn't know what's next for her character beyond appearing in The Defenders, a series that will unite the superheroes from Netflix's four Marvel shows (the other three being Daredevil, Luke Cage, Iron Fist). Even if she did, she wouldn't be able to say so. An insane level of secrecy is the only thing Marvel doesn't keep secret. For a while, Ritter couldn't even print out her scripts — she had to log on to a secret website to learn her lines. "Not exactly user-friendly," she says. Does this mean she wasn't able to say anything to anyone during the eight-month shoot, not even the close circle of "serious girlfriends" that she was holiday shopping for today? (No spoilers, but Ritter loves a snood.) "Well, I'd obviously talk to my boyfriend — he sleeps in the same bed," says Ritter. She peers at my knitting. "Wait, no, underneath," she says. "You're going above." After which, it's time to get Mikey to the vet. "When you get home, do at least 15 rows," she says. As if anticipating the discouragement that will follow after an hour of YouTube tutorials fail to fix the damage, she adds: "I don't want you to get frustrated."
*This article appears in the December 14, 2015 issue of New York Magazine.