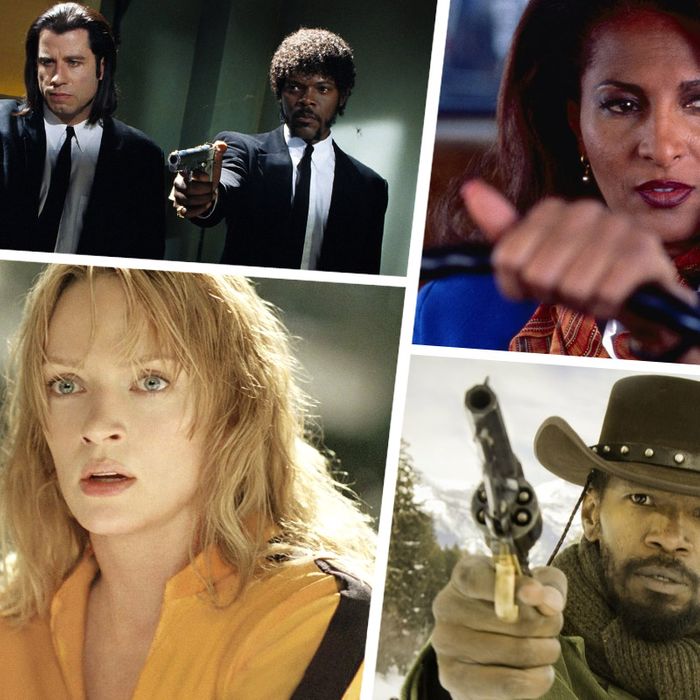 Vincent and Jules, Jackie, Beatrix, and Django went about their business over Mary Ramos soundtracks.
Photo: Miramax, Weinstein Company
This article originally ran in December 2015. We are republishing it on the occasion of the release of Quentin Tarantino's comeback film, Once Upon a Time in Hollywood.
Mary Ramos is a fixer as much as she's a music supervisor. Though Ramos's skills placing music are very much in-demand — her other credits include everything from Spotlight to Reality Bites — with Quentin Tarantino, she says, it's her nearly infallible ability to secure the exact music he wants that's led to her role in every one of his films since Pulp Fiction. "My job over the past 20-something years has been to support him and to make sure he can get what he wants," Ramos, who first met Tarantino through their mutual friend actor Tim Roth, says. So, ahead of their partnership on 2015's The Hateful Eight, we asked Ramos to walk us through the music choices from some of Tarantino's most iconic scenes, from Neil Diamond's "Girl, You'll Be a Woman Soon" in Pulp Fiction to the James Brown–Tupac Shakur mash-up in Django Unchained. Here are just nine of the stories:
Pulp Fiction: Neil Diamond, "Girl, You'll Be a Woman Soon"
Neil Diamond's 1967 hit single, performed by Urge Overkill, plays as Mia (Uma Thurman) overdoses on heroin at the end of a date with Vincent (John Travolta).
"I started working on post-production for Reservoir Dogs. Quentin had another music supervisor at the time. She was the music supervisor on Pulp Fiction and I was the coordinator — but that was when I first learned how to never give up. We were denied for 'Girl, You'll Be a Woman Soon.' Neil Diamond denied it. So, I wrote him a letter. It was pretty passionate: 'I know that there are drugs depicted in this scene but it in no way glorifies the use of drugs. As a matter of fact the girl almost dies from her folly.' And he let us use the song. Years later, I met Neil Diamond when I was working on another movie and I told him about Pulp Fiction and how I worked on that. He quoted me back to me without knowing. He said, 'Oh, you know, I thought that scene used my song really well and it didn't glorify drugs at all.'"
Jackie Brown: Minnie Riperton, "Inside My Love" 
Riperton's oft-covered 1975 swooning soul song plays as Louis (Robert De Niro) talks to Ordell (Samuel L. Jackson) at the Cockatoo Inn.
"Quentin set this musical palette of Jackie Brown being R&B. He went into the old R&B section of his record room and started coming up with stuff. 'Inside My Love' was great. It just plays like a gorgeous slow dance."
Jackie Brown: Roy Ayers, "Exotic Dance" 
Max (Robert Forster) and Jackie (Pam Grier) meet up in a bar while the funky "Exotic Dance" from the 1973 blaxploitation film Coffy, also starring Grier, plays.
"There was a piece of music we wanted to use from the Coffy score. We were denied by the publisher because they said there was one writer they couldn't find. We couldn't use it until we got approval from that writer. This is in 1996, before the internet was the internet, so I started calling all the jazz clubs in New York City that I could think of, and I found him at maybe the fifth one I called. He was going to come in the very next night and play. It also connected this guy back with his publisher who had just been collecting revenue over the years. So, I got him hooked back up with some money."
Kill Bill: Vol. 1: Santa Esmeralda, "Don't Let Me Be Misunderstood" 
The disco interpretation of the Nina Simone classic plays as the Bride (Uma Thurman) faces off in a final sword battle with O-Ren Ishii (Lucy Liu).
"It's one of my most proud moments. That one almost didn't happen. Can you imagine that scene without that magnificent disco flamenco? The piece of music was totally unclearable. We were flat-out denied by the French record label because they'd been in a legal stalemate with the lead singer, Leroy Gómez, for years. I was like, 'No, I'm not going to tell my director he can't have it.' So, I had two days to do this. I had to track down the lead singer. I'm telling you, I searched obituaries and phone books and copyright searches, you name it. I just went through every single scrap of information I could find. Through an obituary, I finally found his mother in some remote part of Massachusetts and she gave me the number for Leroy in France. I called Leroy Gómez out of the frickin' blue and we worked out a solution to their decade-long legal situation. Leroy and his wife were my date for the premiere."
Death Proof: T. Rex, "Jeepster" 
Warren sends over some shots, which him and his group drink down while T. Rex's glam-rock gem "Jeepster" plays.
"That was a fun one! Another one where Quentin set up the musical palette. The palette was a jukebox. His own personal jukebox, really, which has this eclectic collection of stuff. It's in the background in the bar. This song just makes me so happy to hear because that was one that I suggested to him."
Django Unchained: John Legend, "Who Did That to You?" 
John Legend's original song plays while Django (Jamie Foxx) escapes.
"Django was a wonderful experience. For the first time ever, Quentin used songs that were written for the movie, original songs that he had never heard before. I felt like that was a big triumph, really. We were lucky that the story spoke to a lot of amazing songwriters: the power of the love story and the power of the revenge story. John Legend was inspired and he contacted me and sent me a link to his song. I said, 'This is fine and everything, but you have to put this on a cassette and send it to Quentin.' He had to hunt down a cassette player, which he did, and he wrote Quentin a letter with the cassette. Quentin fell in love with it immediately. One of the cool things is I got to meet this guy, the Mighty Hannibal, the blind soul singer who worked with John on the song. He's now passed away, but that was a real cool experience."
Django Unchained: James Brown & Tupac Shakur, "Unchained (The Payback/Untouchable)" 
Django engages in an epic gun battle with Candie's (Leonardo DiCaprio) henchmen as a mash-up of James Brown's "The Payback" and Tupac Shakur's "Untouchable" plays.
"Our label partner gave us a great opportunity to work with Tupac Shakur's estate to create a new piece. I suggested we use 'The Payback' by James Brown because I knew Quentin liked that song and I knew he was interested in it for the trailer. Making a new song for Quentin was kinda iffy and I didn't want to blow the opportunity. I thought, Let's use something that he loves and pick some great revenge lyrics from this treasure vault of Tupac's vocals. Tupac's engineer worked on some dialogue and some gunshots, and put together this dynamic piece. And it plays over one of the biggest, bloodiest gun battles ever!"
Django Unchained: Richie Havens, "Freedom" 
The Richie Havens song plays as Django surrenders after one of Candie's henchmen captures Broomhilda (Kerry Washington).
"I had to really beg Richie Haven's camp and write letters and describe the scene to them. They initially turned it down because of the bloody violence. You have to be able to assure them that, yeah, it's violent, and yes, Quentin Tarantino has a specific style, but there's a means to this end. There's a reason why this is happening. The music has to be this over-the-top to really appreciate when Django gives himself up at the end of it."
The Hateful Eight: Ennio Morricone, "‪L'Ultima Diligenza di Red Rock"‬
In this film, Tarantino utilized an original score for the first time. It's only fitting that the score was composed by Ennio Morricone, a master of the spaghetti western genre, one of the director's longtime idols, and a film-industry legend in his own right.
"In The Hateful Eight, there are a couple of moments that just give me chills. Like the main title, last stage to the Red Rock piece. It's the way the score hits for the reveal of the stagecoach. And especially the way it hits when Ennio's name appears. It gets really big and the strings really amp up. I get goosebumps every time I see 'Ennio Morricone.' It's gorgeous. Quentin uses Ennio Morricone's score as if it were a pop song. At first, Ennio said he didn't want to do a spaghetti western because he thought that was what Quentin wanted him to do. That's the stuff that Quentin has always been interested in using. They talked about all the other genres that Ennio has worked in, especially his thriller and horror genres. And that's how Quentin saw this film. When Ennio was reading it, he told Quentin he had a theme that just popped into his head. An original theme. He talked about how the theme depicted the movement of the stagecoach, but also the menace that's to come."