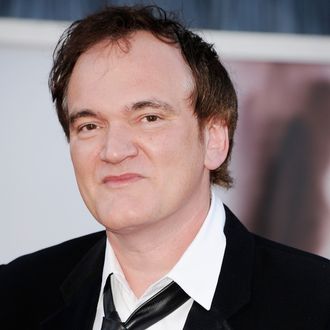 Photo: Steve Granitz/Getty Images
Woody Allen, who currently holds the record for most Best Original Screenplay Oscars with 3 out of 16 (!) nominations, has made his share of enemies in recent years, mostly for his, er, questionable personal proclivities. But Allen now has a new nemesis: Quentin Tarantino, who has made it his life goal to "beat" Allen and usurp him as reigning king of the Original Screenplay. Talking to GQ, Tarantino said:
I'm not competitive as a director. But the thing about it is, if I win a third screenwriting Oscar, I will tie with Woody [Allen]. I can't beat Woody until I tie with him. I want to have more original-screenplay Oscars than anybody who's ever lived! So much, I want to have so many that — four is enough. And do it within ten films, all right, so that when I die, they rename the original-screenplay Oscar "the Quentin." And everybody's down with that.
Tarantino's girlfriend consequently interjected, "You are insane. I just heard that. That's the most ridiculous thing you've ever said." The unrepentant motor-mouthed filmmaker, whose new epic western The Hateful Eight will be painting screens with blood and viscera in 70mm this Christmas ("Spend Christmas With Someone You Hate," the trailer advises), went on:
…the idea of winning three screenplay Oscars, maybe four, all right, with only ten films [Tarantino has long said he'll retire after making ten movies], and never doing it for that purpose, only following my own muse — that's about as great a testament to an artistic career as I can imagine. But I'm also keeping it in perspective, because I actually think, you know, Preston Sturges is maybe a better writer than all the guys who have ever won before, and he didn't win shit.
(Note: Sturges did win once, for The Great McGinty, in 1940, though that film has, admittedly, fallen out of the public consciousness.)
Tarantino is serious about winning two more Oscars, even though he has said, on multiple occasions, that he only wants to make ten films total:
Two more to go is gonna be six years, at least … And I love the idea of taking my vitality to its furthest point, and then stopping, leaving you wanting a little bit more. Not staying too long at the party. Not working with dulled senses. Not working with dulled intentions. Not working with compromised intentions — i.e., age, vitality, wealth, wife, kids, you know, all those kind of things that get in the way.
In other words, "My filmography comes first."