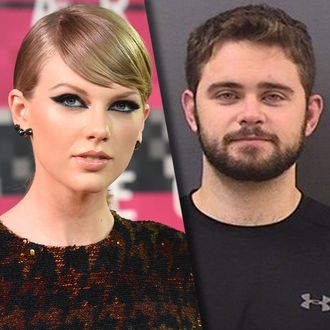 Taylor Swift and Drew Hardwick.
Photo: Getty Images, Hendersonville Police Department
Andrew Hardwick, the man name-checked in Taylor Swift's hit "Teardrops on My Guitar," was arrested on Saturday in Hendersonville, Tennessee, for child abuse, reports The Tennessean. Hardwick, 27, his wife, Joni, and Christopher Hardwick (whose relationship to Drew is unclear) were arrested after a 3-year-old girl in their care had to be airlifted to a children's hospital on December 26 for "severe bruising and lacerations" on her head and a concussion. A 5-year-old girl who was with the 3-year-old at the time of the incident reportedly told a witness that Drew had struck both children in the face.
When Christopher confronted Drew, he claimed he saw blood on Drew's hands and police were called. When police arrived, Christopher reportedly "appeared intoxicated with bloodshot and glossy eyes" and exhibited "belligerent" behavior toward police, later informing authorities that both he and Drew had been drinking "large amounts" of alcohol since 4 p.m. that day. Drew has been charged with aggravated child abuse and child abuse, Chris with assault and disorderly conduct, and Joni with simple assault on an officer and resisting arrest. The 3-year-old reportedly remained hospitalized as of Monday.
Swift has said she wrote "Teardrops on My Guitar" in high school after Drew, her crush, repeatedly ignored her. Two years after the song's crossover success, he showed up in Swift's driveway unannounced to say hey, to which Swift responded with the last laugh: "Wow, you're late?"