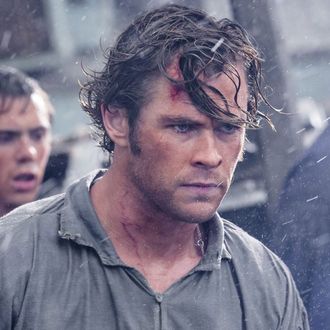 Chris Hemsworth has starred in two of the highest-grossing films of all time: The first Avengers movie ($1.5 billion) and the second Avengers movie ($1.4 billion). He also stars in Ron Howard's In the Heart of the Sea, a movie about marooned sailors and angry whales, but let's just say that movie isn't breaking any records. The massive Moby-Dick-inspired film flopped with a measly $11 million this weekend, a gross so emaciated it makes Hemsworth's lost-at-sea body look hulkish. While Thor spent his weekend stranded on an island not making any money, The Hunger Games: Mockingjay — Part 2 took the top spot for the fourth straight week, pulling in $11.3 million for a domestic cume of $244.4 million. It's the second film in the series to pull off such a feat, and the first film to do so since Furious 7 (the fifth-highest-grossing film worldwide of all-time) in the summer. But Mockingjay — Part 2, which has yet to open in China, is performing worse than its predecessors at this point with a $564 million worldwide cume, almost $50 million behind Mockingjay — Part 1.
The Good Dinosaur came in third with $10.4 million in its third week; its domestic cume is now at $89.6 million. Creed ($10.1 million) and Krampus ($8 million) rounded out the week's top five.
The Big Short made $720,000 in a limited release of eight theaters, while Todd Haynes's sumptuous drama Carol expanded to 18 theaters and added $336,924 to its now $1.2 million gross.
Anyway, here's a recording of Benedict Cumberbatch reading from Moby-Dick.