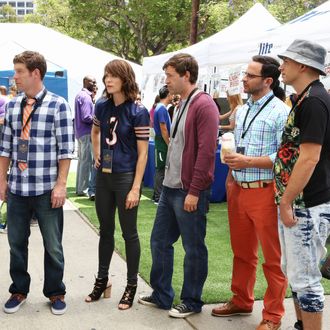 'The League.'
Photo: Copyright 2015, FX Networks. All Rights Reserved.
In honor of The League's series finale, the show's cast and creators held one last Reddit AMA session. Jackie and Jeff Schaffer, along with Andre (Paul Scheer), Ruxin (Nick Kroll), Taco (John Lajoie), Rafi (Jason Mantzoukas), Kevin (Steve Rannazzisi, whose 9/11 debacle was kind of addressed), Pete (Mark Duplass), and Jenny (Katie Aselton), gathered Wednesday to talk about the show's most awkward moments, the league within The League, and quick ways to end conversations with Kroll. Read on for all the highlights, before doing one last Shiva Blast. RIP, League:
What's next, if anything, for the show?
JACKIE AND JEFF SAY: First we are going to make extended episodes of the shows. There is so much great stuff we couldn't fit in the time allotted. And that includes the season finale. There's 15 more great minutes of stuff we can't wait for you to see. Then — we are going to go to football games. Watch the Seahawks claw their way back into the playoffs. Then back to work at making more funny stuff to please our beloved shit sipping fans.
How did Rannazzisi's 9/11 story complicate things?
JACKIE AND JEFF SAY: It didn't complicate filming because Steve apologized to everyone, including the crew. No one — including and especially Steve — is making an excuse for, or condoning what he did. But it is our experience after all these years together that he is a supremely good dude who made one supremely stupid mistake. We all love him and and accept his apology, and hope everyone else does too.
JON LAJOIE SAYS: I'll be making more soon! More songs about genitals will ensue, however I'm really excited about a super secret musical project that I've been working on, which I'll be releasing in January.
What's the deal with the recent product placement?
JEFF SCHAFFER SAYS: Product placement has not stepped up. If anything it's gone way down. There used to be a time we had to mention a beer a few times. Which of course was easy because these guys drink a lot of beer. If you're referring to draft kings … we sought them out. We wanted to do a season long story to address the sea change in the fantasy world. Leagues are giving way to one week money plays and we wanted to address it. We wanted our guys to be able to talk about just like everyone else who plays fantasy was talking about it. It would be weird if we didn't talk about it. And it was important to us to use a real company. So we weren't talking about "FanFriends" or some fake stupid name. We needed a real company to be authentic. And Draft Kings fit the bill. Yes, they pay FX money to advertise on the show, like Bud light, coors, Directv and others have before them. But because it's gambling or money is involved or something different rules apply with the FTC so we have to have a "promotional consideration" card at the end. Truthfully that was a surprise to us that we found out about as we were sending the shows to FX, but we wanted to the show to feel real, and that means using a real company. They don't dictate the content of the show in anyway, shape or form. And you'll see tonight how it all pays off …. We've had a plan …
What were people's most uncomfortable scenes?
STEVE RANNAZZISI SAYS: The scene where the kid had to watch Jenny and I having sex from inside that cabinet
KATIE ASELTON SAYS: hands-down the scene where the little kid was in the cabinet watching Steve I have sex.
MARK DUPLASS SAYS: And by little kid she means me.
Yes, most everybody plays in a league together:
We do — 8 team league. Sad just like it is on the show. The League of The League. Winner gets the Aselton Cup (named after Katie, Year 1 Champ). Currently the championship is Jeff vs Jackie … We (Jeff and Jackie) play in a fantasy league with the 6 cast members — The league of the league. It's very fun and all the team names are things from the show (The Toilet Kitchens are squaring off against The Yank Bankers in the championship this week).
What is the best way to end a conversation with Kroll?
NICK KROLL SAYS: People shout "forever unclean" at me all the time. Most upsetting is in airport bathrooms. If you do have the misfortune of seeing me out and about, our conversation will likely be shorter if you scream "forever unclean" at me in a bathroom.
NICK KROLL SAYS: Mark "fart bubbles" Duplass
KATIE ASELTON SAYS: Mark then Steve
JASON MANTZOUKAS SAYS: I don't fart. I do have the worst diarrhea though
MARK DUPLASS SAYS: YOU GUYS MISS MY FARTS LIKE CRAZY!
Hardest scene to film because of laughs:
Hands down in the Scrote Squad when Rafi asks Ruxin to be his Ballsy Guard like Kevin Costner and Whitney Houston. Nick said RIP — and Jason freaked out "Oh No, Whitney's dead!!! How is Michael Jackson taking it?" And we just pretty much came to a doubled over laughing standstill
Anything stuck on the show's bucket list?
The Bro Lo Weekend. Jason (Rafi) improvised this line in a scene with Ruxin and we always wanted to make that episode. It will always be the one that got away …
A good way to know if your show has had profound pop-cultural impact:
Seeing the list of "most popular fantasy team names" as released by espn every year — and counting about 1/3 of names from our show in the top 20 is the ultimate compliment. Mine is the Toilet Kitchens (Jackie) — Jeff's is "The Yank Bankers"
PAUL SCHEER SAYS: Worst Outfit might have been the Uncircumcised Penis Sweater. It's not a great feeling to have a cast of men rub you like a dick head
Oh, and just because the man behind Gil Faizon was on hand, a quick Oh, Hello update:
NICK KROLL SAYS: we hope to do more oh, hello shows but its really up to george and gil. George claims he is still finishing his novel "Rifkin's Dilemma" and Gil is studying to become an unlicensed Dula so their schedules are pretty packed. but if i were a betting man, i think they might hit the road at some point.
For more from the Q&A, head here.