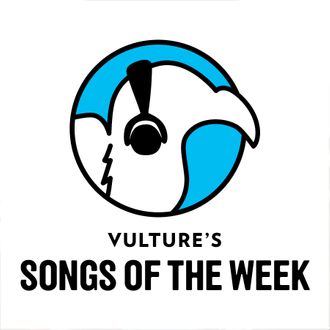 Every week, members of the Vulture staff highlight the best new music of 2015. If the song is worthy of your ears and attention, you will find it here. Read our picks below, share yours in the comments, and subscribe to the Vulture 2015 Playlist for a comprehensive guide to the year's best music.
ANOHNI, "4 Degrees"
You likely know ANOHNI as Antony Hegarty, but she's using her new moniker to speak to the severity of climate change just as the world's biggest leaders have converged to debate the same issue. Hudson Mohawke and Oneohtrix Point Never co-produced this towering piece of music, which doesn't find ANOHNI preaching about how we let our world down so much as it has her shouldering some of the blame herself. "I wanna hear the dogs crying for water / I wanna see fish go belly-up in the sea," she sings, highlighting the disregard for Earth's creatures. It's a stark reminder that the world is dying every nanosecond. I'm worried. ANOHNI's worried. And that is what makes this song so hauntingly beautiful. — Dee Lockett (@dee_lockett)
Chairlift, "Romeo"
If Chairlift's previous single was an ode to the mysterious ways opportunities reveal themselves to New Yorkers, this next track offers a more intimate tale from the band. Vocalist Caroline Polachek taunts a suitor in hot pursuit, daring him to catch up with her as she races ahead like the strong, independent woman she is. A low-slung acoustic guitar sample ambles in the background while Patrick Wimberly's bouncy, skittish production keeps the mood playful and dance-floor-ready. Another delightful song from the eclectic pop duo's strong forthcoming album Moth, due out in January — Lauretta Charlton (@laurettaland)
Coldplay, "Everglow"
Coldplay front man Chris Martin called upon his ex, the Goopy Gwyneth Paltrow, to provide a few ultra-subtle backup vocals on this track, but I wanted to hear more from her because I watched her sing "Landslide" on Glee as substitute teacher Holly Holiday and liked it! Still, this is really touching, especially when Martin sings, "When we swore on that night we'd be," and Paltrow whispers back "friends till we die." Maybe conscious uncoupling isn't bullshit? — Eric King (@erickingdavid)
Erykah Badu ft. Andre 3000, "Hello"
Legendary lovers Erykah Badu and Andre 3000 collaborate about as often as whatever celestial event aligned them in the first place comes along, but when they do, their cosmic energy is off the charts. "Hello" (sorry, it's not an Adele cover) comes off my favorite mixtape of the year, Badu's extended "Tyrone" sequel, But U Caint Use My Phone. Isn't it incredible how one song, Drake's "Hotline Bling," can feed the soul of such an inspired project? Everything about the tape, especially "Hello," feels organic. It experiments with the ways telephones, of all kinds, affect the way we vibe with each other. In Erykah and Dre's case, it's the portal for equilibrium in their relationship and maybe their purest form of communication. Three Stacks spits smooth sexual innuendos about commitment and uncertainty, and Miz Belly Bella responds by interpolating Todd Rundgren's "Hello It's Me." It ends with them singing in unison, asking each other not to change for the other, and referencing their pet name "squirrel." You know those relationship goals you always hear about? This is it. — DL
Kendrick Lamar, "Black Friday"
The world wants a Kendrick Lamar and J. Cole album like they want a Watch the Throne 2. What a Time to Be Alive tried to fill that void, but it wasn't enough. So for Thanksgiving, Kendrick and Cole remixed each other's songs — Cole did "Alright" and Kendrick did "A Tale of 2 Citiez" — and added more fuel to the fire that they're cooking something on. Cole's interpretation is fine, but Kendrick unquestionably has the standout of the two. Look at this verse: "I'm yelling Mr. Kanye West for president / He probably let me get some head inside the residence / I'm in the White House going all out / Bumping College Dropout, God-bless Americans." He goes on to boast how he torched genre barriers in rap this year, shouts out Adele, and blasts Billboard for neglecting Tupac in their top-10 greatest rappers list because Kendrick never wastes words. If Cole's final line on his mix — "But this February, bet shit get scary when I fuck and and drop …" — is a serious threat, 2016 will once again be their year. — DL
M.I.A., "Borders"
Maya Arulpragasam's urgent song now has a video in which hordes of bodies climb, float, run, and panic, simulating the grueling, often deadly journey many men, women, and children face when crossing borders looking for safety. Regardless of your feelings about celebrities throwing their weight behind political issues that can't be solved with song, the video is a sharp critique of the global refugee crisis, which M.I.A has experienced firsthand. — LC
Santigold feat. ILOVEMAKONNEN, "Who Be Lovin' Me"
These two are one of my favorite combos of the year. She's on the opening track of the superchef's latest A1 EP, and he returned the favor with guest vocals on the Brooklyn rapper's druggy new single. Such synergy! Peep for cameos in the video from Big Sean, De La Soul, DJ Mustard, Earl Sweatshirt, and more. — LC
Sia, "One Million Bullets"
Sia's album of songs rejected by other pop stars is shaping up to be really, really damn good. Continuing the excellence of "Alive" and "Bird Set Free," this is a soaring ballad that could have fit someone like Adele or Beyoncé, but with Sia's voice, it sounds just right. Singing about loving someone so much never sounded more gorgeous than with her staccato. The hypnotizing drum beat is less dire, and more tragically romantic. — Ira Madison III (@ira)
Do you like good music? Of course you do! Subscribe to Vulture's 2015 Playlist to hear the new music we're listening to every week.