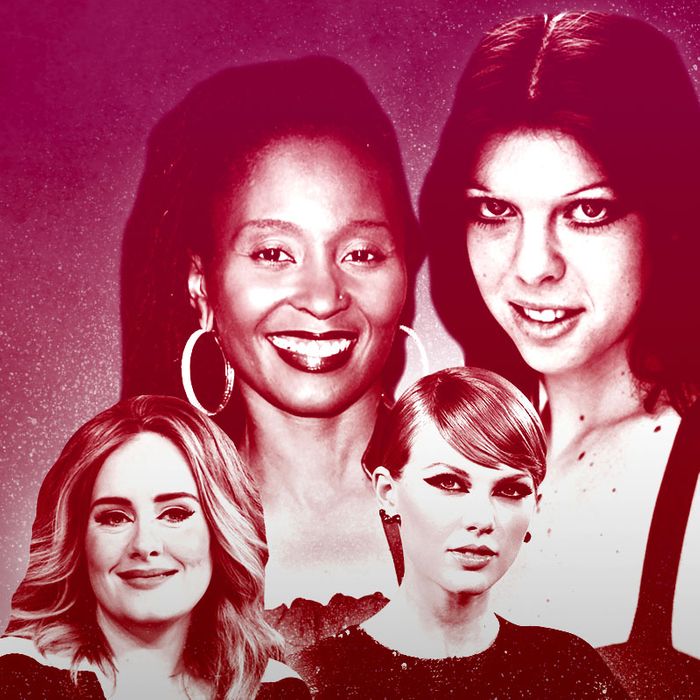 Photo-Illustration: Kelly Chiello and Images by Getty Images
Earlier this year, former Pitchfork editor Jessica Hopper asked women and other marginalized people in music to share the first time they were made to feel that they didn't "count." Here's mine: Hearing my college boyfriend declare, "Wow, you actually know this band, I'm impressed," every time I talked about the kind of music he didn't think someone like me — black, female, SoCal-raised — would know about. The first time it happened was at a Sigur Rós concert. I started humming and air-drumming my fingers to the beat of a song — "Olsen Olsen" — he assumed I didn't know, so he "complimented" me on it. I nodded and grinned awkwardly, but inside I felt like shit because the subtext of his voice was: (a) You're a poseur, (b) this is my music, (c) you need my approval to validate your opinion. You may think I was reading into it, but after a year of being condescended to about bands he obviously loved more than I ever could, I finally got the picture, and we eventually broke up.
Of course, this example is minor compared to some of the more graphic responses to Hopper's open call, including threats of violence. But I like to think that was sort of the point of her prompt: to bring attention to the full spectrum of sexism facing women in music, not just the big stuff. Obviously, a teenage female musician being raped by her own manager is a problem, but on a different level, so is Jimmy Iovine announcing that women don't know how to find music. Collectively, these testimonies lead back to the same rotten reality: Music is, in many ways, still considered a man's domain.

It's easier to latch on to the pervasive success narratives surrounding the year's biggest sellers, Adele and Taylor Swift, than to address music's ongoing gender problem, but for me, 2015 felt different. This year, in addition to listening to "Bad Blood" and "Hello" on repeat, we also heard from a chorus of women not at the top of the charts. They speak out against misogyny, hypocrisy, and, notably, abuse. And we didn't just hear from them — we actually listened. Music culture didn't ignore these voices, as it has in the past. We started to check our tolerance, and stopped looking the other way.
These dispatches came from all over the music world, across varying different levels of severity. Lady Gaga called the music business "a fucking boys club" and released "Til It Happens to You," a song about campus rape. Björk called out the common tendency to give her male producers credit for her ideas. Amber Rose hosted an anti-shaming SlutWalk after Kanye said he had to "take 30 showers" post-breakup. Charli XCX put the "groupie, girlfriend, but definitely not a drummer" stereotype on blast in a new BBC series about feminism in music. But the most powerful examples came from Dee Barnes and Jackie Fox.

In August, Barnes, a veteran hip-hop journalist, penned a scathing essay for Gawker in which she relives her merciless 1991 assault by her friend Dr. Dre in a club bathroom after she'd supposedly stirred up beef between N.W.A and then-recently-departed member Ice Cube. In the aftermath, she received a settlement in 1993, but there was a myth that she was paid so well, she'd never have to work again. The reality is she received less than a million dollars, hardly enough to compensate being blackballed from the music business after taking Dre to court. "I never thought I was going to have to stop doing what I loved for my job," Barnes wrote. "That was the furthest thing from my mind." She ended up living in relative obscurity until she was compelled to come forward again this year, upon the release of the wildly successful N.W.A biopic Straight Outta Compton, a selectively revisionist history of the influential hip-hop group that omits Dre's abuse toward her and other women (including his ex-girlfriend, R&B singer Michel'le).

Jackie Fox's story follows a similar pattern. In the late '70s, she was the bassist for the all-girl glam-rock band the Runaways; in July, she came forward for the first time about being raped by their manager, Kim Fowley, a notorious Svengali on the Sunset Strip. In a series of interviews with the Huffington Post, Fox describes being drugged, humiliated, and publicly raped by Fowley in front of her bandmates and onlookers when she was just a teenager, and how in the aftermath, no one — especially not her bandmates — seemed troubled by what had happened. The silence left her traumatized and isolated. She was essentially forced to leave the band in the middle of a tour.
For years, Fox kept it all a secret because she was fearful no one would believe her. Fowley died in January, and heartfelt notes of sadness came from all corners of the music business. Steven Van Zandt said it was a "big loss." Clem Burke, Blondie's drummer, called him a "hero." Members of the Runaways shared their grief, too: "Kim was a friend, he taught me so much. I am very sad," Joan Jett tweeted. "Thank you for starting my career when I was a just a child," lead singer Cherie Currie wrote. "You are a genius. You are loved. You will be so missed."

That was then. Something about 2015 made us react differently toward Barnes and Fox. When they came forward with their stories (elements of which have been known for years), it felt like we were really hearing them for the first time, as if we were finally ready to start — yes, start — letting go of the apathy (or worse, vitriol) often shown for women who speak up. The proof is in the reactions (the ones that matter, at least). In 1991, Barnes was told she "deserved it," that she had it "coming like a motherfucker." Dre was essentially let off the hook. This year he issued a long-overdue, half-baked apology, claiming, "I deeply regret what I did and know that it has forever impacted all of our lives." ("The hypocrisy of it all is appalling. This is bigger than me, and bigger than hip-hop. This is about respect and awareness," Barnes wrote in reply.) Similarly, people have known about Fowley's questionable behavior since the '70s, but overlooked it because he was — as Currie put it — a "genius," just like Dre, just like R. Kelly, just like so many other powerful and talented men before him. Now Currie calls Fox "courageous," and Go-Gos guitarist Kathy Valentine says she "has done FAR more for women by speaking out than the Runaways ever did." Fellow Fowley victims flocked to Fox, as she details in a moving follow-up essay, while others she nicknamed "Friends of Kim" harassed her online.

Sadly, the backlash is to be expected still these days, but there's comfort in seeing tide changes regarding tolerance of abuse against women in entertainment at large. Like the women against Bill Cosby, Fox and Barnes are part of this year's sorrowful sisterhood, whose individual voices were too easily ignored in the past but now collectively reach audible decibels. But it's still too faint. Women are still blaming themselves for being sexually assaulted while on the road. Kesha is still being punished for coming forward about her alleged sexual abuse by Dr. Luke — another male savant whose talent is beyond reproach — by putting her career on hold and turning her complaint into fodder for an industry questionnaire about whether anyone believes her. The real question is, why wouldn't you? With the voices we finally heard this year still strong in our minds, it's something to seriously ponder in 2016.