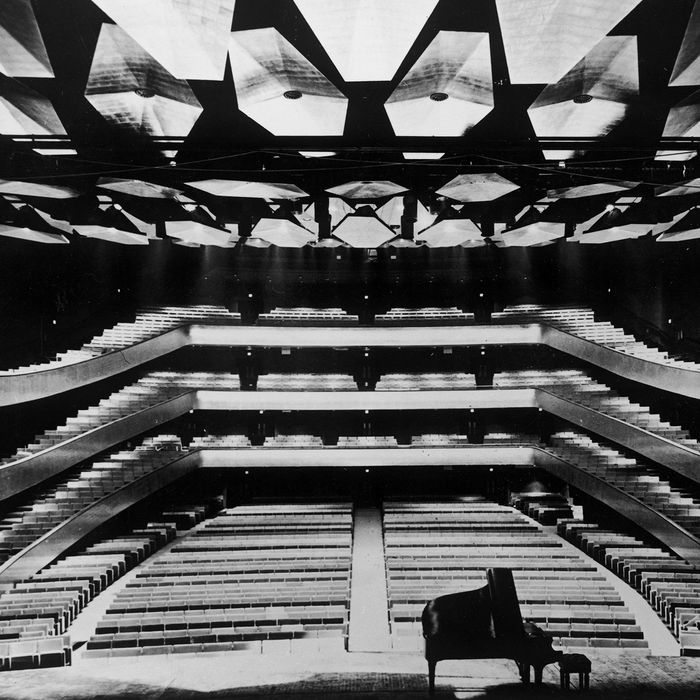 Onstage at Philharmonic (now David Geffen) Hall, 1962.
Photo: Central Press/Getty Images
After decades of cogitating, a few false starts, two renamings, and a $100-million starter gift, Lincoln Center and the New York Philharmonic have given the job of gut-renovating David Geffen Hall — formerly Avery Fisher Hall, and Philharmonic Hall before that — to the professional visionaries at Heatherwick Studio and the auditorium experts at Diamond Schmitt Architects. Since the night in 1962 when Leonard Bernstein opened the room with Aaron Copland's 12-tone Connotations, musicians, critics, and audiences have been griping about its sound and its chilly atmosphere. Acousticians tinkered fruitlessly. "Tear the place down and start over again; the place is an insult to music," the conductor George Szell recommended after one attempt. Still, the interventions continued: a gut renovation of the auditorium in 1976, and more fiddling in 1992. A decade after that, the Philharmonic's board chairman grew so despairing that he tried to drag the orchestra back to Carnegie Hall. Along the way, Norman Foster produced a design that was never made public and was eventually discarded.
So here we are again, with a new team and an old task: Get it right this time. Vin Cipolla, the outgoing head of the Municipal Art Society who has taken over the fundraising, will have to convince donors that $500 million will finally do the trick. The Philharmonic, which is also shopping for a new music director, has to persuade patrons that they should stick with the orchestra through a season or two on the road, including perhaps a stint at Hunter College's East 68th Street Assembly Hall. And the new architects have to come up with a design that rewards all this dislocation — not just with impeccable acoustics and a spectacular auditorium, but with a building-inside-a-building that satisfies contemporary ideas of the concert experience.
The latest symphony hall to come online in a major city is Jean Nouvel's Philharmonie de Paris, a project dogged by mission vagueness, budget bloat, political shifts, and the architect's frustrated desire to take his name off the thing in the end. Despite its troubles, the Paris hall does far more than provide a sacramental space for the performance of orchestral music. It includes smaller rooms where children can try out instruments, amateurs can form impromptu string quartets, professional ensembles can rehearse, and everyone can spend Saturday plashing in all sorts of music without even buying a ticket for that night's concert.
David Geffen Hall almost certainly lacks the square footage to accommodate a a round-the-clock complex like that. Creating a new auditorium, a seductive lobby, and the required complement of dressing rooms, mechanical systems, and patrons' lounges should fill out the existing box quite nicely, leaving room for few extras. And since Lincoln Center has declared itself committed to leaving the original exterior by Max Abramovitz intact, accomplishing all that will be like scooping out an egg and inserting a new one without cracking the shell.
Diamond Schmitt are there to make sure the building performs as intended: The firm designed the acoustically fine but architecturally chilly new Mariinsky Theater in St. Petersburg. But Heatherwick's the magic man. He has designed on every scale, from a zipper-bound handbag for Longchamp to the bubble-wrapped city for Google's Mountain View headquarters. IAC chairman Barry Diller tapped him to build Pier 55, an offshore bauble of a park in Chelsea. (There are still a few weeks left to see the Cooper Hewitt show "Provocations, the Architecture and Design of Heatherwick Studio," up through January 3.) All this visionary extravagance has earned him powerful patrons and disdainful enemies. London critics have lined up to excoriate his proposed Garden Bridge over the Thames: "a crowded and overstyled chunk of heavy engineering garnished with urban parsley," Rowan Moore called it in The Guardian. Even so, the project appears to be going ahead.
The choice of Heatherwick is a bold move in a half-billion-dollar gamble. If all goes well, the Philharmonic will soon summon the same fearlessness in its choice of music director, and in 2019 that person will lead the orchestra out of Lincoln Center and back again a couple of years later, with its subscription base intact — this time into a hall that flatters all music and silences all doubts.