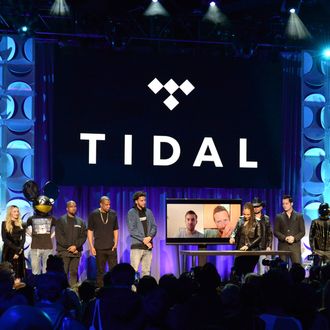 Photo: Kevin Mazur/Getty Images
Tidal has finally found a new CEO, its third in less than a year, following the departure of Andy Chen and interim CEO Peter Tonstad. Former SoundCloud exec Jeff Toig will step into the role come January 4, assuaging frequent rumors that Jay Z is looking to sell the company or merge with another streaming service.
The hiring will bring some much-needed stability to Tidal at a crucial moment. Last month, YouTube launched a music app. Pandora acquired Rdio and is expected to launch a new streaming service shortly. Meanwhile, Spotify's freemium option continues to entice users, and Apple Music has been dominating the exclusive-world-premiere market with Beats 1.
In an interview with Billboard, Toig says Tidal's 1 million subscribers, exclusive videos and concerts, and Jay Z's vision for the company were reasons enough for him to believe Tidal isn't the beached whale it looks like these days in light of the competition and Tidal's high price tag for quality sound. When asked to speak to the industry's uncertainty about Tidal's figure, Toig, a founder of Muve Music and Virgin Mobile USA, said, "I think first and foremost we're aligned with major labels and publishers. We're trying to do something that forwards their interests, something that's going to help the artists, the writers and the creative community. We're deeply committed to this business and we're focused on building a scaled, sustainable, successful business that's going to be here for a long time."