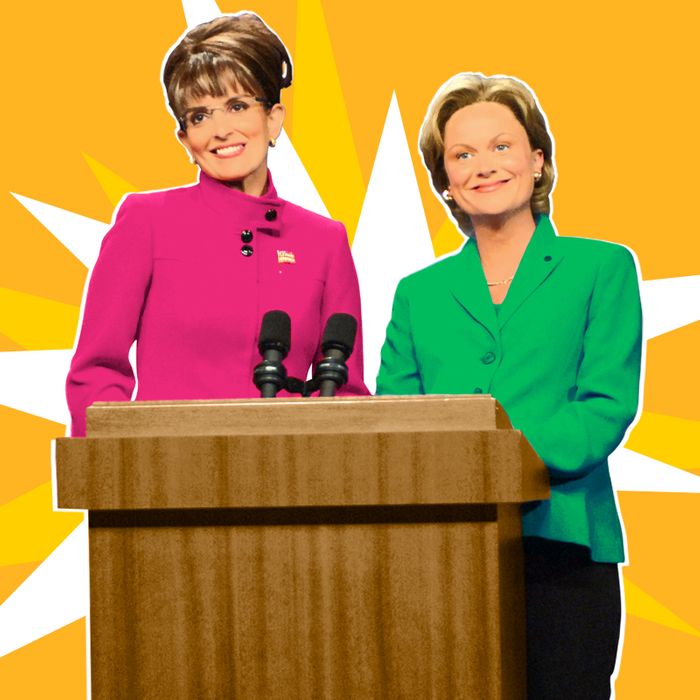 Photo-Illustration: Maya Robinson and Photo by Dana Edelson/NBC/NBCU Photo Bank via Getty Images
Today, Tina Fey and Amy Poehler join forces in Sisters, a movie about familial dynamics, growing up, and one hell of a house party. It shouldn't exactly be a stretch: If we've learned anything from the duo's decades-long friendship, depicting such a close dynamic onscreen isn't going to require Daniel Day-Lewis chops from either comedian. Fans know the ins and outs of the Fey-Poehler sisterhood, but their BFF status is just one part of what makes fans love them. There is, of course, the work they sometimes — but not too often — make together.
After meeting at Chicago's ImprovOlympic in 1993 (and going on to start the improv team Inside Vladimir), Tina and Amy helped establish the idea of professional sisterhood long before Squad Culture™ gripped the world this year, by championing each other at Saturday Night Live (where they both worked from 2001 to 2006), collaborating on 2008's Baby Mama, and hosting the Golden Globes from 2013 to 2015. But what's made their work together so special is their choice to be choosy. The secret to working with your best friend, it seems, is doing your own thing most of the time.

By the mid-2000s, Tina and Amy become arguably the most beloved "Weekend Update" co-anchors since Jane Curtin and Dan Aykroyd, but that didn't stop both from leaving for their own projects. While Fey traded 30 Rock for 30 Rock in 2006, Poehler held her own at SNL for a couple more years before branching off with Parks and Recreation. They were leading their own shows, but the two continued to join forces from time to time, increasingly with bigger returns: collaboration on the Fey-penned Mean Girls led to Baby Mama in 2008; scene-stealing bits at awards shows served as stepping stones to their Globes hosting; even SNL begged them to come back to play Sarah Palin and Hillary Clinton. Let's dig into the best, and highly specific, moments from Tina and Amy's two decades of comedic collaboration.

25. Tina and Amy's Anti–Star Wars Campaign (2015)
Admittedly, Sisters will be up against quite a force this weekend — specifically, the Force. Their solution? To launch a smear campaign that will cement Fey and Poehler's cinematic success. Your move, Abrams.
24. Entertainment Weekly Guest Editors (2013)
Two years ago, Fey and Poehler were entrusted to guest-edit an issue of Entertainment Weekly, which saw Jon Hamm interview eventual Kimmy Schmidt co-star Ellie Kemper — and also offered a glimpse into the then-upcoming series Broad City. (Oh, to be young again.)
23. Late Night With Jimmy Fallon: "Jersey Floor" (2011)
Remember Jersey Shore? Back in 2011, when the dreadful MTV reality series was in its prime, Jimmy Fallon capitalized accordingly by recruiting friends/former co-workers for his spoof, Jersey Floor. In it, Amy and Tina find themselves transported to 30 Rock's Jersey Floor, a world as rich in drama as it is in fake tanner. So, while attempting to woo Jimmy, a.k.a. J-Bro, they come up against Rachel Dratch, a.k.a. Drootchie, who fights them as effectively as her namesake. The best line? Tina to Jimmy: "I wanna make babies with you!" Which should be everybody's Tinder bio.
22. Completing sentences for Access Hollywood (2015)
Because if you didn't have enough proof that they're comedically synced, here's more.
21. Helping Broad City's Troubled "Sisters" (2015)
Poehler may be an executive producer on Broad City, but Abbi and Ilana's humor is a little bawdier than Tina and Amy's has even been. So it was a real treat to see the latter pair get on Broad City's level in this tale of rebellion and redemption — while dressed as nuns.
20. "Amy and Tina's Big Adventure" on Oprah (2008)
Returning to their improv stomping grounds of Chicago to promote Baby Mama, Fey and Poehler strove to be the new Oprah and Gayle. And while they admittedly came up short (their road trip lasted only a few blocks), they further solidified themselves as scene stealers — even next to Oprah!
19. Heckling Neil Patrick Harris at the Emmys (2013)
Because in the words of the Weeknd, they earned it.
18. ASSSSCAT TV Special (2005)
But seriously — they earned it! Proving that improv skills last forever, the two participated in the Bravo special for ASSSCCAT, the long-running weekly Upright Citizens Brigade show that Poehler used to perform in. Though Tina and Amy's improv paths crossed early on at ImprovOlympic, Fey joined Second City while Poehler co-founded UCB; so in this (admittedly bizarre) TV special, Tina is guesting in Amy's usual crew, which helped popularize improv in the mainstream. Tina hangs in there just fine, thank you very much.
17. Amy Honors Tina, Recipient of the Mark Twain Prize (2013)
Twenty years after her comedic start, Fey earned the Mark Twain Prize for American Humor in 2013 — an occasion that saw her work wife give a speech that was equal parts poignant and funny. Once upon a time, as Poehler points out, their dreams were as "big and unshaped as their eyebrows."
16. Anchorman 2's Most Epic Fight Scene (2013)
Admittedly, the genius lies not in the fight scene itself, but in the fact it somehow managed to be filmed at all without everybody involved passing away from laughter.
15. Presenting at the Emmys (2008)
Thanks to "Weekend Update" and Baby Mama, Fey and Poehler teamed up at an awards show for the first time in 2008, proving they could deliver more laughs in 30 seconds than the panel of unfunny people who hosted the Emmys that year (Ryan Seacrest, Tom Bergeron, Heidi Klum, Howie Mandel, and Jeff Probst) did the entire night.
14. One Night Only: An All-Star Tribute to Don Rickles (May 2014)
For a Spike TV tribute to Don Rickles, held two days before his 88th birthday, David Letterman, Jerry Seinfeld, Robert De Niro, and Martin Scorsese paid homage to one of the industry's most beloved (and feared) comedians. That star power's all well and good, but Tina and Amy low-key stole the show.
13. SNL: Bush Twins (2005)
As Barbara and Jenna Bush's antics grew rowdier, Amy and Tina took it upon themselves to embody the former First Daughters. A true feat — unless your scene partner perfectly complements your approach to comedy.
12. Amy as Liz Lemon on 30 Rock's season six live episode (2012)
In 30 Rock's second live episode, we were given the perfect combination of friendship and joke writing: Poehler poked fun at the epic singlehood of a character (and Fey herself, as she's joked many times) who notably did not have sex until age 25.
11. "Weekend Update": Tina and Amy Mentor Lindsay Lohan (2004)
Coming off the success of Mean Girls, Lindsay Lohan showed up on "Weekend Update" and cemented Tina and Amy as the perfect concerned-but-crazy aunts. Considering this was just before Lohan really spiraled into public meltdowns, court dates, and jail time, we only wish Fey's concern over Lohan's partying (and "Mischa Barton arms") had been heard louder and clearer. That said, Tina and Amy's ability to bring attention to real issues through tight joke writing (and delivery) is what made their "Weekend Update" reign so memorable. After all, try finding any other "Weekend Update" co-hosts who made an impact big enough to warrant action figures. (Sorry, Colin Quinn.)
10. SNL 40 "Weekend Update" (2015)
Considering we all got wise to the skills of Fey and Poehler during late-2000s "Weekend Update," it made sense to see them return to their posts for SNL 40 — alongside Jane Curtin, the show's first-ever female anchor. This, friends, is what dreams are made of.
9. Golden Globes 2013: Opening Monologue
Lest we forget that what feels like a million years ago, Fey and Poehler took over for Ricky Gervais as Golden Globes co-hosts. They set the bar so high, they were asked to match it in 2014 and 2015, too. Their best joke from round one? Poehler's shout-out to Kathryn Bigelow's marriage to James Cameron. See also: Jessica Chastain's reaction.
… And also enticed us to support a future musical collaboration.
8. Golden Globes 2014: Opening Monologue
They avoided the sophomore slump by upping their one-liner ante, in the process confirming what we all already knew: that George Clooney would rather float away into space and die than spend another minute with a woman his own age.
7. Golden Globes 2015: Opening Monologue
Here's to ending Globes duties with a bang, not a fizzle. Instead of their usual light jabs at pals and big celebrities alike, Fey and Poehler went out on a limb to dig into Bill Cosby, whose sexual-assault allegations had recently started coming to light (again). (Fey, of course, had been bringing him up since her own "Weekend Update" days, and went on to make jokes at his expense on 30 Rock.)
6. "Weekend Update": "Bitch Is the New Black" (2008)
Before Obama got the ticket and 2008's candidates were officially named, Hillary Clinton was a viable contender, which saw Democrats divvy up into two camps — and simultaneously saw Tina and Tracy Morgan go head-to-head on "Weekend Update."
5. Rehearsing the Mean Girls Kevin G rap (2003)
And now we know why Amy Poehler kills it on Comedy Bang! Bang!'s Freestyle Rap Battles every damn time.
4. Amy Poehler's Dialogue in Mean Girls (2004)
Speaking of Mean Girls, we have Fey to thank for writing Amy a part that's equal parts hilarious and horrifying. Casting Poehler as Regina George's cool mom (not a regular mom) was a stroke of cinematic genius, and helped to make Tina's first full-length project one of the best comedies of the 2000s, especially since we all knew a mom like that growing up.
3. The Baby Mama Dance-Off (2008)
As if we'd make a list of the duo's career highlights without mentioning their first full-length cinematic feature together. A movie about friendship in the wake of serious life differences, Baby Mama was filled with warm, funny characters who evolved into the best versions of themselves, as friendship-movie rules dictate. The best part? This dance-off. Or: How we think we dance at the club versus how we all actually look.
2. SNL: "Mom Jeans" (2003)
Little did any of us know that, come 2009, mom jeans would be the uniform of cool people everywhere, and that appliqué vests would be the icing on the hipster cake. Of course, 12 years ago, the fashion landscape looked a lot different. Case in point: In 2010, Fey explained that the sketch came about after a fire in her apartment led to her buying an emergency pair of jeans that she and Maya Rudolph made fun of. From there, Tina created a sketch that embodied the nonsensical nature of "mom"-targeted clothing, made even better by Poehler's smiling, vest-wearing character. Think of this as The Sisterhood of the Traveling Pants all grown up and gone full minivan, or just biting commentary on how the fashion industry views women of a certain age.
1. SNL: Tina and Amy as Sarah Palin and Hillary Clinton (2008)
The only thing that'll make us forget about the threat of Trump in office is a sequel to this send-up on political double-standards when Amy and Tina take over SNL tomorrow. (At the very least, the show has to give us Amy as Hillary, still vying enthusiastically for the democratic bid.) The "I can see Russia from my house" bit is what everyone remembers — it didn't hurt that Fey looked exactly like the woman she was depicting — but Poehler's performance is memorable in its own right, thanks to her maniacal laughter that alluded to an awareness Palin was lacking. Here's to Fey-Poehler 2016.