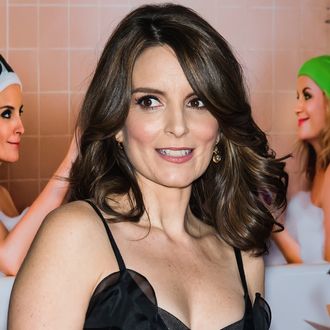 "Stay clear of the internet and you'll live forever."
Photo: Gilbert Carrasquillo/Getty Images\
Like many comedians, Tina Fey writes about race, but her takes on the subject have drawn mixed responses — some positive; some, in the case of one sub-plot on The Unbreakable Kimmy Schmidt, very negative. In that instance, Fey and series co-creator Robert Carlock had Jane Krakowski portray a Native American character passing as a white woman, leading to a series of jokes about her relationship with Native culture. Depending on how you read the episode, the writing either places the joke on her character or irresponsibly punches down on the culture. In response to a question about the sub-plot at a Television Critics Association panel, Carlock said, "We have a couple of writers on staff with Native American heritage […] So we felt like we had a little room to go in that direction … wouldn't that be a crazy A-to-Z for her to deal with that, and maybe reconcile with it, and re-embrace who she really is, ultimately." Fey, on the other hand, has decided that the best choice is not to engage at all. In an interview with Net-a-Porter, she said:
Steer clear of the internet and you'll live forever. We did an Unbreakable Kimmy Schmidt episode and the internet was in a whirlwind, calling it 'racist,' but my new goal is not to explain jokes. I feel like we put so much effort into writing and crafting everything, they need to speak for themselves. There's a real culture of demanding apologies, and I'm opting out of that.
Do what you want, Tina Fey. But come Kimmy Schmidt season two, the internet will still be here.