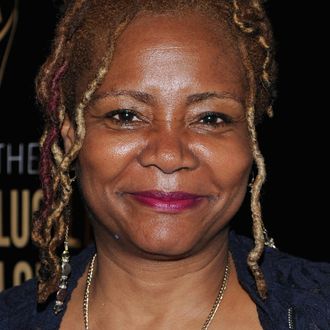 Tonya Pinkins.
Photo: Andrew Toth/Getty Images
Tonya Pinkins has left the Off Broadway production of Bertolt Brecht's Mother Courage and Her Children, currently in previews, saying the production had "neutered" her character "through the white gaze," the Associated Press reports. Pinkins announced her departure in a statement on Wednesday, saying the Classic Stage Company's vision for the production had left her Mother Courage, a woman who operates a canteen wagon in the midst of a devastating civil war, "speechless, powerless, history-less and even cart-less." The root of the conflict appears to be CSC's decision to shift the setting of the play from 17th-century Europe to the modern-day Democratic Republic of the Congo — Pinkins called the move a mere "decorative motif" and said the production misled her about its intention to portray Mother Courage as "delusional." As the actress, who won a Tony for her role in Jelly's Last Jam, wrote, "Why, in 2015, in the arts, is there a need to control the artistic expression of a black woman?
In a statement to the AP, CSC artistic director Brian Kulick acknowledged the disagreements, saying the debate around the character "became louder and louder to each of us to a point where I think we couldn't hear each other anymore." The revival's scheduled January 7 opening has been pushed back while the production searches for a replacement.