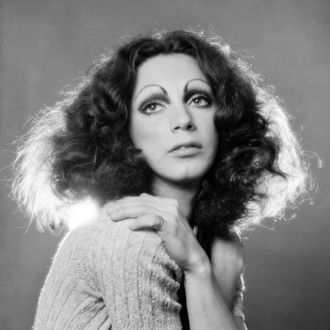 Holly Woodlawn, the transgender actress who rose to fame in the early 1970s through her work with Andy Warhol and Paul Morrissey, died on Sunday in Los Angeles after a long battle with cancer. She was 69.
Born Haroldo Danhakl in Puerto Rico, Woodlawn grew up in Miami before running away from home at 15 to hitchhike to New York City. Her story famously inspired the first verse of Lou Reed's 1972 "Walk on the Wild Side": "Holly came from Miami, F.L.A. Hitchhiked her way across the U.S.A. Plucked her eyebrows on the way. Shaved her legs and then he was a she. She says, 'Hey, babe, take a walk on the wild side."
After spending years in poverty in New York, Woodlawn met Andy Warhol, the man who would make her one of his "superstars," in 1968. By 1970, she starred in Paul Morrissey's Warhol-supported Trash, giving a performance thrilling enough to inspire George Cukor to launch a write-in Oscar campaign on her behalf, though neither an award nor a nomination materialized. In 1971 she appeared in Warhol and Morrissey's Women in Revolt alongside fellow trans icons Candy Darling and Jackie Curtis.
In the '70s and '80s, Woodlawn moved from New York to San Francisco to Miami, never quite finding mainstream success. In 1992, she published a memoir, A Low Life in High Heels, and in the latter part of the '90s, she experienced somewhat of a career revival, appearing in independent films such as Billy's Big Hollywood Kiss and Night Owl. In the 2000s, she began performing cabaret shows in Los Angeles. More recently, she appeared as Vivian in the first season of Transparent.
Woodlawn's friend and Trash co-star Joe Dallesandro posted the news of her death on Facebook Sunday. "I arrived to the hospice and went to Holly's room, #403," he wrote. "I was next to her talking and telling her all the love that was being sent her way from everyone. It was like she knew I was there. I am sorry to say at 3:06pm Los Angeles time, Holly Woodlawn passed away." Woodlawn had endured a months-long battle with cancer, which, due to Woodlawn's limited means and severe prognosis, had been supported through a crowdfunding campaign set up by her friend and collaborator Penny Arcade.
"Holly and I come from a long line of people that doesn't have too many left standing," Arcade told The Hollywood Reporter when interviewed about the campaign. "She was fierce."