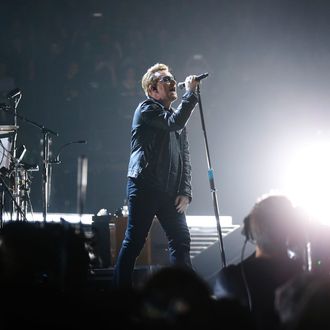 After canceling concerts scheduled for November 14 and 15 in Paris in the wake of the terrorist attacks that took place November 13, U2 has returned to the city for an emotional set of concerts Sunday and Monday. During the performance, the names of those lost during the attacks appeared behind them in the colors of the French flag, emblazoned with the Eiffel Tower peace sign that has become the symbol of the response to the violence. According to reports, Bono shouted "Vive la France" as he walked onstage.
Patti Smith, a surprise guest, also joined the band, performing "Gloria"/"Bad" and "People Have the Power."
"So much that was taken from Paris on the tragic night of November 13th is irreplaceable. For one night, the killers took lives, took music, took peace of mind — but they couldn't steal the spirit of that city," Bono said when addressing the attacks. Monday night's performance will be recorded for an HBO special.