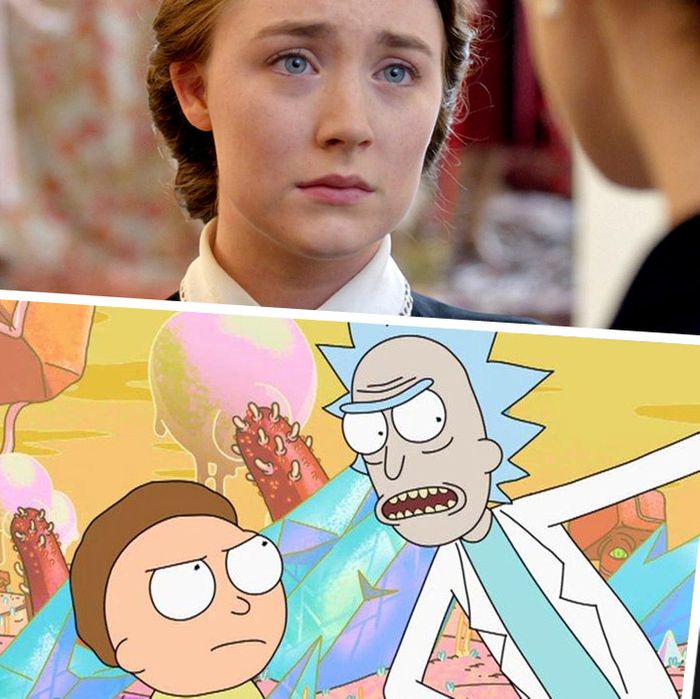 Photo: FOX Searchlight, Getty Images, Adult Swim
Over the past couple weeks, Vulture published our critics' year-end best-of lists. They included TV and film, comedy (sketches, specials, and podcasts), albums, video games, viral videos, and, appropriately, lists, among many other categories. Today we wrap up our year-end coverage with a collection of Vulture Insider picks for the best entertainment of 2015.

TELEVISION:
@purduette (Robin L. Barton): "The Knick: Compelling stories. Great visuals that capture the look and feel of old New York. And one of the best ensemble casts on TV."
@jmunney (Jeffrey Malone): "Review: AJ kicking Forrest in the balls should be on both Andy Daly and Megan Stevenson's Emmy reels."
@crystalized (Crystal Covington): "Sense8: In an increasingly fractured real world, Netflix's unique and moving series took just 12 episodes to memorably remind us what it is to be human. A crushingly romantic, thought-provoking, and stunning travelogue shot onsite around the world in four months, Sense8 may have been billed as science fiction, but its characters and feelings made it all too real."
@ninotchka (Nina Saarikoski): "The Americans: Keri Russell, Matthew Rhys, the writing … absolutely everything rings true, and the suspense is riveting."
@joshgranovsky (Josh Granovsky): "Parks and Recreation: Though it seems like it was an eternity ago, Parks and Rec only took its final bow this year, and what a glorious bow it was. The final season began with an expertly planned time-jump and ended with one of the most satisfying closure-providing finales of all time.
@leeborz (Leora Borzak): "BoJack Horseman: With the subtle recurring bits (and the Will Arnett) of Arrested Development and the are-we-rooting-for-them-or-against-them characters (and the Alison Brie) of Mad Men, BoJack is one of the most thought-provoking shows of the year. Horses (and dogs, and cats, and penguins …) are people, too."
@howardshum (Howard Shum): "Rick and Morty: The show is full of creativity and fun. Most TV shows fall into route and predictability. Rick and Morty continues to surprise."


MOVIES:
@jmunney: "Spotlight: The epilogue was the most overwhelming cinematic moment of the year."
@crystalized: "Brooklyn: As pop-culture journalists occasionally bemoan the end of the romantic comedy, this period drama snuck in with a swoon-worthy romance for the ages. Led by the mesmerizing Saoirse Ronan, the simple film allows us access to one immigrant's story told so clearly and deftly that it forever humanizes that long boat ride to Ellis Island. Welcome to America."
@ninotchka: "Bridge of Spies: Just perfect performances from Mark Rylance and Tom Hanks, and by perfect, I mean, just the right dose of detachment to find humor and subtlety in their characters instead of them being ponderous and preachy."
@joshgranovsky: "Welcome to Me: This overlooked Kristen Wiig dark dramedy not only fed my K. Wiig addiction, it also turned out to be a surprising gem lost in a sea of heavily promoted films this season. Wiig masterfully navigated her mentally challenged Alice with the perfect balance of humor and honesty."
@leeborz: "Room: This movie forces watchers to think beyond the media representation of the kidnappings we read about all too frequently. What could have been the happy ending of the film — Jack and Ma's successful escape from their captor — happens only midway through the movie, and isn't entirely happy. What comes next?"
@howardshum: "Son of Saul: A Hungarian Jew is forced to work in a crematorium, taking out bodies and scrubbing floors during the Holocaust. He finds a body that he thinks is his son, whom he's now determined to give a proper burial no matter what. This film is shot with mostly medium and close shots of the main character with long lenses that blur out the backgrounds. It's an involving film of a poignant subject."


ALBUMS:
@jmunney: "Tame Impala, Currents: Why can't every new album be this psychedelic? Each track provides the ideal music to set my mood for the day."
@crystalized: "Daniel Romano, If I've Only One Time Askin': While 2015 may have been the year Marty McFly visited in Back to the Future II, Canadian country singer Romano takes us back to the past with his album If I've Only One Time Askin'. As fiddles, steel guitars, and piano join his smooth voice to croon about 'the one that gone away,' your feet will yearn for a two-step, and your hand for a glass of whiskey."
@joshgranovsky: "Daniel Caesar, Pilgrim's Paradise: Toronto R&B up-and-comer Daniel Caesar crooned his way into my highly selective iTunes 'Chill' playlist with his perfect too-big-for-an-EP-too-small-for-an-album debut this year. All seven carefully crafted, calming songs blend together seamlessly, resulting in less of an album and more of a 25-minute drift into a peaceful rest."


BOOKS:
@jmunney: "Mike Sacks, Poking a Dead Frog: I didn't read too many 2015 releases, but this collection of interviews and advice for comedy nerds has provided me with countless inspiration, courtesy of both my favorite funny people and some more obscure clowns."
@ninotchka: "Koons Crooks, Iterating Grace: For me, it's THE book of the year, because it's time to really wake up and start taking on those Silicon Valley overlords. With this book, it's a good start."
@joshgranovsky: "Mindy Kaling, Why Not Me?: In her second series of essays, Kaling uses her distinct brand of hilarity to fill the world in on her life post–blowing up. She not only provides hilarious anecdotes, Hollywood-insider scoops, and industry analyses, but she also gives a surprising amount of good advice learned from years of living in Hollywood."
Vulture Insiders is a free rewards program that offers readers exclusive insight, giveaways, and access to events, as well as unique opportunities to interact with Vulture staffers and fellow pop-culture obsessives. Interested in becoming an Insider? Click here.