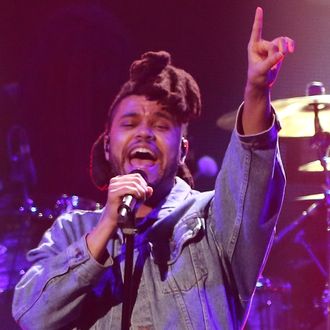 Pass dat "Pass Dat" remix.
Photo: Alexander Tamargo/Getty Images
You could easily build New York's hottest club around the music that has dropped on Christmas this year (you listening, Stefon?), from LCD Soundsystem's Christmas track, to Radiohead's unused Spectre theme, to Miley Cyrus's sad Christmas song. Well, not to be outdone, the Weeknd has gotten in on the Christmas spirit, gifting us all two new tracks in honor of the full moon (or, you know, one of the biggest holidays in the Christian tradition). The first is a new collaboration with Future with a built-in refrain about how everyone's getting high. The second is a remix of Jeremih's "Pass Dat," which also focuses on getting high. Seems like we know how Abel deals with holiday stress.