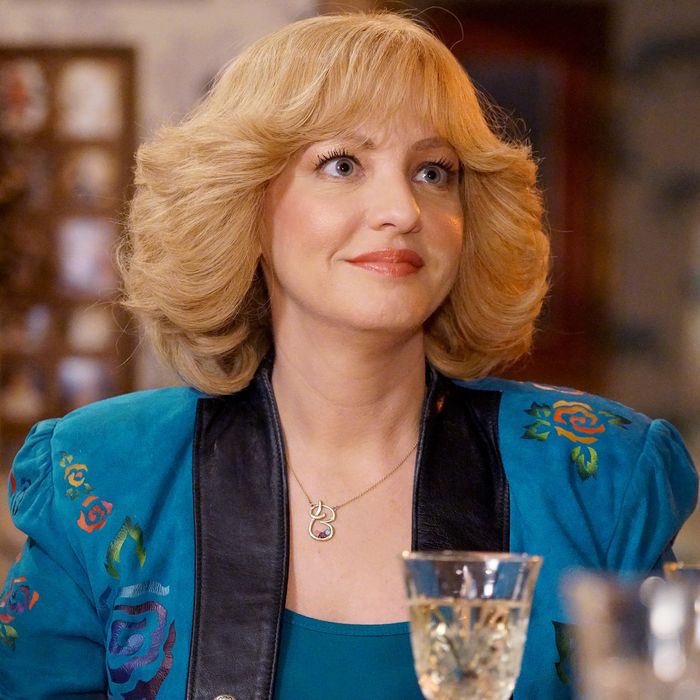 Wendi McLendon-Covey as Beverly on The Goldbergs.
Photo: Adam Taylor/ABC
All due respect to Judith Light, who holds court as TV's Jewish co-matriarch du jour Shelly Pfefferman on Transparent, but Baptist-raised blondie Wendi McLendon-Covey definitively nails the familiar quirks of an American Ashkenazi mama as Beverly on ABC's '80s-set sitcom The Goldbergs — even if, recent Critics' Choice nomination for Best Actress in a Comedy Series notwithstanding, her work (much like the series itself) has gone largely overlooked. Which is too bad, since her rich depiction transcends religious reference and summons any well-meaning, "snuggie-seeking," interference-running, F-bomb-dropping maternal figure who can't help but articulate affection by way of nightmarish warmth. It's a performance that's less about broad inflections and laments than what makes Beverly, or any larger-than-life mom, such a force of nature and nurture.
Since The Goldbergs is based on creator Adam F. Goldberg's early life — with actual home-movies tacked on to each episode for verisimilitude — Beverly's ostensible role is that of a homemaker. But over two-plus years (its currently airing third season resumes January 6), prime time's preeminent "smother" has surpassed Adam's own doppelgänger (embodied by charismatic 16-year-old Sean Giambrone) and curmudgeonly husband Murray (a game Jeff Garlin) as the series' heart, soul, and top-down source of humor.
McLendon-Covey's wrested The Goldbergs from formula, upping the ante with her improv instincts and making worthy scene partners out of Giambrone, Garlin, Hayley Orrantia (as talented but mischievous daughter Erica), and even elder statesman George Segal (rounding out the clan as eccentric grandpa Pops). Recurring guest stars with serious résumés — including Stephen Tobolowsky as hapless Principal Ball and Tim Meadows as petrified guidance counselor Mr. Glascott — all fall in line as the collective straight man alongside McLendon-Covey's alpha female.
But it's her work opposite budding star Troy Gentile (as Adam's dimwitted-but-sweet older brother Barry) that's elevated what could have been an ephemeral, modern mash-up of Family Ties and The Wonder Years to tenured status. Beverly and Barry are the most formidably inseparable mother-son network-comedy duo since Lucille and Buster Bluth, though the similarities cease at the surface. Beverly is Barry's biggest champion, encouraging his futile detours as a wannabe emcee, karate sensei, and Thanksgiving toast-master as if he were more divinely inspired than adorably deluded.
When it comes to communicating our fearless (s)mother's protective imperative, McLendon-Covey is admirably unself-conscious, even if it requires suiting up as "Preda-mom" to rescue Barry from a booby-trapped haunted house. In her hands, Beverly's less a Semitic June Cleaver than Serial Mom sans scissors, effectively coarsening all that overbearing affection with spitfire, and deepening The Goldbergs in the process. And that's without acknowledging how gamely she disappears beneath her alter ego's needlepoint sweaters (some of which have been donated directly from the real Beverly's wardrobe), bulging shoulder pads, expertly teased, post–Farah Fawcett mom-do and slammin' tri-color leotards. It's a role that necessitates looking foolish without playing the fool, and McLendon-Covey accordingly (and respectfully) characterizes Beverly as Peggy Bundy for the suburban upper-middle class.
It's no coincidence, then, that The Golbergs has decentralized its narrative POV since season one. Early episodes leaned heavily on imbuing Adam's camcorder bird's-eye with nostalgic insight, and contriving story lines around Murray's work life and Pops's bachelor exploits. By now, the writers have wised up, tailoring the show to McLendon-Covey's talents and letting Beverly's preoccupations dictate how to naturally re-create slices of Adam's true childhood. She makes it look easy, and we've rarely laughed so hard.