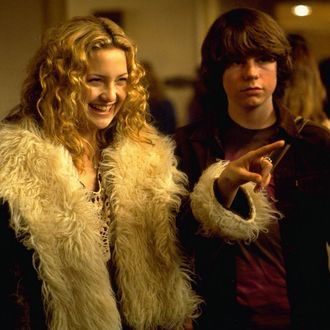 Each month, several films and TV shows leave Netflix's catalogue. We provide a list of titles bidding adieu. For more comprehensive coverage of the best titles available on Netflix and elsewhere, check out Vulture's "What to Stream Now," which is updated throughout the month. Note that most of these movies are departing on January 1, meaning you'll want to put your Christmas break to good use.
It's all happening: Almost Famous (2000)
Cameron Crowe's tale of a teenage journalist who ends up touring with a rock band is just as rosy-eyed as you remember. It will forever be worth watching to see Philip Seymour Hoffman's performance as Lester Bangs, though he's hardly the only standout. The movie has a bit of a self-recriminating edge, a pull toward reality provided by Frances McDormand, who plays our hero's mother, and shades the film's escapades with her domineering, and yet human, anxiety. Leaving January 1.
Are you not entertained? Gladiator (2000)
Russell Crowe in a gladiator getup. Joaquin Phoenix giving the world his very best preen. Climactic fight scenes. Men getting angry about the definition of Roman virtue. Epic and self-serious in the way few movies can successfully be, Ridley Scott's Best Picture winner earns all of the corniness it picks up along the way — though, to be fair, that's also part of the fun. Leaving January 1.
And here's to you: The Graduate (1967)
Mike Nichols's story of a boy who returns home after college and falls into an affair with his parents' friend is the ur-adolescent angst film, though it's aged surprisingly well. Dustin Hoffman is as charming and doofy as ever, Anne Bancroft can be both sexy and despairing, and if you don't hum Simon and Garfunkel for week after a single viewing, then you're made of stronger stuff than most. Leaving January 1.
Pair with Carol: The Hours (2002)
Based on the novel by Michael Cunningham, The Hours follows the intersecting lives of three women affected by Virginia Woolf's Mrs. Dalloway and, in doing so, charts the progress of feminism and gay rights across the course of a half-century. Nicole Kidman won her Oscar for her portrayal of Woolf, while Julianne Moore turns in an exceptional performance as a 1950s housewife, and Meryl Streep is predictably excellent as a woman in the film's present day readying a party for her friend dying of AIDS. Leaving January 1.
Show me the movie: Jerry Maguire (1996)
Tom Cruise plays a sports agent who has a breakdown and nearly tanks his career, ending up with Cuba Gooding Jr. as his only client. You might remember the quotes — "show me the money," "you had me at hello," etc. — but there's so much stuffed in here, from the depth of Cruise's manic performance, to Renée Zellweger in full heartthrob mode, to the always-stunning Regina King as Gooding's wife. Leaving January 1.
Pair with Creed: Rocky (1976), Rocky II (1979), Rocky III (1982), Rocky IV (1985), Rocky V (1990)
Root for the underdog, again, again, again, and again. Leaving January 1.
Get-shit-done viewing: Mission: Impossible (1996), Mission: Impossible II (2000)
Have you ever needed an adrenaline boost in order to go for a run/clean your apartment/send that email/finally delete that ex from your contacts? After a few hours of watching Tom Cruise sprint, you'll feel like you can do anything! (Except escape from the prison of Scientology.) Leaving January 1.
Think-about-stuff viewing: The Virgin Suicides (1999)
Kirsten Dunst's scene-stealing turn in Fargo is as good of an excuse as any to return to her early work in Sofia Coppola's debut feature. The story of the deaths of a group of girls in a religious family as told from the men watching their lives from the outside, The Virgin Suicides captures the external solidarity and internecine violence that defines sisterhood better than nearly any other film. Leaving January 1.
One last recommendation: The Rescuers Down Under (1990)
If only for the best, weirdest comedy sequence Disney's ever done: Leaving January 4.
TELEVISION
Leaving January 1
Criminal Minds: Suspect Behavior (Season 1)
Max Steel (Seasons 1–2)
Sesame Street: Animals and Nature (Season 1)
Sesame Street: Classics (Vol. 1–2)
Sesame Street: Cookie and Friends (Season 1)
Sesame Street: Creativity and Imagination (Season 1)
Sesame Street: Elmo and Friends (Season 1)
Sesame Street: Everyday Moments (Season 1)
Sesame Street: Music and Dance (Season 1)
Sesame Street: Numbers and Letters (Season 1)
Leaving January 8
The Lying Game (Season 2)
Leaving January 14
Bad Ink (Season 1)
Beyond Scared Straight! (Seasons 4–5)
Dance Moms (Collection)
Duck Dynasty (Collection)
Hoarders (Collection)
Intervention (Collection)
Pawn Stars (Collection)
Storage Wars (Collection)
The Kennedys (Season 1)
MOVIES
Leaving January 1
A Clockwork Orange (1971)
Almost Famous (2000)
American Psycho (2000)
American Psycho 2 (2002)
The Bourne Identity (2002)
The Bourne Supremacy (2004)
Charlie and the Chocolate Factory (2005)
Coach Carter (2005)
Conan the Barbarian (1982)
Corpse Bride (2005)
Coyote Ugly (2000)
Four Brothers (2005)
Gladiator (2000)
The Graduate (1967)
Grandma's Boy (2006)
Harriet the Spy (1996)
Heartbreakers (2001)
The Hours (2002)
The Italian Job (2003)
Jackass: The Movie (2002)
Jerry Maguire (1996)
Lara Croft: Tomb Raider (2001)
Lara Croft Tomb Raider: The Cradle of Life (2003)
Lawrence of Arabia: Restored Version (1962)
The Longest Yard (2005)
The Machinist (2004)
Million Dollar Baby (2004)
Mission: Impossible (1996)
Mission: Impossible II (2000)
The Patriot (2000)
Planes, Trains & Automobiles (1987)
Rambo: First Blood (1982)
Rambo: First Blood Part II (1985)
Rambo III: Ultimate Edition (1988)
The Rescuers (1977)
Risky Business (1983)
Rocky (1976)
Rocky II (1979)
Rocky III (1982)
Rocky IV (1985)
Rocky V (1990)
Rosemary's Baby (1968)
Serpico (1973)
The Sum of All Fears (2002)
There Will Be Blood (2007)
Trading Places (1983)
Trekkies (1999)
The Virgin Suicides (1999)
Zoolander (2001)
Leaving January 4
Dumbo (1941)
James and the Giant Peach (1996)
Pocahontas (1995)
The Aristocats (1970)
The Fox and the Hound (1981)
The Great Mouse Detective (1986)
The Nightmare Before Christmas (1993)
The Rescuers Down Under (1990)
The Tigger Movie (2000)
For more details on the best film and television available online, consult Vulture's "What to Stream Now."