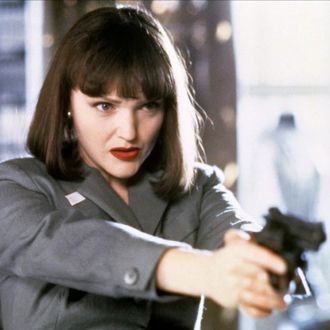 Each month, several films and TV shows leave Showtime Anytime's catalogue. We provide a list of titles bidding adieu. For more comprehensive coverage of the best titles available on Showtime Anytime and elsewhere, check out Vulture's "What to Stream Now," which is updated throughout the month. Note that unlike Netflix, you have the entire month of January to watch these movies — but why not put your Christmas break to good use and take a few down?
It takes a lot to make a stew: Lee Daniels' The Butler (2013)
Every celebrity and their prosthetic-nosed cousin makes an appearance in Lee Daniels's chronicle of the life of Cecil Gaines (Forest Whitaker), butler to the presidents. "Broadly speaking," David Edelstein wrote in his review of the film, "Lee Daniels' The Butler is like Driving Miss Daisy intercut with Do the Right Thing." The result is a big, messy survey of a double life: one demure, the other furious. Leaving January 31.
Star-crossed: Chasing Amy (1997)
Kevin Smith's third Jersey film follows a man who falls in love with a lesbian. Like most of Smith's early films, the scene-setting and direction is spare, but the dialogue is the heart of thing, as a fairly rote sex romantic-comedy spins out into discussions of comic books, Star Wars, and more. Leaving January 31.
Spoiler alert: The Crying Game (1992)
If you know about the big reveal at the end, then maybe you should watch the rest. If you don't, then definitely watch it all. The Crying Game tracks the unlikely connections between Fergus (Stephen Rea), a member of the IRA; Jody (Forest Whitaker), the British soldier he's captured; and Dil (Jaye Davidson), Jody's girlfriend. The twist is a shock, but the rest is just as compelling. Leaving January 31.
Leaving January 31
Lee Daniels' The Butler (2013)
Don't Be a Menace to South Central While Drinking Your Juice in the Hood (1996)
South Park: Bigger, Longer & Uncut (1999)
Chasing Amy (1997)
The Crying Game (1992)
For more details on the best film and television available online, consult Vulture's "What to Stream Now."