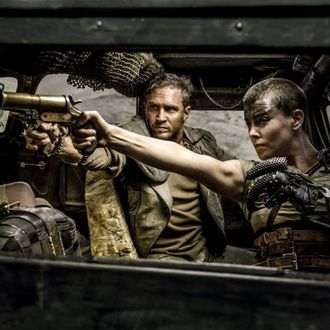 Photo: Jasin Boland /Warner Bros. Entertainment Inc.
At the beginning of (and throughout) every month, HBO adds new movies and TV shows to HBO Go and HBO Now. Some of these may also have previously been on HBO Go or Now, only to have been removed and then added back. For more comprehensive coverage of the best titles available on HBO and elsewhere, check out Vulture's Streaming Hub, which is updated throughout the month.
Chaucer-ish: A Knight's Tale (2001)
Heath Ledger stars as a peasant who takes on his master's mantle in Brian Helgeland's fun and very silly riff on the Middle Ages. Flooded with anachronism, A Knight's Tale benefits from goofy turns by Paul Bettany and Alan Tudyk, the decision to play David Bowie during a dance scene for some reason, and a totally committed performance from Ledger, who is as good a chivalrous hero as any.
Available January 1.
Pair with Chi-raq: Malcolm X (1992)
Spike Lee's controversial biopic of the civil rights leader is as essential now as it was upon release. Sprawling and messy, just like its subject, Malcolm X benefits from one of Lee's biggest budgets, which he uses to great effect in some of the film's breathtaking setpieces.
Available January 1.
But near the sheep: Far From the Madding Crowd (2015)
As Thomas Hardy's famous heroine Bathsheba Everdene (of some relation to Katniss), Carey Mulligan contends with a gaggle of suitors (Michael Sheen, Tom Sturridge, Matthias Schoenaerts) that interest her less than her farming duties. Far From the Madding Crowd provides all the period trappings you might expect — vistas, corsets, sheep — but excels as Mulligan bridles against period conventions. Honestly, why marry any of these stuffed suits?
Available January 3.
Shiny and chrome: Mad Max: Fury Road (2015)
Cue the Doof Warrior, George Miller's latest Mad Max is finally on streaming. Pretty much one long chase scene, Fury Road is all the best parts of other action movies pasted together into one pretty perfect epic. Charlize Theron leads a revolution as the no-nonsense Furiosa. Tom Hardy grunts a lot. Explosions go off constantly.
Available January 9.
An offer you can't refuse: The Godfather Epic (1977)
The Godfather Epic is the TV version of Francis Ford Coppola's famous gangster movie saga, in which The Godfather and The Godfather Part II are cut together chronologically with additional footage left out of the films. It aired on NBC in 1977 and was later released (in shortened version) on video in 1981. The result is a jumping-off point for debates about the differences between film and television, and even streaming content. Or, you know, you could just hang out with Al Pacino for a while.
Available January 17.
TELEVISION

J. Cole Forest Hills Drive: Homecoming (January 9)
Sesame Street (Season 46 Premiere) (January 16)
Psi (Season 2 Premiere)(January 22)
Whitney Cummings: I'm Your Girlfriend (January 23)
MOVIES
Available January 1:
Bikini: una historia real (short)(2014)
Borat: Cultural Learnings of America for Make Benefit Glorious Nation of Kazakhstan (2006)
Carrie (1976)
Cry-Baby (1990)
Down to Earth (2001)
Final Destination 3 (2006)
Joe Versus the Volcano (1990)
The Rainmaker (1997)
A Knight's Tale (2001)*
Knocked Up (2007)
Lucky Numbers (2000)
Malcolm X (1992)*
Milk (2008)
The Muppet Christmas Carol (1992)
Pretty in Pink (1986)*
Troop Beverly Hills (1989)
Tropic Thunder (Director's Cut) (2008)
Two of a Kind (1983)
Voley (2014)
Wonder Boys (2000)
Available later in January
The Second Best Exotic Marigold Hotel (2015) (January 2)
Far From the Madding Crowd (2015) (January 3)
Calvary (2014) (January 4)
La isla minima (2014) (January 8)
Mad Max: Fury Road (2015) (January 9)*
Ladron que roba a la ladron (2007) (January 15)
The Godfather Epic (January 17)*
Unfriended (2014) (January 16)
Entourage (2015) (January 23)
As Above/So Below (2014) (January 24)
True Story (2015) (January 30)
For more details on the best film and television available online, consult Vulture's Streaming Hub.