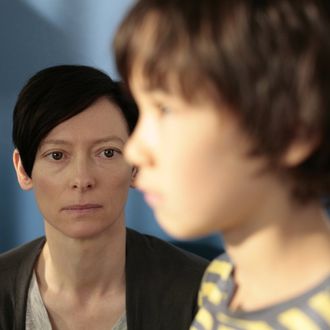 Photo: Oscilloscope Pictures
At the beginning of (and throughout) every month, Netflix adds new movies and TV shows to its library. Here is a quick list of several that you might be interested in. Some of these may also have previously been on Netflix, only to have been removed and then added back. For more comprehensive coverage of the best titles available on Netflix and elsewhere, check out Vulture's Streaming Hub, which is updated throughout the month.
Your holiday with the in-laws isn't looking so bad: Meet the Parents (2000)
As Greg Focker, Ben Stiller does his best to win over his finaceé's father (Robert De Niro), with predictably disastrous results. Coming just after 1999's Analyze This, Meet the Parents further solidified Robert De Niro as an actor who could channel his intensity into comedy (though it doesn't always, or even often, work). And coming between 1998's There's Something About Mary and 2001's Zoolander, this is Ben Stiller just as he came into his go-for-broke comedic prime.
Available January 1.
Tilda's baby: We Need to Talk About Kevin (2011)
For once, Tilda Swinton isn't the eeriest thing onscreen in this drama about a mother's complex relationship with her increasingly sociopathic son — think Rosemary's Baby, but the horror continues for years. As the titular Kevin, Ezra Miller delivers a breakout performance worthy of all its acclaim, while Lynne Ramsay's direction keeps the terror personal.
Available January 1. 
Handsome enough to tempt me: Pride & Prejudice (2005)
Joe Wright's swooning, rain-soaked direction turns Jane Austen's comedy of manners into something between a Gainsborough portrait and a Brontë romance, but even if this Pride and Prejudice isn't as true to form as the Colin Firth version, it has its pleasures. Most notable: Keira Knightley as the whip-smart Elizabeth Bennet, pre≠Gone Girl Rosamund Pike as perfect older sister Jane, Dario Marianelli's score, and an infinite supply of beautiful people.
Available January 1.
Clock out: Training Day (2001)
A rookie cop (Ethan Hawke) gets a assigned to a detective (Denzel Washington) who reveals himself to be more and more corrupt as time goes on. What seems like a predictable morality play gets complicated by Washington's Oscar-winning performance, as the actor brings depth and very real anger to a character who might otherwise be a color-by-the-numbers dirty cop.
Available January 4.
Waffles, friends, work: Parks and Recreation (Season 7)
After a time-jump to 2017, Parks and Recreation became a series of loving send-offs to each of its characters, featuring everything from Donna's wedding to Andy's new TV show. Its final season is as sweet as ever, made bittersweet by how hilarious it was at times ("Leslie and Ron" is a season, if not a series, standout). Alas, all things must pass — but at least you can relive the end again, preferably while eating waffles.
Available January 13.
The one Netflix wants you to watch: Degrassi: The Next Class (Season 1)
Remember how Netflix decided to resuscitate long-running teen drama Degrassi? Well, now it's coming to a streaming library near you. Brace for drama, laughter, hormones, angst, lockers, wishful thinking about Drake cameos, Canadians, cliques, and braces.
Available January 15.
Sing it out: The Last Five Years (2015)
Jeremy Jordan (Smash, Supergirl) and Anna Kendrick (Pitch Perfect, the fact that she's Anna Kendrick) offer up their best Broadway pipes in this love story told from two perspectives: one forward, the other in reverse. But forget the structural complexity and focus on Kendrick, who proves her star power two bars into film's first song and then doesn't stop. "There are so many shades to her tremulousness," Vulture's David Edelstein wrote of Kendrick's performance, "that we need some new names, the way Eskimos differentiate between grades of snow."
Available January 15.
TELEVISION
January 1
Angry Birds Toons (Season 1)
The Celebrity Plastic Surgeons of Beverly Hills (Season 1)
Forensic Files (Collection 2)
Friday Night Tykes (Season 1-2)
Under Arrest (Season 1) 
January 2
30 for 30, "Four Falls of Buffalo"
I'll Have What Phil's Having (Season 1) 
January 3
Sofia the First (Season 2) 
January 8
Dragons: Race to the Edge (Season 2) 
January 11
Littlest Pet Shop (Season 4) 
January 13
Parks and Recreation (Season 7)
January 15
Degrassi: The Next Class (Season 1)
January 17
Z Nation (Season 2)
January 21
When Calls the Heart (Season 2)
January 25
From Dusk Till Dawn (Season 2)
January 29
Ever After High: Dragon Games 
MOVIES
January 1
2 Fast 2 Furious (2003)
Along Came Polly (2004)
American Girl: Grace Stirs up Success (2015)
Bring It On: Fight to the Finish (2009)
Bring It On: In It to Win It (2007)
Catwoman (2004)
Constantine (2005)
The Good Road (2013)
House of Wax (2005)
How to Change the World (2015)
Ice Age 2: The Meltdown (2006)
Intolerable Cruelty (2003)
Journey to Le Mans (2014)
Loins of Punjab (2007)
Meet the Fockers (2004)
Meet the Parents (2000)
Nanny McPhee (2006)
Piku (2015)
Pooh's Heffalump Movie (2005)
Pride and Prejudice (2005)
The Rundown (2003)
Shout Gladi Gladi (2015)
Smokin' Aces 2: Assassins' Ball (2009)
Something New (2006)
Stephen Fry Live: More Fool Me (2014)
Stewart Lee's Comedy Vehicle (Season 3)
Swordfish (2001)
The Tale of Despereaux (2008)
We Need to Talk About Kevin (2011)
The Wedding Date (2005)
The Whole Ten Yards (2004)
January 4
Blunt Force Trauma (2015)
Training Day (2001)
January 5
It's Always Sunny in Philadelphia (Season 10)
New Girl (Season 4)
January 8
Adult World (2014)
Tom Segura: Mostly Stories (2015)
January 10
Dos Hermanos (2010)
El Hombre de al Lado (2009)
Esperando La Carroza (1985)
The Marziano Family (2011)
Rosario Tijeras (2005)
Un Oso Rojo (2002)
January 12
The Ladykillers (2004)
January 14
The Testimony (2015)
January 15
The Last Five Years (2015)
Moonwalkers (2015)
Occupied (2015)
The Overnight (2015)
January 16
Hyde Park on Hudson (2012)
January 19
Curve (2015)
January 20
Drone (2014)
January 22
Sharknado 3 (2015)
January 23
Chelsea Does (2016)
January 25
Turbo Kid (2015)
January 28
Frozen Planet (2011)
Frozen Planet: On Thin Ice (2011)
Frozen Planet: The Epic Journey (2011)
The Making of Frozen Planet (2012)
January 31
Words and Pictures (2013)
For more details on the best film and television available online, consult Vulture's Streaming Hub.