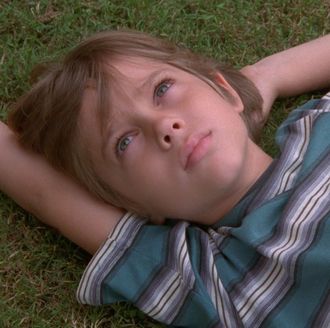 Photo: Sundance Institute
At the beginning of (and throughout) every month, Showtime adds new movies and TV shows to its streaming library, available through Showtime Anytime and in partnership with other streaming services like Hulu. Here is a quick list of several that you might be interested in. Some of these may also have previously been on Showtime, only to have been removed and then added back. For more comprehensive coverage of the best titles available across streaming services, check out Vulture's Streaming Hub, which is updated throughout the month.
I don't wanna be your hero: Boyhood (2014)
Richard Linklater's latest begins with six-year-old Mason (Ellar Coltrane) and his older sister (Lorelei Linklater) dealing with the separation of their parents (Patricia Arquette and Ethan Hawke), and expands across 12 years' worth of trauma and love alike, as they all grow up. Boyhood contains multitudes: a measure of the way small things accrue into something larger; the story of an outsider trying to find his place in the world; even the experience of parenthood.
Available January 1.
Dah dah daaah-dah: Mission Impossible: III (2006)
J.J. Abrams's entry into the Mission: Impossible franchise is the most grounded of any of the films, given Abrams's taste for relationship drama, but there's still a bit for action traditionalists to enjoy. Namely, explosions, chase sequences, and a suburb villain in Philip Seymour Hoffman.
Available January 1.
Compare with Sicario: Traffic (2000)
Steven Soderbergh spares no one in his drug-war thriller, which crisscrosses between a set of color-coded stories from the Oval Office to the Mexican border. The breakaway star here is Benicio del Toro as a Mexican policeman who brings a panicked humanity to match the film's meticulous vision of widespread moral failure.
Available January 1.
You know what's cool? Billions (Season 1)
Paul Giamatti faces off against Damian Lewis in Showtime's financial thriller from CNBC anchor and New York Times columnist Andrew Ross Sorkin (Too Big to Fail). The result is splashy and sexy with a hearty dash of camp: Think somewhere between The Wolf of Wall Street, The Big Short, and Royal Pains.
Premieres January 17.
More Macy: Shameless (Season 6)
Showtime's chronicle of the woe-begotten Gallagher family continues with all the dysfunction we've come to expect. It's a pity that Shameless doesn't get the attention it deserves; it has a heart as big as its characters' foul mouths. But now's your chance to rectify things and catch up before the next season premieres.
Premieres January 10.
TELEVISION
The Nasty Show Hosted by Artie Lange (January 8)
Billions (Series premiere) (January 17) 
Shameless (Season 6 premiere) (January 10)
Dark Net (Series premiere) (January 21) 
Drunk Stoned Brilliant Dead: The Story of the National Lampoon (January 22)
The Circus: Inside the Greatest Political Show on Earth (Series premiere) (TBA)
MOVIES
Available at the beginning of the month:
August Osage County (2013)
Begin Again (2014)
Boyhood (2014)
The Crying Game (1992)
Frank Miller's Sin City: A Dame to Kill For (2014)
The Giver (2014)
Good Morning Vietnam (1987)
The Hundred-Foot Journey (2014)
The Imitation Game (2014)
Last Vegas (2013)
Mission: Impossible III (2006)
Need for Speed (2014)
Shooter (2007)
The Silence of the Lambs (1991)
Snowpiercer (2014)
Spring Breakers (2012)
St. Vincent (2014)
Traffic (2000)
Welcome to New York (2015)
For more details on the best film and television available online, consult Vulture's Streaming Hub.