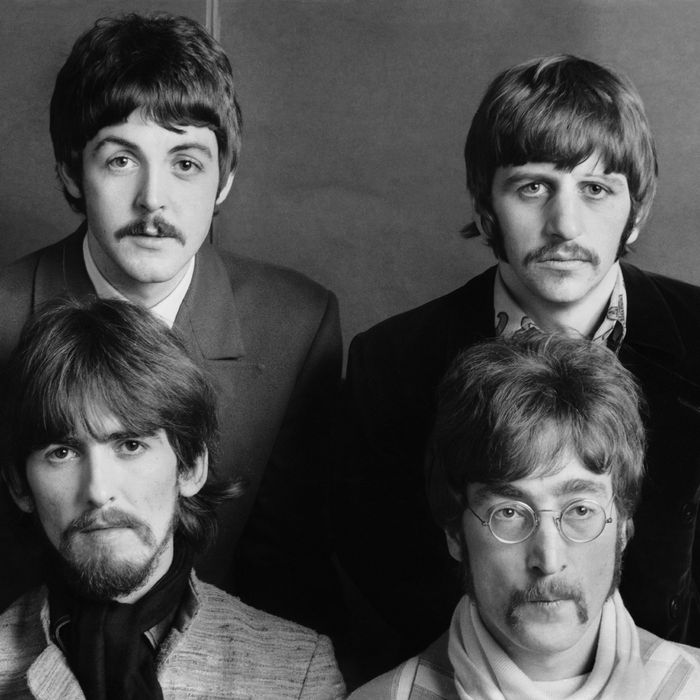 The Beatles.
Photo: Keystone-France/Getty Images
It wasn't a surprise album drop — hell, none of the music is new — but there is something really nice about having the Beatles available on the streaming sites. You're like, "I really want to listen to 'Oh! Darling' right now" and type type type you are! So to celebrate this early Christmas gift, we want to know what your favorite Beatles song is. Are you a kid who just started getting into weed who loves "Lucy in the Sky with Diamonds"; a person who's never heard a classic-rock radio station before and is somehow not even a little bit tired of "Hey Jude"; a person whose hand is always cold, so you love "I Want to Hold Your Hand"? Is your favorite song "While My Guitar Gently Weeps," because you love shredding so much you ignore how dumb of a title that is? Maybe it's "Octopus's Garden," but if so, how are you reading this, as you're definitely a baby? All options are good and valid! Read the picks from Vulture writers and editors below, and then let us know your pick in the comments.
Dee Lockett: "Something"
Well, for most of my life it's been "Something." I think I started out adoring "Here Comes the Sun" above all, mostly because it soundtracked one of the best scenes from a childhood movie fave (Parent Trap, hello!). But then it became my gateway drug to the George Harrison songbook, from which I discovered "Something." Turns out, I'd loved that song all along — I just knew it as the James Brown version. They don't tell kids much about George, so I had to learn on my own who was really responsible for what I consider one of music's greatest songs about infatuation, even if it's actually about Krishna. (Whatever, George, it's clearly about Pattie.) I don't need a wedding song; I'd rather just marry this baby.
E. Alex Jung: "You've Got to Hide Your Love Away" 
This one really hits home. Regardless of whether John Lennon wrote the song about the Beatles's gay manager Brian Epstein with whom he had a "pretty intense" relationship, it's not hard to read a queer subtext into the lyrics, "Hey, you've got to hide your love away." It's a beautiful, plaintive gem of a song.
Emma Barrie: "I Will"
I'm not one of those cool Beatles fans. I like the classics, like "Let It Be," because they give me a lot of feelings, most of which I try to avoid on a day-to-day basis. But if I had to pick one favorite song it would probably be "I Will." It's really simple, and really sweet, and makes me feel like I'm 12, when the concept of love was very straightforward and uncomplicated.
Ira Madison III: "You're Gonna Lose That Girl"
It's songs like this that One Direction emulated the most to become a chart-topping pop act. For a purely fun, danceable Beatles track you can't really get better than this. Before the boys got into their trippy phase, it was all about upbeat vocals and guitar riffs. This is a really good pop song 
Jesse David Fox: "Dig a Pony"
For a while my favorite Beatles song was "Come Together," as it was the first time I realized they were a rock band, and not just hokey ex-hippy-dad music we sang at grade-school "musicals." But now "Come Together" just makes me think I'm listening to an ad for a phone. Then for a while it was "Why Don't We Do It in the Road?" because I like Paul the best (I found him strangely underrated), and I like The White Album the best (it's the record where the Beatles sound most human). Also, I think I reveled in having such a stupid choice. But when working on this post, I reevaluated. My favorite Beatles song should be the one I want to listen to the most and most often, and that is definitely "Dig a Pony." It's lyrically very silly and arrestingly loose, musically, for these guys, yet it still features a giant chorus and one of George Harrison's most George Harrison-y guitar solos. John Lennon once called it a "piece of garbage."
Jillian Mapes: "A Day in the Life" 
Because you get a John song and a Paul song all in one, and both are the epitome of Lennon and McCartney's songwriting styles, respectively. The Beatles wrote a few great drug songs in their later days, but this one is arguably the druggiest ("I'd love to turn you on" being inspired by Timothy Leary speak), and the greatest (not even Pet Sounds had topped that crescendo at the end).
Lane Brown: "And Your Bird Can Sing."
How did they figure out how to do this with their guitars? The blooper version on Anthology 2, where John and Paul can't stop laughing but keep singing anyway, is the happiest recording of anything ever.
Lauren Leibowitz: "She Loves You."
When I was a kid, my parents played Past Masters (disc one) exclusively and often, and that was a fun one for us all to sing along to (including "Sie Liebt Dich"). Yeah, yeah, yeah.
Lauretta Charlton: "Across the Universe"
It's the perfect synthesis of "psychedelic" Fab Four and "let's all hold hands and meditate on these Persian rugs" Fab Four.
Margaret Lyons: "I Will"
I guess it's always been my favorite, but one time Patti LuPone sang it on The Rosie O'Donnell Show, and that really locked everything down.
Nate Jones: "It's All Too Much"
My favorite Beatles song is one I didn't discover until the last round of Beatles-related press in 2009. Imagine the thrill, after two decades on Earth, hearing a new Beatles song! It's so great, and, if you're one of the many people who have never heard "It's All Too Much" before, it's a pleasure I'm going to give you right now. The band didn't have strong feelings about this George cut about the wonders of LSD — they threw it on the throwaway Yellow Submarine compilation — but looking back from a distance of almost 50 years, its acid-rock fuzz sounds decades ahead of its time. And Harrison's lyrics make mind-altering drugs seem almost cozy: "Show me that I'm everywhere / And get me home for tea." No wonder the song was a favorite of the Grateful Dead.
Neil Janowitz: "Back in the U.S.S.R."
If asked for the "Best" Beatles song, I may have said "While My Guitar Gently Weeps," which objectively belongs in that conversation, or "Eleanor Rigby," which objectively does not but I nevertheless hold in high regard because I learned how to play it on the piano in grade school. Since we're talking about favorites, however, I'll say "Back in the U.S.S.R." It's a fine enough song on its own merits, but when you factor in the conscious intent behind its writing, its impressive mimicry, and the cheekiness of its lyrics, I'll never not be entertained by it.
Sean Fitz-Gerald: "In My Life"