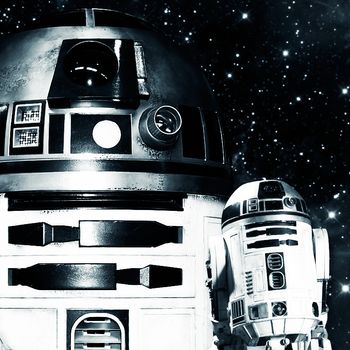 Beep beep.
Photo-Illustration: Maya Robinson and Photos by LucasFilms, Getty Images and hubblesite.org
You may have heard that the Force will be awakening on December 18. To provide an outlet for our excitement, we've assembled another Vulture Advent Calendar — in this case, 25 Star Wars–themed stories, one per day until Christmas. None of them will involve midi-chlorians.
Believe it or not, droids actually age, even if their parts take a bit longer to rust than your average Jedi's. It's at least easy to track C3PO's age since he's always losing parts, but R2-D2? That might be near impossible. Which is exactly why it warranted a quiz. An impossible quiz, even for the biggest of Star Wars fans, that reveals how utterly ageless R2-D2 is, just like Pharrell, Gabrielle Union, or Paul Rudd (they're probably droids too). And to be clear: We're going by his Star Wars chronology age, so R2-D2 is younger in the prequels than he is in the original trilogy.