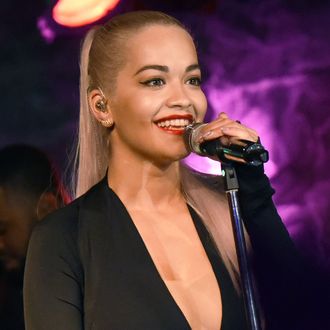 Rita Ora.
Photo: Chris McKay/Getty Images
In a recent interview with Refinery29, Rita Ora discussed her forthcoming album, which will be her first released in the United States. Ora describes the album as having a "darker, more sexual tone to it. And I guess it's more blunt." Which makes sense, since the lead single is "Body on Me," an R&B jam with Chris Brown. When asked why she chose to work with Brown, despite his polarizing persona, Ora said:
"Honestly, it was so easy. It was unforced. He was next door recording at the same L.A. studio, and I walked in and said, 'Hey, there's this song I need you to hear, I want you to be involved in.' It was that simple. It was, like, artist to artist. I didn't think that far ahead. I'm just a fan of his music and I wanted to work as a musician with another musician, really. All that other stuff has nothing to do with me."
Brown will fit right in with the album, which will include pop, soul, hip-hop, and ballads from Dev Hynes, Ed Sheeran, Diplo, Naughty Boys, and Sigma.