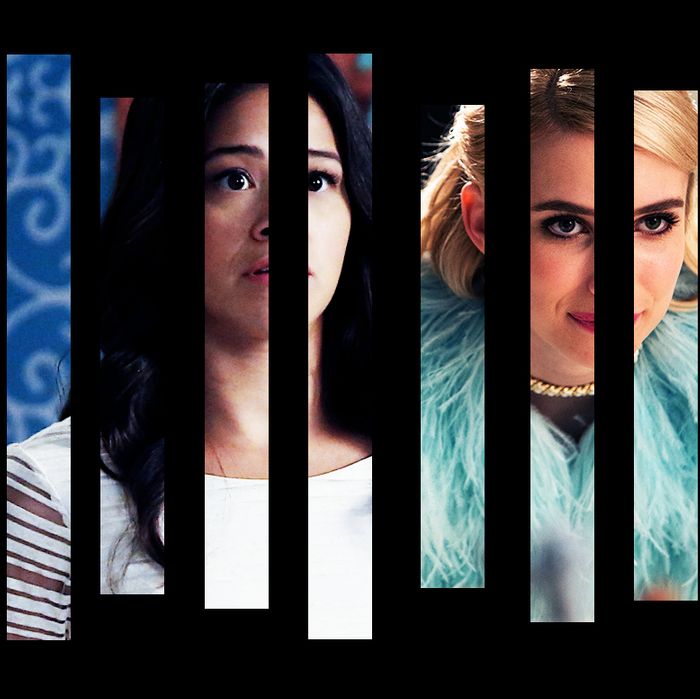 Photo-Illustration: Vulture and Photos by CBS, CW and FOX
The Ratings Game is a weeklong series exploring what the new world of TV ratings means for your favorite shows.
Outside of the casket industry, where the core product is designed to be used once and then buried deep in the ground, there is no business model more in thrall to failure and the extravagant waste of resources than that of broadcast TV. For every new scripted series that earns a renewal, another three don't see a second season. Whether it's the $8 million drama pilot that never cracks the prime-time lineup or the established show that can no longer meet its ratings guarantees, failure can be a very expensive proposition. But as live-TV viewing continues to erode at a dizzying clip, it has become increasingly difficult for network executives to establish a benchmark for futility.
According to Nielsen live-plus-same-day data, 35 of the 62 scripted series currently airing on the Big Four networks are averaging a 1.5 rating or worse among the all-important adults 18–49 demo. To put that number in perspective, the average rating for the scripted shows that were granted renewals last season was a 1.9; go back another three seasons and the magic number was a 2.5.
The rapid destabilization of live ratings and the sheer volume of mediocre results throws any conversation about relative success right out the window; even so, at least a handful of these shows are all but assured a return engagement next season. Here's why your favorite bubble show will live to fight another day.
Strange Currencies
Scream Queens is the season's most visible outlier, as its long-term prospects are belied by its frankly horrible live ratings. Through its first eight episodes, Ryan Murphy's bewitching horror spoof is averaging a 1.1 in the dollar demo, making it one of the fall's bigger disappointments. Setting aside the fact that Fox and cable sib FX would like to maintain their cozy relationship with Murphy, the single factor that will make Scream Queens the surprise renewal of this or any year has to do with commercial deliveries. Simply put, advertisers have never seen a series recapture so many lost commercial impressions in playback. And when the views seven days out are tallied up (approximately 65 percent of Fox's deals with advertisers at the upfronts were written against this more expansive metric), Scream Queens falls just short of a 2.0 in the demo. In other words, the young women who comprise the core of the Scream Queens audience are watching enough ads while catching up via VOD and other alternative platforms that they've effectively saved the show from cancellation.
Even shows that don't benefit from a significant currency lift may rest easy, provided they (a) beat their head-to-head competition and (b) improve on the deliveries of previous time-slot occupants. Critics have bashed Dr. Ken for its relentless dalliance with lazy stereotypes, apparently having overlooked the fact that this is a show that stars Ken Jeong, who has made a cottage industry out of that sort of thing. Viewers, on the other hand, seem to have chosen not to interrogate the show, perhaps because a multi-cam that airs at 8:30 p.m. on Friday nights doesn't necessarily invite that sort of scrutiny. Whatever the case, Dr. Ken is ABC's highest-rated sitcom in the time slot in three years, drawing a 1.3 in the demo; and in doubling the deliveries of NBC's freshman comedy Truth Be Told, it effectively signed its rival's death certificate. Oh, and it's also outperforming year-ago tenant Cristela by 30 percent. None of which is good news for Dr. Ken's erstwhile mid-season replacement, Uncle Buck, which now finds itself as the lone ABC series that hasn't been given an official starting date. Mike Epps's loss is Ken Jeong's gain; look for ABC to announce a renewal shortly before its May upfront presentation.
Saved by Syndication
Advertising keeps the gears spinning, but as CBS, Fox, and Sony TV have demonstrated over the past several years, the real money is in the secondary market. Netflix, Hulu, and Amazon Prime have been all too happy to step in and overpay for broadcast productions. (Netflix last fall plunked down $2 million an episode for the exclusive rights to stream DC/Warner Bros. TV's Gotham, a deal it hashed out two months before the show's linear TV premiere.)
When it comes to syndication opportunities, a dearth of viable comedies in the pipeline should work out in The Last Man on Earth's favor. Ratings for the Fox apocalypse comedy are down 28 percent versus its spring 2015 run, as the network's Sunday-night lineup has been stung by a steady defection of young male viewers. (Since the season began, prime-time-TV usage among men in the 18–24 set has fallen 14 percent.) But as Hulu has already secured the exclusive rights to the Universal-produced Brooklyn Nine-Nine, Last Man represents an opportunity for 20th TV to make a play in the all-but-tapped-out broadcast-syndication aftermarket.
Much that holds true for Last Man should prove relevant to the third-year ABC strip Marvel's Agents of S.H.I.E.L.D., which holds a season-average 1.5 in the demo. The studio is likely to cash in on the current mania for comic-book narratives, and a package deal with S.H.I.E.L.D. bridge show Agent Carter could make for an intriguing streaming/cable hybrid opportunity: CBS, for example, did this with great success when it sold the rights to The Good Wife to an ad-supported cable net (Hallmark Channel), a pair of streaming services (Hulu Plus, Amazon Prime), and weekend broadcast syndication. Moreover, Marvel may look to take advantage of Time Warner chief Jeff Bewkes's recent comments to the investment community that would seem to suggest shows based in their competitors' universe, D.C. Comics (The Flash, Arrow, Supergirl, etc.), are unlikely to be sold outside of the traditional cable bundle anytime soon.
Trophy Wife
Consistently one of CBS's lowest-rated, least efficient shows — with an average draw of a 1.7 rating among adults 25–54, three-quarters of the audience falls outside the bounds of the target demo — The Good Wife also happens to be the network's only awards magnet. Over the course of its seven-season run, the protean legal/political hybrid has picked up more hardware than any other broadcast drama, and is the last network series to be nominated for an Emmy in the cable-dominated Outstanding Drama Series category. As outgoing CBS entertainment chair Nina Tassler said during the network's annual pre-upfront breakfast, The Good Wife will remain on the air as long as creators Michelle and Robert King are game to forge ahead with new story arcs. Already locked into a lucrative syndication deal, The Good Wife continues to earn its keep, commanding the highest ad rates of any CBS Sunday-night drama.
You can make much the same argument for Jane the Virgin. While lead-in Crazy Ex-Girlfriend is having a deleterious impact on the sophomore dramedy (Jane's deliveries are down 20 percent compared to the results of the year-ago period), the CW is over the moon about star Gina Rodriguez, who in January earned the network its first-ever Golden Globe award. Currently toeing the CW's rather elastic Mendoza line with a 0.4 rating, the network's prestige project is all but certain to land a renewal in time for next year's Globes ceremony.
Money Talks
Fox's Tuesday-night comedy battery mates are evenly matched, with only one-tenth of a ratings point separating the John Stamos vehicle Grandfathered (1.1) from Rob Lowe's The Grinder (1.0). The latter would seem to have the inside track for renewal, as Fox has put slightly more effort into promoting it over its lead-in. According to iSpot.tv data, the network has run 4,061 promos for The Grinder over its air and on a variety of cable networks, spending an estimated $2.69 million on getting the word out about the show. At the same time, Fox's push for Grandfathered adds up to some 3,637 spots, totaling $2.15 million. (The Grinder has booked slightly more ad-sales revenue than Grandfathered, generating $9.05 million since the season began to its lead-in's $8.72 million.) Fox also has plans to place The Grinder in a much more protected time slot as of January 5, when it moves behind Brooklyn Nine-Nine in the Tuesday 9:30 p.m. hole, where it won't face any direct comedy competition. Grandfathered, meanwhile, will air after the low-rated returning comedy New Girl in the 8:30 slot, putting it in harm's way of ABC's Fresh Off the Boat, which currently outrates the Stamos sitcom by 46 percent. Fox wants to re-up at least one new comedy, and based on how it's positioning the shows, Grandfathered at the end of the season is likely to get the boot, while the lower-octane The Grinder will stay alive.
Lastly, while ABC's Nashville has routinely defied expectations with a string of renewals that don't seem to be justified by its poor ratings performance — with an average draw of a 1.1 in the dollar demo, it is the network's second-weakest scripted series, behind the doomed Blood & Oil — the millions in economic incentives the musical potboiler receives from its eponym goes a long way toward offsetting its dwindling ad revenues. According to media buyers, the average cost for 30 seconds of ad airtime in season four of Nashville has dropped 11 percent to around $93,000 a pop, making it the third-cheapest broadcast buy at 10 p.m. To date, Nashville has given rise to six soundtracks, with the next in the series set to drop in December. It also has a cable syndication deal in place with Mark Cuban's AXS TV, and Hulu Plus last year acquired the exclusive streaming rights. Perennially one of the last broadcast shows to earn a reprieve each spring, Nashville's ultimate fate in all probability will remain a matter of pure speculation until May.