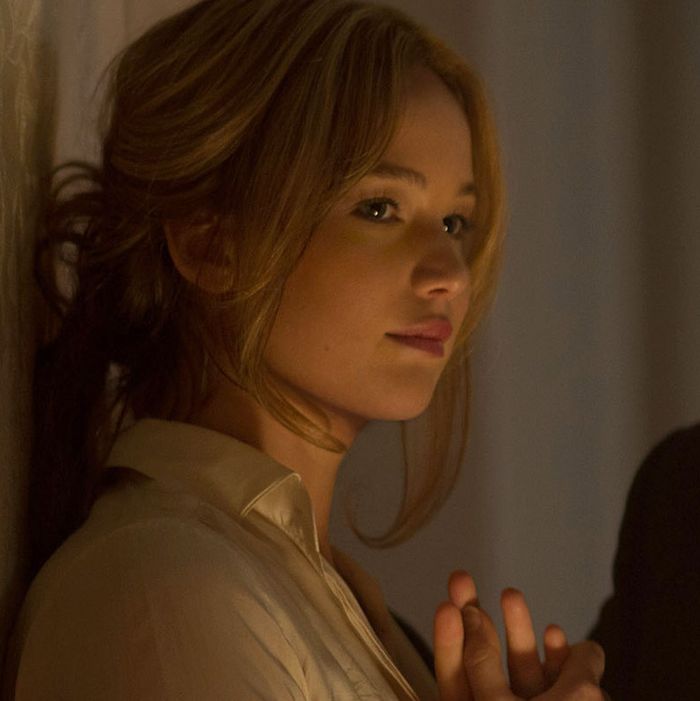 Photo: Merie Weismiller Wallace/Twentieth Century Fox
In Joy, Jennifer Lawrence plays a mop inventor who perseveres despite continually being told that she'll never amount to much, and now that the reviews for the film have come out, I wonder if she'll have to rely on that same fortitude during this Oscar season. Notices are wildly mixed for the dramedy — Lawrence's third collaboration with director David O. Russell — and while some key critics, like the Hollywood Reporter's Todd McCarthy, were kind, the movie's notable pans (from Variety, The Wrap, and Indiewire, as well as a scathing takedown at Pajiba) have the town talking. Russell's last film, American Hustle, earned a field-topping ten nominations, and before that, Silver Linings Playbook won Lawrence an Oscar, so will the third time prove to be the charm or a jinx? Let's run down the categories where Joy hopes to compete.
Best Actress
I've noted before that this year's Best Actress lineup, featuring actresses like Brie Larson and Saoirse Ronan (and potential category-crashers like Rooney Mara and Alicia Vikander) could be awfully ingenue-heavy, and there's no young woman out there who's Oscar-friendlier than J.Law. When she picked up that Silver Linings Playbook trophy at age 22, she became one of the youngest Best Actress winners of all time, and if she triumphed again for Joy, that would still be true.
The mop-magnate role actually has more in common with Lawrence's first Oscar-courting performance in Winter's Bone — it's quiet, reactive, and stolid — than it does with Lawrence's flashier, funnier parts in the other Russell-directed movies. Because of that, I don't expect Lawrence to contend for much more than a nomination, but given how much Oscar voters love her (never forget how close she came to snatching that Oscar from Lupita Nyong'o!), I must note that J.Law, like Joy herself, should never be counted out. It'll help, too, that Lawrence will likely dominate a Globes field for Best Actress in a Comedy or Musical, keeping her front and center this season.
Best Actor, Best Supporting Actor
Russell's last two films both earned Oscar nominations in all four acting categories, but Joy's not likely repeat the feat. For one, there's not really a male lead, taking Best Actor off the table unless Fox decides to perpetrate some massive category fraud. While Robert De Niro and Bradley Cooper both lend support to Lawrence in Joy, and both have been nominated in the Best Supporting Actor category for Russell films in the past, they'll prove to be a tougher sell this year. As Joy's unsupportive father, De Niro is basically playing similar notes to his Silver Linings performance, and the real-life incident that the whole movie seems to be leading up to — where Joy Mangano's father sued her for control of the company — is unaccountably lopped out of the third act and consigned to a narrative postscript, depriving De Niro of a full arc.
I liked Cooper a little more, principally because, when he appears halfway through the movie as a home-shopping guru, he's one of the few people in this antic project who speaks in calm, relaxed tones. Still, I couldn't make heads or tails of his character's motivations, and Édgar Ramírez, as Joy's sorta-supportive ex-husband, has even less to work with. With this year's crop of Best Supporting Actor contenders already chock-full, I don't think they'll make the cut.

Best Supporting Actress
If there is another surprise acting nod, it could come in Best Supporting Actress. The film can boast several female characters, including Dascha Polanco as Joy's friend, Virginia Madsen as Joy's mother, and Diane Ladd as her supportive grandmother, but it's Isabella Rossellini as a wealthy widower dating De Niro who feels like an awards-season dark horse. The never-nominated daughter of Hollywood royalty, Rossellini brings a weird intensity to Joy, and she's clearly having a ball with all her monologues. I'm not sure how this year's Best Supporting Actress category will shake out, or whether true leads like Vikander and Mara will be bounced from it, but if room is made for more women, Rossellini's got an outside shot.
Best Picture, Best Director, Best Original Screenplay, and more
Among American Hustle's ten nominations were notices in Costume Design, Production Design, and Film Editing, and I don't think Joy will compete strongly for any of those. (If the film somehow crashed the latter category, its four editors would be the most men in that role nominated for one film in more than 20 years.)
But what of the other big three categories? Best Original Screenplay is no slam-dunk, especially because I've heard so many murmurs about how Russell seized the script from original writer Annie Mumolo (who received a story credit). Russell himself is going for his third Best Director nod in a row, but I'm not sure the passion will be there this year, especially since contenders like Todd Haynes, George Miller, and Ryan Coogler are surging. The biggest nomination of them all, Best Picture, may actually be the most in reach, since there's more room in that expanded field. It'll help if Joy succeeds at the box office, encouraging a reevaluation — or even a first evaluation, since the late-arriving Joy will have to contend with a big, eclectic array of Best Picture hopefuls that have already been out there, screening for months.