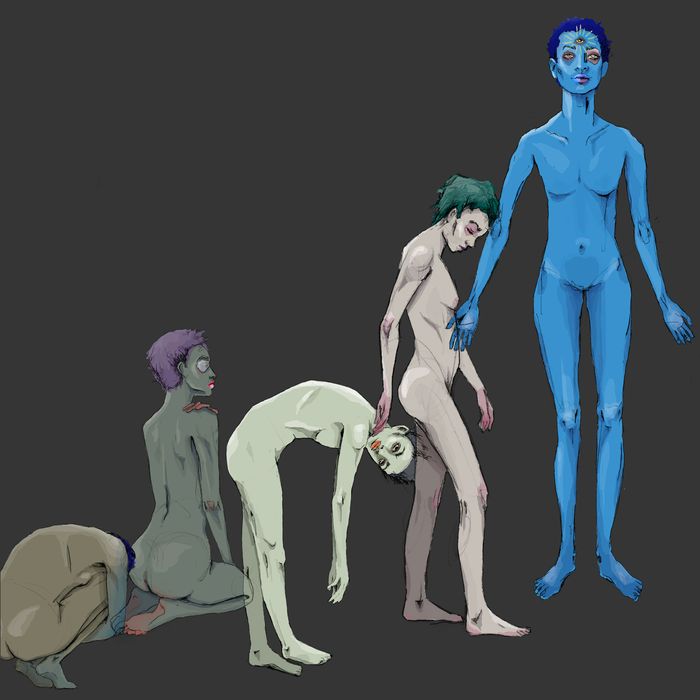 About a year ago, in a now-legendary T magazine interview, then-14-year-old Willow Smith was asked about her conception of time. "I mean, time for me, I can make it go slow or fast, however I please," she answered, "and that's how I know it doesn't exist." The crazy thing is that I almost believe her. The youngest spawn of Will and Jada Pinkett Smith released her debut single, the infectious "Whip My Hair," when she was just 10, imbuing it with a kind of sophisticated confidence that made it sound less like a Kidz Bop ditty than a Rihanna leftover. "I'm the fireball of the party," she proclaimed, age 11, on a single whose Nicki Minaj guest verse and club-ready beat did not exactly conjure images of piñatas and Funfetti cupcakes. This was around the time that some of those mere mortals shackled to their linear perceptions of time and aging started to worry that Willow Smith was maybe growing up too quickly. The next few years fanned the flames: When she was 12, she released a song called "Summer Fling" and had to awkwardly backpedal about the suggestive lyrics ("Just for clarity," she said on The Queen Latifah Show, "the word fling means something that's short-lived. And this song is dedicated to all the kids around the world whose summer is never long enough"); at 13, a controversial photograph circulated online of Smith chilling in bed with a 20-year-old shirtless male friend. So, really, if you were shocked by the precociousness of that T magazine interview, in which Willow discussed prana energy and name-checked the Indian mystic Osho, you clearly hadn't been paying very close attention.
I can't imagine how you guessed it, but yes, Willow and her 17-year-old brother Jaden were homeschooled. ("School is not authentic because it ends," Jaden philosophized in that same interview. "Our learning will never end.") And although their free-spirited attitudes and boundless creative opportunities owe a hell of a lot to the privilege of being the kids of some of the most famous people in the world, there's something strangely relatable about their radical autodidacticism. We're living in an era when millions and millions of teens are already carrying around all the knowledge of our civilization in their jean pockets — cherry-picking what they care to learn, incredulously fact-checking their teachers on Wikipedia, tweeting about #chemtrails from under their desks. It's probably no coincidence, then, that precocious, wise-beyond-their-years teens keep cropping up in the pop landscape. Then-16-year-old Lorde's "Royals" kicked off this musical mini-moment; her great debut album Pure Heroine was so full of world-weary ennui and self-possession that the blog the Hairpin actually published a copy of her birth certificate to prove that she was really a teen. The heir to Lorde's throne this year was 18-year-old Alessia Cara, whose smart and soulful debut record Know-It-All possessed an over-it 'tude and, on songs like the nostalgic "Seventeen," a sharp self-awareness about her own youth. Think of them as the superteens, with ex-teen Tavi Gevinson as their patron saint: self-educating, self-analyzing, and figuring out how to define themselves as unique individuals in a time when the lessons of the past — and #tbt Instagrams of their parents' youthful rebellions — are all at their fingertips.
The title of Willow's first full album, Ardipithecus, is one that most adults themselves will probably have to Google, though she recently clarified in a statement to The Fader: "Aripithecus Ramidus is the scientific name of the first hominid bones found on earth. I wanted to name my musical compilation after it because while I was making these songs I was in such a transitional state. Digging deep in the soil of my heart and finding bits and pieces of my ancient self that tell stories[.]" Her vocals, at the very least, have undergone a transformation — gone are the mini-RiRi inflections of "Whip My Hair" and "Fireball." Over her career, Willow has struggled to find her voice, at one point even delivering a song in an inexplicable British accent. But on Ardipithecus, she's settled on something earthier; on quite a few of these songs, like the plinky single "F Q-C #8," she sounds like she's channeling the primal pop wails of Sia. Elsewhere, on the lo-fi minimalist "RANDOMSONG" and the dreamy "Cycles," she seems to have drawn inspiration from the off-kilter, riot-grrrl-indebted harmonies of the band Girlpool, whom she's shouted out on Twitter. Having gotten her radio-friendly impulses out of her system before she was even a teenager, Willow now seems intent on making music that's unrulier, more adventurous, less eager to please. On a track like "RANDOMSONG," she's not afraid to push her voice to the point of dissonance, exploring nasally drones and guttural rumbles. "I'm just a teeeeenagerrrrr," she growls defiantly on the first song on the album, so much of which feels like a call for her peers to dig deep and embrace their inner feral children.
Which, you know, gets a little tiring over the course of 15 songs without super-discernible choruses or memorable melodies. There are a few tracks that could stand on their own, and transcend lyrics like, "I left my consciousness in the sixth dimension": the shimmery, Dev Hynes–like "Wait a Minute!"; the slick alt-R&B of "Cycles"; the spacey, piano-driven "IDK." But at its most self-indulgent, Ardipithecus feels like a slightly less-druggy version of the freewheeling album Miley Cyrus put out this year (even though there is a song on Ardipithecus called "dRuGz"). Willow's spiritual musings feel too vague to be genuinely insightful, and by the time her old British accent reemerges for a spoken-word part on a song called "Star" ("Earth … our home … incubator of life …") you're sort of just waiting for her to reenter our planet's atmosphere.
Willow's a fascinating celebrity to keep tabs on, and it's been fun to watch her stylistic evolution; it's a testament to her restless creativity that five years into her career, no two of her releases have sounded remotely the same. A much more winning experiment than Ardipithecus, though, was her 2014 EP iii, which found her blending the amorphous R&B of contemporaries like Tinashe and FKA Twigs with the cosmic wisdom of Erykah Badu. ("9," her song with SZA, is particularly lovely.) iii still sounds sophisticated beyond her years, but not like a teenager trying to come off as an octogenarian mystic. Even if Willow Time doesn't exist on the same plane as Standard Time, I still think her music makes its deepest connections when she sounds like a smart, confident, and occasionally goofy teen. There's a moment at the end of "F Q-C #8" when she shakes off the self-seriousness for a second and does a jokey radio DJ impression: "We're gonna slow it down for you guys real quick. Grab your neighbor's hand …" It's a very human moment — not, like, in the primordial, hominid sense, but in the sense that it sounds like it was made by an actual 15-year-old. It's charming and honest, but on the ambling Ardipithecus, a little too fleeting.