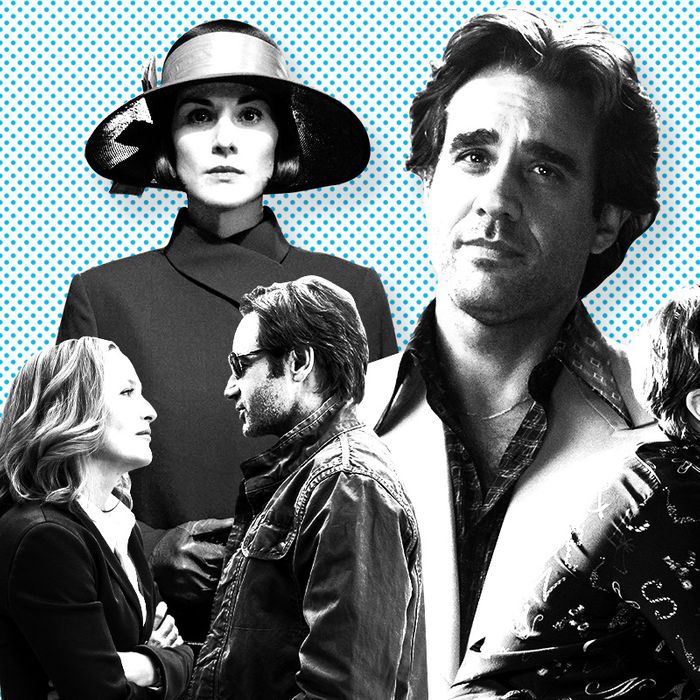 Photo-Illustration: BBC, Fox, HBO
We know, we know. Your favorite shows are currently on their typical winter sojourn. But whether you're a comedy, drama, or sci-fi fiend, there are an abundance of new and returning shows during the winter season worthy of your consideration. Below, we've compiled highlights from the new winter lineup, as well as an extensive list of when all of the shows will be returning, for both season and mid-season premieres. We'll be updating this post whenever new programming information comes in, so be sure to check back in the coming weeks.
Making a Murderer, December 18, Netflix
Netflix's latest foray into original documentaries chronicles the life of Steven Avery, who spent 18 years in prison for a crime that was later proven he didn't commit. However, two years after his release, and in the midst of a civil case aiming to expose police corruption, he became the prime suspect of yet another crime … a grisly murder of a woman. How many crazy twists and turns are there in this ten-part true-crime series, you ask? So, so many.
Sherlock: The Abominable Bride, January 1, PBS
Grab your deerstalker cap! The dynamic sleuthing duo of Sherlock Holmes and Dr. John Watson are back in action after a too-long hiatus, but this time, the 90-minute special finds the Baker Street boys in 1890s London as they search for the truth behind the aforementioned "abominable bride." Fear not, though, about the time displacement — the whole gang will be there, including Mrs. Hudson, Detective Inspector Lestrade, and Mrs. Hudson. It'll hold you over until the three-episode fourth season, which begins shooting in spring 2016.
Downton Abbey, January 3, PBS
The sixth season of the breakthrough upstairs/downstairs British period drama will be its last, so begin mentally preparing to say good-bye to your favorite earls, countesses, ladies, butlers, valets, and housekeepers (how does Julian Fellowes keep track of them all?). We're optimistic that there won't be any unexpectedly horrible deaths, and Lord Grantham will finally learn how to properly run his estate.
New Girl, January 5, Fox
Is she technically even a new girl anymore? Regardless, Jess (Zooey Deschanel) and her merry band of male roommates Nick (Jake Johnson), Schmidt (Max Greenfield), and Winston (Lamorne Morris) are back for a fifth season. Be on the lookout for newbie Megan Fox, who's going to be movin' and shakin' things up as the group's new loft subletter in a multi-episode arc; as well as CeCe and Schmidt's impending nuptials. The season promises big events and bad decisions, so we couldn't be more excited.
Pretty Little Liars, January 12, Freeform (formerly ABC Family)
So how about that time jump, eh? When the second half of the sixth season begins, we're going to see the Liars five years in the future, post-college, ready to start their professional lives. But, alas! Another conspiracy will be bringing the gang back together to Rosewood once again, and this time, it looks like "A" isn't involved. Some questions from the trailer that are piquing our interest: Where has "A" been locked up all of these years? Do the Liars have jobs? How long has Spencer had those bangs? We'll find out soon enough.
Angie Tribeca, January 17, TBS
The Rashida Jones–fronted police-procedural satire from Steve and Nancy Carell follows Angie Tribeca, a ten-year veteran of the LAPD's "Really Heinous Crimes Unit," as she investigates various cases that pop up around the city. Look forward to an absurdist show heavy on sight gags and non sequiturs, with a hearty mix of homages to cop shows of yesteryear like The Naked Gun and Sledge Hammer! Also, the guest-star list is one of the best we've seen — Bill Murray, Adam Scott, and Lisa Kudrow are all stopping by.
The X-Files, January 24, Fox
Need we say more? Mulder and Scully are back for a six-episode mini-series!
American Crime Story: The People v. O.J. Simpson, February 2, FX
The latest anthology series from Scott Alexander, Larry Karaszewski, Ryan Murphy, and Brad Falchuk follows the infamous murder trial of O.J. Simpson and features a formidable cast, including Cuba Gooding Jr. as O.J., Murphy favorite Sarah Paulson as Marcia Clark, John Travolta as Robert Shapiro, and David Schwimmer as Robert Kardashian. Exploring the behind-the-scenes drama of the prosecution, the defense, and the LAPD, the series will examine all aspects of the court case and the racial tensions that played out in the background.
Vinyl, February 14, HBO
A must-watch for any music enthusiast. The Martin Scorsese–, Mick Jagger–, and Terence Winter–helmed Vinyl follows a record-label president (Bobby Cannavale) in 1970s New York as he tries to save his company from dissolving, no matter the cost. Expect the music-biz drama to be filled with a whole lotta sex, drugs, rock 'n' roll, and one hell of a soundtrack. We broke down everything we know about it so far here.
Better Call Saul, February 15, AMC
We've been engrossed with the life of Saul Goodman, a.k.a. Jimmy McGill, from his first appearance on Breaking Bad and well into this crime drama/black comedy spinoff. Will we be introduced to Saul this season, perhaps? If the voice-overs in this tense, short trailer are any indication, there's a good chance we'll be learning much more about our favorite small-town lawyer.
Girls, February 21, HBO
What do we have here? Marnie on the verge of getting married, Shosh doing her thing in Japan, Jessa being her usual jaded self, and Hannah (potentially) maturing a little bit. Friendship is forever complicated.
The full winter 2016 lineup:
Wednesday, December 16
10 p.m. The Magicians, Syfy
Thursday, December 17
9 p.m. Luther, BBC America
Friday, December 18
12 a.m. F for Family, Netflix
12 a.m. Making a Murderer, Netflix
Wednesday, December 30
12 a.m. Mozart in the Jungle, Amazon
Friday, January 1
9 p.m. Sherlock: The Abominable Bride, PBS
Sunday, January 3
8 p.m. Galavant, ABC
8 p.m. The Simpsons, Fox
8:30 p.m. Cooper Barrett's Guide to Surviving Life, Fox
9 p.m. Downton Abbey, PBS
9 p.m. Family Guy, Fox
9:30 p.m Bordertown, Fox
Monday, January 4
8 p.m. Superstore, NBC
Tuesday, January 5
8 p.m. New Girl, Fox
8:30 p.m. Grandfathered, Fox
9 p.m. Brooklyn Nine-Nine, Fox
9:30 p.m. The Grinder, Fox
10 p.m. The Shannara Chronicles, MTV
Wednesday, January 6
8 p.m. American Idol, Fox
10 p.m. American Crime, ABC
10 p.m. It's Always Sunny in Philadelphia, FXX
10:30 p.m. Man Seeking Woman, FXX
Thursday, January 7
9:30 p.m. Angel From Hell, CBS
10 p.m. Todd Margaret, IFC
10 p.m. Shades of Blue, NBC
Friday, January 8
8 p.m. Masterchef Junior, Fox
Sunday, January 10
8 p.m. 73rd Golden Globe Awards, NBC
9 p.m. Shameless, Showtime
Tuesday, January 12
8 p.m. Pretty Little Liars, Freeform
9 p.m. Shadowhunters, Freeform
Wednesday, January 13
9 p.m. Second Chance, Fox
10 p.m. Younger, TV Land
11 p.m. Teachers, TV Land
Thursday, January 14
10 p.m. Colony, USA
10:30 p.m. Idiotsitter, Comedy Central
Friday, January 15
12 a.m. Degrassi: The Next Class, Netflix
9 p.m. Hell's Kitchen, Fox
Sunday, January 17
9 p.m. Angie Tribeca, TBS
10 p.m. Billions, Showtime
10 p.m. Mercy Street, PBS
Monday, January 18
8 p.m. The Fosters, Freeform
Tuesday, January 19
9 p.m. Agent Carter, ABC
Thursday, January 21
8 p.m. DC's Legends of Tomorrow, CW
9 p.m. The 100, CW
10 p.m. Portlandia, IFC
10 p.m. Baskets, FX
Saturday, January 23
9 p.m. Black Sails, Starz
Sunday, January 24
10 p.m. The X-Files (season premiere, part one), Fox
Monday, January 25
8 p.m. The X-Files (season premiere, part two), Fox
9 p.m. Lucifer, Fox
Tuesday, January 26
9 p.m. Outsiders, WGN
Friday, January 29
8 p.m. The Vampire Diaries, CW
9 p.m. The Originals, CW
9 p.m. Banshee, Cinemax
Sunday, January 31
7 p.m., Grease: Live, Fox
Thursday, February 2
8 p.m. The Muppets, ABC
8:30 p.m. Fresh Off the Boat, ABC
10 p.m. American Crime Story: The People v. O.J. Simpson, FX
Friday, February 5
9 p.m., Sleepy Hollow, Fox
11:30 p.m. Animals, HBO
Sunday, February 7
6:30 p.m. Super Bowl 50, CBS
Tuesday, February 9
10 p.m. Tosh.0, Comedy Central
10:30 p.m. Not Safe W/ Nikki Glaser, Comedy Central
Thursday, February 11
8 p.m. Grey's Anatomy, ABC
9 p.m. Scandal, ABC
10 p.m. How to Get Away With Murder, ABC
Sunday, February 14
9 p.m. Vinyl, HBO
10 p.m. The Walking Dead, AMC
Monday, February 15
12 a.m. 11.22.63, Hulu
10 p.m. Better Call Saul, AMC
Wednesday, February 17
10:30 p.m. Broad City, Comedy Central
Sunday, February 21
10 p.m Girls, HBO
10:30 p.m. Togetherness, HBO
Tuesday, February 23
12:30 a.m. This Is Not Happening, Comedy Central
Sunday, February 28
4 p.m. The 88th Annual Academy Awards: Pre-show and Ceremony, ABC
Monday, February 29
8 p.m Gotham, Fox
Wednesday, March 2
8 p.m. Rosewood, Fox
8:30 p.m. The Real O'Neals, ABC
Thursday, March 3
12:30 a.m. Adam Devine's House Party, Comedy Central
9 p.m. The Family, ABC
Friday, March 4
12 a.m. House of Cards, Netflix
Sunday, March 6
8 p.m. Once Upon a Time, ABC
10 p.m. Quantico, ABC
Tuesday, March 8
9 p.m. Marvel's Agents of S.H.I.E.L.D., ABC
10 p.m. Of Kings and Prophets, ABC
Wednesday, March 16
8 p.m. Schitt's Creek, Pop
10 p.m. Nashville, ABC
Thursday, March 24
10 p.m. The Catch, ABC
Wednesday, March 30
9 p.m. Empire, Fox