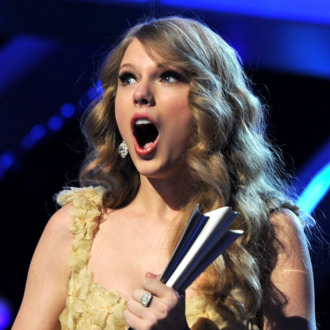 She'll be shocked, I tell you. Shocked.
Photo: Kevin Winter/ACMA2011/2011 Getty Images
Because the world knows you've always wanted to, you can help write a book about Taylor Swift. EW reports that Simon & Schuster has plans to publish the first major book about the 1989 star, which will be compiled exclusively from other people's thoughts about Taylor Swift, including magazine pieces, fan art, concert photos, and more. Swift isn't involved in the project and hasn't yet endorsed it, but it's just so moving that you're willing to do so much for her after she's done so much for you, you know? EW's page has the full list of publisher's instructions, which include a call for sample book titles, a cover design contest, and an honorary authorship competition, in which the one true Swiftie can win a chance grace the cover of the book themselves (start practicing your reaction shot now). The book is set to come out on October 24, 2016, a little late for Taylor's 26th birthday, but we're sure she'll forgive you, because, oh my God, it's like so kind of you to do this for her. You didn't have to. You really didn't.