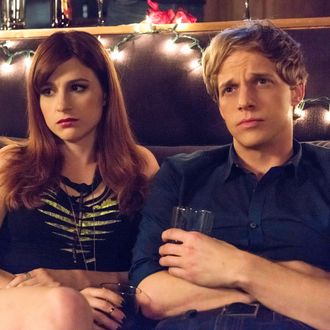 Don't look so glum, chums!
Photo: Prashant Gupta/FX
Your favorite terrible people Jimmy, Gretchen, Lindsay, and Edgar (okay, not really Edgar) will return for a third season. Today FXX has announced that it has renewed Stephen Falk's comedy of misanthropes, You're the Worst. Plus, there's a sweet extra bonus in it for Falk: The showrunner has also reached a multi-year deal to continue developing projects for FX. The third season will air in the summer of 2016, so until then, let's just get blackout drunk and do horrible things, but really love each other.