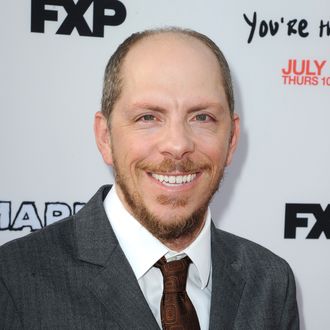 Falk is sticking with FX.
Photo: Kevin Winter/Getty Images
Get ready for Stephen Falk's universe of narcissists to expand: The You're the Worst showrunner is now developing two more series for FX as part of an overall deal he signed with the network when it renewed YTW for a third season last week, and he's bringing three of that show's writers along for the ride. One's an untitled semi-autobiographical comedy from Alison Bennett about "an unrelentingly dissatisfied TV writer who returns to her hometown in rural Pennsylvania to live the 'simple life,'" a.k.a. unemployment. YTW writers Franklin Hardy and Shane Kosakowski are teaming up for Join Me, a comedy based on British writer Danny Wallace's 2003 novel of the same name about unintentionally founding a movement dedicated to random acts of kindness. (In other words, it'll be a spinoff about Edgar's fairy-tale ending.) Falk is set to executive-produce both shows and co-write Bennett's.