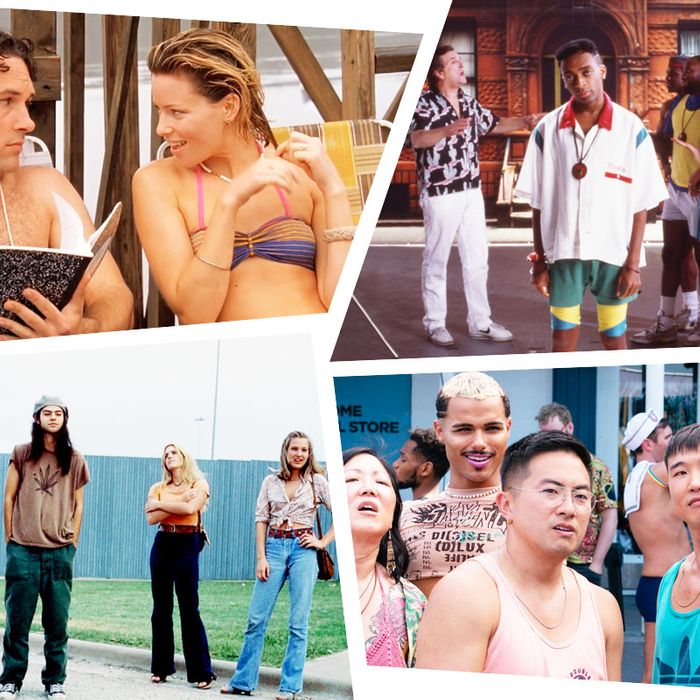 Photo-Illustration: Vulture. Photos: Eureka Pictures; Anthony Barboza/Getty Images; Searchlight Pictures; Universal Pictures
This article originally ran in 2016 and has been updated with additional movies and streaming information.
Are you prepared for the next big snowfall? If you're stuck inside but are fortunate enough to still have power and an internet connection, you need a plan to survive a few days of being snowed in. (Don't you remember what happened to Jack Nicholson in The Shining when he was snowed in?) In addition to comfy pajamas, a warm blanket, and some hot beverages, Vulture recommends you stay planted on your couch or in bed and stream some summery, occasionally sultry movies to remind yourself that the snow eventually melts and spring will soon be here and everything won't be miserable forever.
Palm Springs (2020)
Being stuck inside doesn't seem so bad when you compare it to being trapped in a time loop. The 2020 comedy starring Andy Samberg, Cristin Milioti, and J.K. Simmons gives destination desert weddings the Groundhog Day treatment with a more contemplative existential bent, and the ending is delightfully ambiguous enough to occupy your snowed-in mind for hours, if not days. If you're craving more, check out screenwriter Andy Siara's time-bending tropical mystery show on Peacock, The Resort, starring Milioti alongside William Jackson Harper.
Predator (1987) and Predator 2 (1990)
You know who else craves the heat? Everyone's favorite dreadlocked, skull-loving alien killing machine, that's who. Whether he's facing off with Arnold Schwarzenegger and an elite group of soldiers in an unnamed South American jungle or duking it out with Danny Glover on the mean streets of 1997 Los Angeles, you're always in for a treat when the Predator comes to town. As a bonus, you can always start with the excellent 2022 Amber Midthunder–starring prequel, Prey, to get more of the outer-space hunters' backstory.
Fire Island (2022)
Joel Kim Booster knocked it out of the park with his modern take on Jane Austen's Pride and Prejudice set on the titular New York summer destination. Fire Island's existence itself is a big deal, given that studios aren't producing rom-coms about gay men with Asian American leads left and right, but it's Booster's hilarious, poignant script and performance alongside the likes of Bowen Yang and Margaret Cho that make it worth watching on any day, no matter the season.
Do the Right Thing (1989)
Set over the course of a single Bed-Stuy day during a heat wave, Spike Lee's greatest hit is as resonant today as it was when it debuted in 1989. The portrait of a Brooklyn block has standout performances from its stars and supporting characters alike, including a young Giancarlo Esposito as Buggin' Out and Rosie Perez making her film debut as Tina, the girlfriend of Spike's character, Mookie. A not-so-fun but still very interesting thing to do after watching is compare modern think pieces about racism in America and the 2020 protests with what critics thought about the movie and Lee's messages when it came out.
Body Heat (1981)
The pervading sultriness in Lawrence Kasdan's 1981 directorial debut might as well be its own character, but really Kathleen Turner — in her first role! — taking the femme fatale archetype to a whole new level is why you're here. With plenty of twists and some seriously steamy scenes, Body Heat is guaranteed to turn up the temperature, and you can also play along at home to see how many of Vulture's erotic-thriller staples are featured within.
Death on the Nile (1978)
If Glass Onion got you in the mood for more mysteries in paradise with star-studded casts, you'll want to check out this take on the Agatha Christie classic, not the recent, green-screened-to-hell remake. Rian Johnson drew heavily from the Peter Ustinov era of Poirot, Christie's famed Belgian detective, and all the rich-people drama brought to life here by the likes of Bette Davis, Maggie Smith, Angela Lansbury, Mia Farrow, and many more A-listers. It might not inspire you to book an Egyptian cruise anytime soon, but it'll definitely get you invested in whodunit and howtheydunit.
Staten Island Summer (2015)
If you're a Saturday Night Live fan, you'll definitely want to check out this semi-autobiographical coming-of-age comedy written by "Weekend Update" 's Colin Jost, who also has a small role as a cop. The film follows Danny, a lifeguard who's about to leave home for college, as he parties with his co-workers and finally tries to get the girl. In addition to Jost, this one features a bevy of SNL alums including Fred Armisen, Kate McKinnon, Cecily Strong, Will Forte, Bobby Moynihan, and Mike O'Brien as the Speedo-wearing head lifeguard who tries to stop the big end-of-summer party (because someone has to).
Wet Hot American Summer (2001)
Relive your summer-camp fun and/or horror with this star-studded spoof and all its bizarre glory, from the talking can to the sweater-fondling vet of a chef. Then, assuming you have Netflix and the weather's scarier than Ben and Susie when a camp production goes sideways, dive into the eight-part TV prequel, First Day of Camp, to see the original cast along with new faces including Jon Hamm, Kristen Wiig, Michael Cera, and John Slattery.
Bull Durham (1988)
One of the best sports movies ever, Bull Durham follows career minor leaguer Crash Davis (Kevin Costner) as he tries to teach flame-throwing youngster Nuke Laloosh (Tim Robbins) how to control his pitches and act like a pro. The steamy North Carolina nights get even hotter — and more complicated — when the teammates get involved in a love triangle with local groupie Annie (Susan Sarandon). With its blend of sports, comedy, and romance, it's the perfect choice if you've relocated date night to the couch this weekend.
In the Heat of the Night (1967)
In the mood for something a little more serious? Revisit the Oscar-winning 1967 drama about a murder in a small, sweltering Mississippi town that pairs the local, racist sheriff (Rod Steiger) with a Yankee detective (Sidney Poitier) to solve the crime. If you think their many standoffs are harrowing today, just imagine how groundbreaking they were back in the civil-rights era.
Dazed and Confused (1993)
Grab a few beers and enjoy the sounds of Foghat and Matthew McConaughey's Texas drawl in Richard Linklater's coming-of-age ode to the last day of school, 1976.
The Endless Summer (1966)
You'll feel like you're on the beach while watching this 1966 documentary about two California surfers who embark on a global journey to ride the waves year-round. Be warned, though — you'll probably want to start booking your next vacation ASAP.
The Hunger Games: Catching Fire (2013)
Superior to the first Hunger Games film, Catching Fire finds Jennifer Lawrence once again in a survivor-take-all battle, only this time she's facing winners of the previous games on a tropical island. So, yeah, you might be stuck home in the snow, but at least you're not running from poisonous fog and vicious mandrills.
Dirty Dancing (1987)
No snowstorm can put you in a corner (sorry, had to) when you can watch this summertime romance starring Patrick Swayze and Jennifer Grey. If you have an able partner, trying to re-create some of their sexy, acrobatic moves is also a great way to stay warm during the frigid weather.
Y Tu Mamá También (2021)
At turns hilarious, sexy, depressing, and daring, the 2001 foreign-language film follows two best friends (Diego Luna and Gael García Bernal) as they road-trip across Mexico with a beautiful older woman, facing their fears and futures. You'll feel instantly warmer watching director Alfonso Cuarón's shots of deserts, backseats, and beaches.