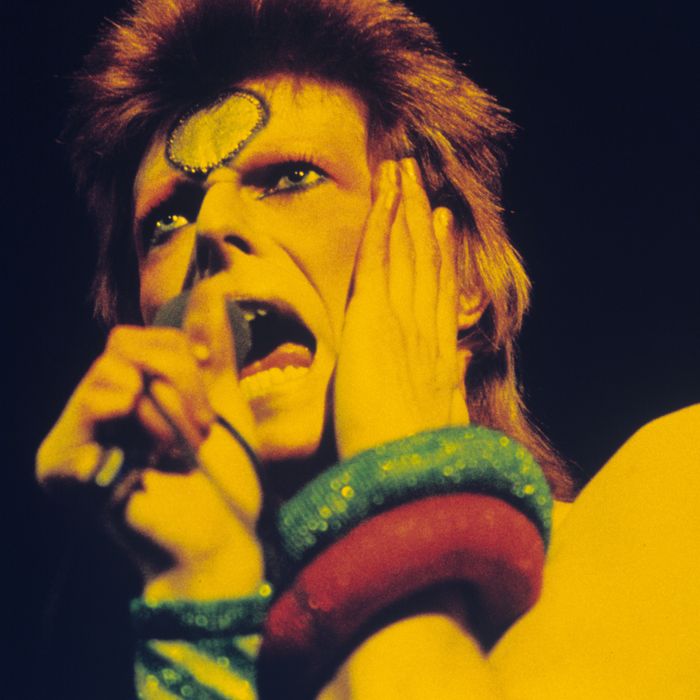 Photo: Gijsbert Hanekroot/Redferns
The music world has been gutted by the tragic and untimely death of David Bowie, not least because many fans never had the pleasure of seeing him perform onstage. The clips below, of course, are no substitute, but rather a humble collection of some of the best Bowie performances available online today. In no way is it meant to be comprehensive, and we encourage you to add your picks in the comments.
"Space Oddity," Hits a Go Go (1969)
Bowie serving better 'fro than Marc Bolan.
"Starman," Top of the Pops (1972)
Bowie's Top of the Pops debut marks the first of many examples of his fashion genius. Also seen prominently here: guitarist Mick Ronson, Bowie's go-to collaborator at the time.

"Oh! You Pretty Things," Old Grey Whistle Test (1972)
Bowie at the piano looking ever the class act. (Fun fact: This didn't make it to broadcast until ten years after it was originally filmed.)
"Moonage Daydream," Hammersmith Odeon (1973)
Ziggy Stardust and the Spiders From Mars at the height of their powers in London.

"The Jean Genie," Top of the Pops (1973)
In which he channels the American bluesman swagger in a song that he called a "smorgasbord of imagined Americana."
"Young Americans," The Dick Cavett Show (1974)
When Bowie puts his hand on his hip, you better listen, because you ain't a pimp, and you ain't a hustler.

"Golden Years," Soul Train (1975)
Bowie made an appearance on Soul Train the same year he released Young Americans, the closest thing in his catalogue to a funk album. He once described it as "the squashed remains of ethnic music as it survives in the age of Muzak, written and sung by a white limey."
"Station to Station," Pacific National Exhibition Coliseum (1976)
Bowie as the slinky, smooth, and sexy Thin White Duke.
"Heroes," Top of the Pops (1977)
Challenge: Try not to get lost in those penetrating eyes.
"The Man Who Sold the World"/"TVC 15"/"Boys Keep Swinging" feat. Klaus Nomi and Joey Arias, SNL (1979)
Bowie invited cabaret stars Klaus Nomi and Joey Arias to back him during this unbelievable Saturday Night Live performance. They begin by carrying him in an Ubu Roi–looking getup to the microphone.
"Life on Mars?", The Tonight Show (1980)
Like an extra from Grease, but not lame.
"TVC 15," Live Aid (1985)
The man knew how to move those hips and work a microphone.
"Hurt," The Outside Tour (1995)
During this co-headlining tour with Nine Inch Nails, Bowie and Trent Reznor would perform NIN's "Hurt" before his full set.

"Quicksand," Madison Square Garden (1997)
Robert Smith of the Cure and Bowie tackling the Hunky Dory highlight during DB's 50th birthday concert in New York City.
"China Girl," Glastonbury (2000)
One of the most epic Glastonbury performances in history, with some great hair to boot.

"Sound and Vision," Live by Request (2002)
Of course David Bowie makes playing air violin look cool.
"Rebel Rebel," A Reality Tour (2004)
From his final set of live dates.