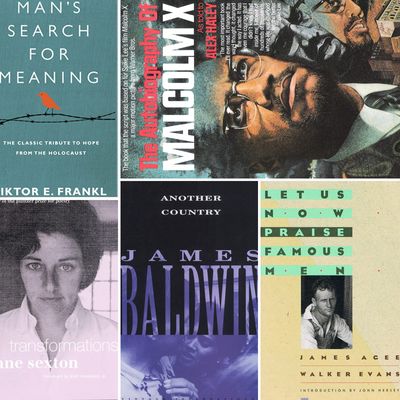 The right book, it's said, can change your life. Some books can alter perceptions of the world, or let a reader see life from a perspective they may never have considered before. Others expand the sense of what's possible within the confines of a narrative; still others tell stories that the reader might not have ever expected to find themselves hearing. With a New Year just beginning, it's an ideal time to seek out books that have a track record of changing your life. So we asked a number of writers across the board — from Eileen Myles to David Mitchell to Chuck Palahniuk to Alexander Chee to leading genre authors — about the books that changed their lives. Here's what they had to say, in their own words.
Chris Abani, author of The Secret History of Las Vegas and Grace Land
"I was ten when I read James Baldwin's Another Country. This one book is responsible for everything that I have become as a writer, including my obsessions. Though I couldn't have shaped the words at the time, this book, more than any other, spoke to me of the glory of devastated beauty and an imagination capacious enough to hold all the light of the contradictory and small self in the thrall of something bigger, in service of something we might attempt to call human. James Baldwin has been my muse ever since. A flawed but deeply human man who wanted nothing more than to be witness to a world of unsentimental, life-affirming love. This is literature's gift to us: that we can find the worlds of our imagination, soul, love, self,and loss in the pages of a writer's courage, and in this way believe again in the possibility that it can all mean something. My writing is a love letter to James, and to my parents, and to my siblings, and to all the lost and small people of the world, by which I mean me. Blessing be upon James Baldwin."

Jessica Abel, author of Out on the Wire and La Perdida
"As I took a few seconds to pause and really think about which books have materially, indisputably changed my life, two sprang to mind. The first is Love and Rockets. But I've covered that ground pretty thoroughly. The second came as a surprise to me, but here it is: Getting Things Done, by David Allen. It's got a kind of ugly cover and a self-help-y, business-book feel. All of which is somewhat problematic for the book qua book. But. I implemented Allen's approach for clearing out all the nattering crap and to-dos banging around my head and environment over ten years ago, and that was more valuable than $25,000 worth of therapy. Using this approach reduces my daily stress and anxiety, and multiplies my ability to focus. It's really the only reason I've been able to handle the complicated demands of life and continue making my creative work. And, cool or not, any book that offers me reduced anxiety and the ability to make creative work easily clears the 'changed my life' bar."
Alexander Chee, author of The Queen of the Night and Edinburgh
"Cassandra, by Christa Wolf. The novel, which I read as an undergraduate, imagines the story of the Trojan War from the point of view of Cassandra, the cursed oracle, and includes essays the author wrote on the poetics of the writing of the novel. The novel changed my idea of how writing about myth using fiction could matter deeply in terms of understanding modern life, and the essays were essentially an education in the writing of fiction, and the research you would do to bring to life characters otherwise lost to myth and history."
Molly Crabapple, author of Drawing Blood
"Michel Faber's Crimson Petal and the White was the book that broke open my brain in college. It's this dense class-war chronicle of Victorian London that lacerates the reader for their interest in the picturesque past, whose protagonist is a brilliant sex worker in a world that has no room for her existence. I was doing naked-girl work while living in a rat-infested apartment, and the book became my everything."
John D'Agata, author of About a Mountain; editor, The Making of the American Essay
"The thing about James Agee's Let Us Now Praise Famous Men is that it's perfectly imperfect. Because the book is a work of borderline genius, its veneer of perfection is peeled back for us, exposing how great books are both made and are kept from being made. I love Agee because he transcendently soars as frequently as he uncomfortably obsesses, obfuscates, and flat-out stumbles — and as it turns out, that was the best model I could have asked for as a young writer. Great books inspire, but the nearly great are what really teach us."
Elizabeth Hand, author of Wylding Hall and Generation Loss
"Man's Search for Meaning, by Viktor E. Frankl. I first encountered this as a high-school senior, when it was assigned reading. Frankl was an Austrian psychiatrist and neurologist who specialized in studying and treating suicidal patients, then spent three years in German concentration camps during the war. His parents and brother died in the camps, as did his pregnant wife, who died at Bergen-Belsen. After liberation in 1945, Frankl developed logotherapy, which aims to help an individual find meaning in her/his life, even in the face of almost unendurable loss and suffering. The first half of this book recounts his experience in the camps; the second is a step-by-step discussion of what logotherapy is and how it works. The German title roughly translates to 'Saying Yes to Life in Spite of Everything: A Psychologist Experiences the Concentration Camp,' and that pretty much sums it up. It's a remarkable testament to human resilience, and a remarkable guidebook for surviving despair. 'What is demanded of man is not, as some existential philosophers teach, to endure the meaninglessness of life, but rather to bear his incapacity to grasp its unconditional meaninglessness in rational terms,' Frankl said."
Maria Dahvana Headley, author of Magonia and The Year of Yes
"This question is both easy and difficult! I grew up a very rural and very gluttonous reader, in Idaho, about ten miles outside a town of 500 people. Essentially, I spent my reading childhood playing with other people's imaginary friends, and I've grown into the kind of writer who does the same thing. So, in that regard, everything I've ever read has been life-changing. The first massive Rock My World book, though, was Toni Morrison's Beloved, which I read when I was 17. Not only was I clueless about race in America at that point, coming from where I came from, I was also clueless about living female genius writers. I didn't know there were any. Up to that point, I'd read almost entirely white men. KA-BAM. I got blasted out of the universe of dead white boys, and into something much more magnificent. Morrison's way of flawlessly entwining her haunting with her history left me dazzled, sobbing, and bewildered. Morrison is obviously a genre-leaping master of style, and reading her not only made me aware of what was possible as a writer, it led me to all of the poets, songwriters, playwrights, and librettists who continue to influence my work today."
Tanwi Nandini Islam, author of Bright Lines
"The Autobiography of Malcolm X. I discovered the book at age 11, and have rediscovered it many times since then. It shaped the way I think about race, social justice, and the evolution of Muslim identity throughout one's life. My consciousness was awakened when I devoured that book. Suddenly, my family's religiosity and racial identity had a context within American history. And I realized that we belonged to much, much more than our country of origin."
Naomi Jackson, author of The Star Side of Bird Hill
"Reading Jamaica Kincaid's Annie John changed my life. I read it for the first time as a teenager, and it made me think that it was possible to write a coming-of-age narrative focused on Caribbean girlhood. Annie John seeps into my work to this day (an excerpt appears in my debut novel). I've since taught the book to students in places as different as Iowa City and Philadelphia, and take full responsibility for making the most unlikely folks fall in love with Annie John and Kincaid's luscious, languid prose."
Margo Jefferson, author of Negroland and On Michael Jackson
"I've just reread Adrienne Kennedy's People Who Led to My Plays and Osip Mandelstam's The Noise of Time. I love that they teach you how to imagine what hasn't imagined you."
Adam Johnson, author of Fortune Smiles and The Orphan Master's Son
"Train Dreams by Denis Johnson. I love books that tell the entire life of a character, and here we get Robert's full story from the nebulous train that brought him from an unknown frontier to a magic trick of an ending. This book is quiet, attentive, and meandering in its own way, much like life, but it teaches you to howl like a wolf as well. Reading the story of the last man to live a certain kind of American life makes you realize how much we have lost, in terms of myth and mystery and self-creation."
Erik Larson, author of Dead Wake and The Devil in the White City
"In a very concrete sense, it was the novel The Alienist, by Caleb Carr, because it put me so viscerally into the streets of old New York that I decided to see if I could conjure an equally rich sense of the past, but in a work of nonfiction. Originally I planned to write about a historical murder but got sidetracked, and wrote Isaac's Storm, about a giant hurricane. It's still all Caleb Carr's fault."
Victor LaValle, author of The Devil in Silver and The Ballad of Black Tom
"Stars of the New Curfew, by Ben Okri. Anyone talking about the 'new' trend of blending the fantastic with the literary needs to check out this collection of Ben Okri's stories from 1988. Beautiful, grim, phantasmagoric, and downright insane, these stories, set in Nigeria, will give you nightmares. I mean that as high praise. Last year Okri wrote an editorial for The Guardian that made some people angry, but if I had to disavow every great writer who said some dumb shit now and then, I'd be left with empty bookshelves. This book remains on mine."
Kelly Link, author of Get in Trouble and Stranger Things Happen
"Not What You Expected, by Joan Aiken. This seems timely, as I've spent the last few months typing out stories by Joan Aiken from this collection (and others) in order to put together a new Selected Strange Stories. I checked Not What You Expected out of the Dade Public Library when I was about 10. The title seemed promising, and the contents were even better than I'd hoped for. Aiken (the daughter of the poet Conrad Aiken) blends together the uncanny and the prosaic, comic, and startling details. There's another Joan Aiken collection called All You Ever Wanted, and it's true. The kinds of short stories that she wrote were all I've ever wanted from the books and stories that I read — and all I've ever wanted to be able to do myself, when I'm writing."
Ken Liu, author of The Grace of Kings
"A book that changed my life is Annie Dillard's Pilgrim at Tinker Creek. Before reading it, I had not encountered a piece of writing about living an authentic life that could engage the emotions with such power and purity of purpose. It was incendiary, transcendent, and made me yearn to be a writer — a dream that would take more than 20 years to accomplish."
Colum McCann, author of Thirteen Ways of Looking and Let the Great World Spin
"The Dixie Association by Donald Hays* was a book that changed the way I thought about literature. It's a novel that — on the surface — did not seem to be something I'd want to wade into. It's a book about a minor-league baseball team in Arkansas. I was given it way back in 1986, when I was traveling on a bicycle across the United States. Even just carrying a book meant a commitment.  Normally I would read a book and then throw it away, or leave it behind. But I wasn't sure what to think of this one: It sneaked up and corralled me. I knew nothing about minor-league baseball, or the South, but from the opening sentence I was enthralled. It's funny, poignant, and brilliant.  It's one of those books that defines my life: It seemed so 'other' to me at first, but then I began to own it. I kept it with me on the road … that book traveled about 5,000 miles with me. A forgotten American classic by a great southern writer."
David Mitchell, author of Slade House and Cloud Atlas
"Native Son by Richard Wright. An English teacher gave it to me when I was 16. It's about the trial of an African-American man, and although I found it riveting, I was aware that I knew nothing about the context or the times or the author or the author's life. That book made me realize why it's worth studying literature at university. So I did."
Eileen Myles, author of Chelsea Girls and I Must Be Living Twice
"La Batarde by Violette LeDuc. She taught me to write prose in one volume. Her writing trembles between poetry and prose, this book opens with hating her mother, and she wrote the best girl-on-girl sex I maybe still have ever read. She made me see how great literature could be if you wrote with all of what being female means."
Celeste Ng, author of Everything I Never Told You
"When I was in about 14, my sister gave me a copy of Anne Sexton's Transformations. I had no idea poems could be like that: deceptively accessible, yet almost disturbingly, subliminally evocative. I didn't know you could write metaphors like that: completely unexpected yet startlingly apt. I didn't know you could tip such well-known stories on their sides and, well, transform them so utterly. It's not exaggerating to say that Transformations radically changed my understanding of how you could write, and truth be told, I've never looked at poems, fairy tales, or language in the same way again."
Chuck Palahniuk, author of Fight Club and Make Something Up
"Since I began writing, I've wondered why literary fiction lingered within such a small range of topics and storytelling models. If anything was possible in the make-believe world, why weren't writers taking greater advantage of that freedom? This year Mark McGurl's book, The Program Era: Postwar Fiction and the Rise of Creative Writing, answered that question for me. McGurl demonstrates how institutions had to standardize their idea of "good fiction" in order to grade it. Writing programs graduate students who teach the same standards. The resulting stories seem as alike as the Grade-A Fancy eggs lining supermarket shelves."
Viet Thanh Nguyen, author of The Sympathizer
"I will keep on talking about this book until at least one person tells me that he or she has read it: Antonio Lobo Antunes's The Land at the End of the World, translated by Margaret Jull Costa, about a young Portuguese medic serving in a colonial war. I read a bit of this book every day before I did my own writing. The sentences and the mood enraptured me, and I hoped to steal some of their magic for my own novel."
Wendell Pierce, author of The Wind in the Reeds
"The Autobiography of Malcolm X spoke to my spirit. It stirred in me the ability to exercise my right of self-determination. As an artist, it reminded me that my vision of what can be is infinite, and I have the power to make it transform into what is real and possibly even eternal."
Curtis Sittenfeld, author of Eligible and Prep
"Although I read Far From the Tree about two and a half years ago, I still think of it all the time — its exploration of a wide range of disabilities, its examination of what a disability is, its extraordinary compassion. I truly feel that if our civilization was destroyed and Far From the Tree was the only book that survived, it could convey to future alien races nearly everything there is to know about 21st-century earthlings."
Maggie Stiefvater, author of The Raven Cycle
"I lost an entire summer to reading Diana Wynne Jones's Dogsbody — literally. I would read it, close the cover, turn it over, and begin reading it again. All of her books are wry and magical, but Dogsbody was special to me because of how convincingly it pressed magic into the real world. That marriage of magic and mundanity made me the writer I am today."
Aatish Taseer, author of The Way Things Were
"Hope Against Hope by Nadezhda Mandelstam. This is a memoir by a poet's widow about the destruction of her husband under Stalin. It is among the most devastatingly unsentimental books I have ever read. People of an older generation know it better; but I read it for the first time this summer, and it doesn't have the slightest little trace of age on it. A miracle of a book!"
Catherynne M. Valente, author of Radiance and the Fairyland series
"When I was 13, custody changed, and I moved from Seattle to California. Missing my dad, I decided to check out a book from the library that I had remembered seeing on his shelf. It was called Foucault's Pendulum. It was huge and had arcane symbols all over it, like a proper tome. Also the author's name was Umberto, a name I had never heard before but instantly thought fabulous. Two voracious-reader parents had taught me never to be intimidated by any book or assume it was too hard for me to try. So, despite the fact that the novel clocked in at something like 800 pages and began with a long passage of untranslated Hebrew, I dove right in. I didn't understand it at all. Oh, I could follow the plot. It's basically The Da Vinci Code for smarty-pants. Despite Foucault's Pendulum's reputation as the most difficult of the difficult intellectual novels, it has the bones of a standard thriller, and I could happily sail along the conspiracies and murders and hiding out from mysterious cults. But over and over I ran into references I grasped just enough to know I was missing a piece of cultural information, a passage in untranslated Greek or Latin or French, a bit of history that was completely new to me. I was missing all the context. This didn't trouble me. Even at 13, I was a muscular and robust reader of adult science-fiction and fantasy, genres that require you to learn a glossary of new words and concepts just to comprehend the basics of the world in which the story takes place. I was used to puzzling things out from context, strange languages, historical asides, hopping over things that weren't immediately clear, stitching together a book I could love out of a lot of incomprehensible fabric. But unlike a science-fiction or fantasy novel, the glossary didn't become second nature in time. There was no exposition fairy flitting around to make sure I was up to speed on the local culture. There was just a book I liked, floating in a sea of Things Cat Does Not Know About the World. I'm not sure it was totally clear to me until then just how much I didn't know about history, politics, literature, computers, publishing, religion, philosophy, or mythology. Most 13-year-olds have an elevated idea of How Many Things They Know, and I was definitely a princess of teenage know-it-all mountain. It was humbling, and fascinating.
So I decided I would read Foucault's Pendulum once a year until I did understand it. I would know more every year, and have read more, and eventually, I would be able to nod sagely when my new friend Umberto referenced some obscure fact or object. Unfortunately, the standard California State curriculum does not cover Greek, Latin, the Black Pope, indigenous South American religions, pinball, self-publishing in 1980s Italy, or the Templars. So Foucault's Pendulum became a strange backbone to self-education. My Hitchhiker's Guide to Planet Earth. I used it as a road map. Don't recognize the name Abulafia? Look it up, discover he's a 13th-century Jewish mystic, have no idea what it means to be Jewish, or a mystic, in 13th century Spain, research that until suddenly I was in the middle of reading about Provence and Navarre and medieval apocalyptic sects and it was obviously time to go home from the library and eat. I read Foucault's Pendulum every year until I was 22. I graduated from university with a degree in Classics, finally able to read most of the untranslated bits. (I studied French in high school — the only language from Pendulum that defeated me was Hebrew.) By then the book was an old friend, like an old man playing chess at the park. I could drop in and play any time, and it would always be magic. But now I knew his secret words and the private jokes and long, rambling history. Foucault's Pendulum brought up my intellect, taught it how to walk and talk and make references no one else understands. It was my Winnie-the-Pooh, a bear of very much brain who stuck by me through all the turmoil of adolescence, being wise and full of poems, showing me all the best places in the forest to find honey."
Jeff VanderMeer, author of the Southern Reach trilogy
"Roy Scranton's Learning to Die in the Anthropocene presents, without extraneous bullshit, what we must do to survive on Earth. It's a powerful, useful, and ultimately hopeful book that more than any other I've read has the ability to change people's minds and create change. For me, it crystallizes and expresses what I've been thinking about and trying to get a grasp on. The economical way it does so, with such clarity, sets the book apart from most others on the subject."

And what list of this sort would be complete without the non-answer:
Jo Walton, author of Among Others and The Philosopher Kings
"I always hate it when people ask me to pick out one book. It's not that any one book changed my life, it's the whole lot of them together. If I hadn't had all the books, my life would have been completely different, but I think you could take away any individual one. And this goes even more for other people — there are books that will change your life, but they're probably not the same ones that changed mine. People are different, books are different, times are different."
* An earlier version of this piece misidentified Jim Dodge, not Donald Hays, as the writer of The Dixie Association.