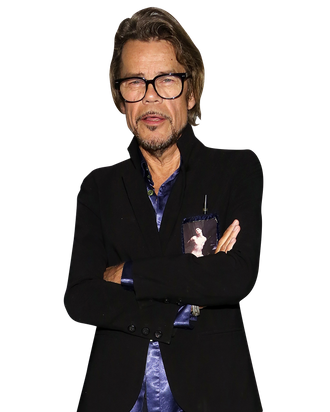 There aren't many places in New York City where you can watch Gay Talese and Paul Shaffer join a conga line while John Cameron Mitchell looks on grinning from his seat, but last night's Buster Poindexter show at the Café Carlyle in Manhattan is one of them. "I'm a Buster Poindexter fan, so I'm not exactly a novice," Talese told me after the show. "He is such a special, joyful person. He's a person from a different time. Tonight we're seeing him as he would have been 40 years ago. It's amazing to see performers living in the fickle life of entertainment, where you could die in ten hours after any bad review or bad performance, surviving. He's a total survivor."
Ever since the early 1970s, when he made a name for himself as the bare-chested, ribbon-tie-wearing, glammed-up front man for the New York Dolls, David Johansen — Poindexter's offstage name — has found a way to survive by keeping us entertained, whether he's bringing a calypso tune to the mainstream with "Hot Hot Hot," wisecracking as the Ghost of Christmas Past in Scrooged, hosting a radio show, or putting a new spin on the lounge lizard thing by way of his Buster Poindexter act.
In recent years Poindexter has found a home at the Carlyle, which is also the location of his pal Bill Murray's latest film with Sofia Coppola, A Very Murray Christmas (Johansen has a small role as a fly-on-the-wall-type barkeep at Bemelmans Bar). We talked with Johansen about his current run at the Carlyle, his thoughts on Martin Scorsese's upcoming HBO series Vinyl (it takes place the same year the Dolls released their classic self-titled debut, produced by Todd Rundgren), working with Bill Murray, and whether or not New York sucks now.
I couldn't stop laughing at your show, but then you have these moments when you cover Dinah Washington's "This Bitter Earth," and it's just so beautiful. How do you put a show like this together?
That's an interesting question. I don't do original compositions so much. Maybe I'll do one song that I wrote myself, but a lot of the material that I like is fairly obscure. Sometimes I think, Well, here's a song that's a little more well-known, and then I'll do a little investigation and find out, like, Oh my God, if I do these songs I'm going to be doing Michael Bublé. It's a fine line. Sometimes I'll sing a song for a night or two and get rid of it and bring it back in a couple of weeks. Before a song becomes ensconced it's gotta go through a couple of hoops for me. I'm considering doing all songs I've written, or that have been associated with Johansen or the Dolls. I may get to that.
You've got a great band. The drummer is particularly amazing. Have you been playing with these guys for a long time?
I've been playing with the drummer Ray Grappone, and it's great because I can do shtick with him. It's funny as you go through life; on occasion you meet a person who just does it for you, like what a guy. It's a funny story how I met him: I used to have a drummer named Tony Machine, I played with him for years and years and years. When I was starting to do Buster again, I guess about three years ago, I called Tony and said, I want to put together a show, and I sent him the material. He responded, "I can't do this. I haven't played the drums in ten years. But I know a guy." Knowing Tony as well as I do, I took the guy's number and he turned out to be a fantastic guy.
You mentioned the word shtick. Is that the best way to describe your show? Shtick-y?
Shtick is musician-talk shorthand. You want to do a nice song and then you want to do a little something-something that gets a laugh or a groan, and then you want to do a nice song. Those are the little details that add up to form a show. The main thing for me as Johansen or as the Dolls or that kind of rock stuff, one has this way of doing it that's not very expansive as far as talking is concerned between songs. Usually people are standing, and they're drunk, and they just want to jump up and down. So for me to do the Poindexter thing is such a good adjunct in my life because it gives me a chance to say whatever comes to my mind, and to get a response from it instead of people going, Huh? It's refreshing.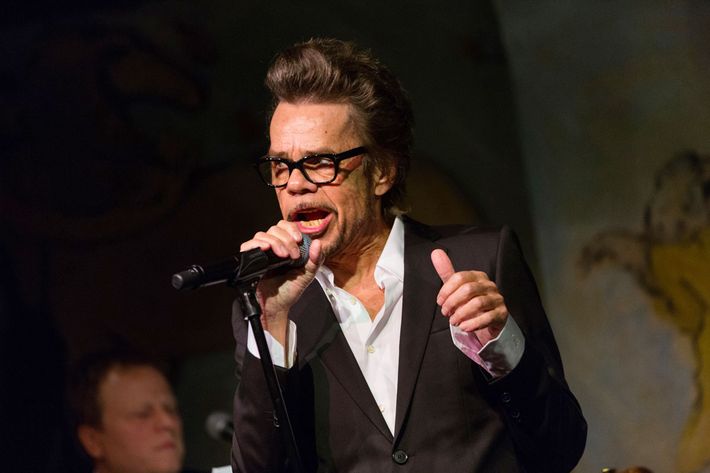 Do you write your own jokes for the show?
Yeah, essentially. Musicians tell a lot of jokes because they play around in all these milieus on Broadway, in bands, and so they're always telling jokes to each other in their downtime. Every once in a while I will hear one, or someone will tell me one that hits me in a way. I don't know how to explain it really, it just works for me.
There's a scene from David Hickey's Air Guitar where you, Hickey, and Lester Bangs are at CBGB listening to Tuff Darts.
Tuff Darts, Robert Gordon used to be in that band.
Right. In this scene, a bunch of uptown trendies pull up in a limo and walk in and Bangs asks, "Who dat?" and you say, "The beginning of the end. Spectators." Do you remember that night?
"The beginning of the end?" I said. "Spectators?" No, I don't remember that night. It was me, David Hickey, and Lester Bangs palling around, the three of us?
So it says. Reading that scene made me think of the upcoming HBO series Vinyl. It takes place in 1973, the year the Dolls' first album was released. Are the people watching that show spectators to you?
The only problem with that is that that becomes history. That becomes what the history is. It's like when you read a history book in school, it's like what is this bullshit, because, you know, you don't really get a full picture of what went on. You kind of just get shorthand, biased opinion. So you know, that could be problematic, but whaddaya gonna do?
Do you know much about the series?
I don't know much about it personally. I know Bobby [Cannavale], who's the star of it, and, God, he's a good actor, so it doesn't really matter what it is because he'll be really great.
You're a lifelong New Yorker. Compared to 1973, do you think the city is terrible now?
Things evolve gradually. So it's not like if you came to New York and you hadn't been here in many years, you might go like, Oh my God, but artists have their creative needs and they'll always find them. It just kind of shifts. At that time, for example, there was no great distinction between artists because of whatever field they were in. So in 1973 at Mercer Arts Center [now the Kitchen] there would be so many people doing different things, but they were all artists. Whereas now it kind of seems like designers are one thing. Filmmakers are one thing. Painters are one thing. At that time it was all kind of like, "Oh, I do this and I do that." They were all kind of in the same place, networking and building alliances and getting inspired by each other. That was a really beautiful thing. Now they have sub-punk, old wave, new-bohemian, or this or that. People weren't making so many fine distinctions. So many things that people use as their outlook on life are really just things people have been told by some freak who has an agenda.
That also seems to be one of the reasons why gender was so fluid at that time. Laurie Anderson has described the art scene around that time that way. They didn't think about being in theater or music or being a man or a woman. Every person was an artist.
Right. There was no straight or gay. Now I guess it's coming back around that way, but that's because people find out how to market things and make money off of things and then they just kind of homogenize everything.
You got your start in theater?
I was in a band in high school. We'd play the dances for the kids, and when I was a kid they had this hootenanny craze, so I'd play the hootenannies, strum the guitar, and sing and stuff. Like a Lead Belly song or something. When I was 18 I moved to the East Village from Staten Island and I started working for a guy who had a tchotchke store on St. Marks Place. In the basement of the store he had all these costumes that he was making that were bejeweled and sequined. I was fascinated by it. Turns out he was making costumes for the Ridiculous Theater, and through him I met them and started what I would call in retrospect a theater apprenticeship.
How did you parlay your experience at the store and the theater into a career as a musician with the Dolls?
I wouldn't say I turned it into that. I always wanted to sing, I always had my eye out with people I could collaborate with in that regard. And we were all dressing in a similar way. So we noticed each other and were into each other and so we would talk. And we realized we all wanted to be in a band so we made a band.
You made your debut as Buster at a club called the Bottom Line. That's also where you met Bill Murray for the first time, right?
Yeah. I used to do a show there every week. At first I started doing Buster at a place called Tramps on 15th Street. It was a little saloon in the back, a small one. Kind of like the size of the Carlyle in the back room. I used to live on 17th Street and I started going to that saloon because it was so convenient. They had a lot of great music there. They had residencies with people like Big Joe Turner and they'd play there on the weekend for two months. I was on the road playing as David Johansen a lot. I used to say my job was opening for heavy-metal acts in hockey rinks. When I was home I would play at that saloon and I kind of decided that I wanted to do a cabaret there for four Mondays because they didn't have an act on Mondays, just to fool around and sing some songs that were other than what I was doing, and it just became very popular very quickly.
So Bill Murray started coming to see your show and then he invited you to be in his next movie?
Yes. He had a Christmas special kind of show on Netflix, and I appeared in that.
In a way he sort of channels your character in the movie.
I guess. He always had that lounge-singer thing in him when he used to sing "Star Warssssss." He likes that.
When you, Bill, and Sofia got together, what was the elevator pitch when the film was proposed to you?
Bill just called me before last Christmas and he said, essentially, "I want to make a Christmas special, and we're gonna have to move really fast because Christmas is coming." And I was like, Oh, okay, that sounds fun. Then someone came to him and said this is going to take more preparation. Then they stood back and I think we did it in March, and it was very fortuitous for him because it was snowing like a bastard, so they got a lot of great shots. He's standing in the window and the snow is coming down. It was magical.
What was it like working with your cast members?
It was fun. I got to sing with Maya Rudolph, who's really great. We sang a Todd Rundgren song, "I Saw the Light."
How did you settle on the Carlyle as your home for this show?
It's not the only venue we play in New York, but there's a guy, Ron Delsener. He's a very interesting cat, and he's very funny and unfiltered. He's a friend of mine, and he came to see the show when I was kind of woodshedding. When I first decided to do a Buster show we started playing at the Cutting Room; then Mara, my wife, invited Delsener. After the show he was like, "This is great. We've got to put this in the Carlyle." So he made overtures to them, and we played there for the first time two years ago on Halloween. It was a big success. We did another one-off, then they booked us for a week, and then they started booking us for two-week runs, which is great for us because we just get on the elevator and go down to the stage. It's kind of cool. It's a dream. So many times in my life I've been thinking, If I just had a magic button that could do that.
Did you ever have reservations about going uptown, especially as someone who's known as a downtown, East Village icon?
No, because I play downtown as well. New York is a place where you can have a residence in five neighborhoods and they don't really cross-pollinate. When I was a kid we used to say, "Ooof, when I go above 14th Street I get a nosebleed!" and stuff like that. In a sense, that's a very New-York thing. People are kind of Zip Code-y, but you can basically tour New York. And for a performer, at least the way I am, when you go onstage, it just sort of all of a sudden naturally becomes attuned to your surroundings and the vibe. Downtown and uptown can be very different. It just happens naturally. You're kind of subconsciously deciding, How far can I go with this? You can push, and then maybe you will stop pushing, or maybe you'll just blast right through.
I remember a couple of moments like that during the show when you seemed to be testing the audience with jokes, seeing how far you could go.
Every show is different. Whoever you are or whatever day you're having, you use that for the show. It's much more interesting than trying to cram yourself into a box and just be that thing, which so many people do. If you're in a play you'll have to construct that character as exacting as possible every day. With this, you don't have to do that. Just be you and then it will be okay. A lot of people think Buster is a character, but it's not really. It's kind of a conceit.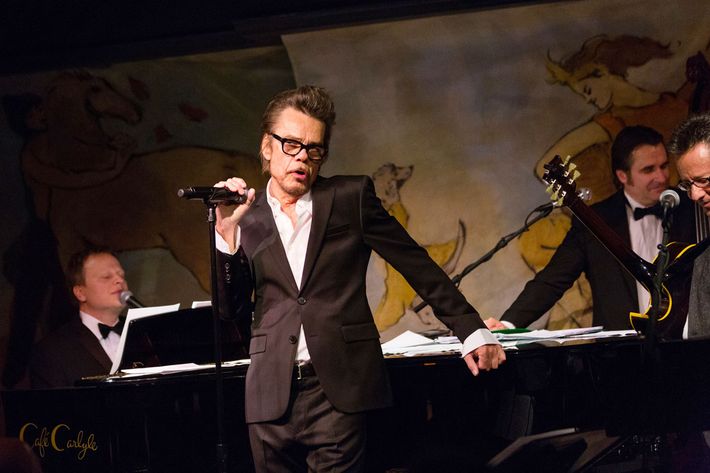 You're credited for really revitalizing the lounge-singer format, but today it seems more popular than ever. Does that make you feel like you need to find a new frontier in your work?
No, it doesn't make me feel like I need to do that, but if something occurred to me and I liked it, I would pursue it. Lately I'm thinking about a dance-band kind of a thing. I have this friend, Jonathan Toubin [of New York Night Train], he's a disc jockey. Sometimes he'll have guest disc jockeys at his dances. I'll go to Brooklyn Bowl and play records with him, and I love the way that everyone is dancing. There's a certain type of music that he plays that are B-sides of '60s boogaloo records or whatever they are, and I was thinking, It would be great to play this music live and have people dancing, because most of the time when you play you just stand there and have people look at you. People used to dance at the Dolls shows. Dancing is so good for you, spiritually, physically, and mentally.