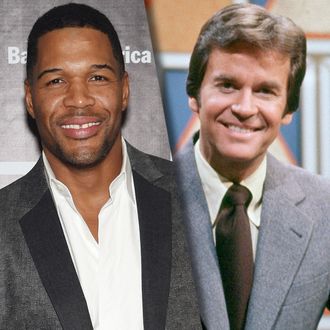 Pyramid hosts future and past.
Photo: Getty Images
File this under the category of Things That Are Awesome: ABC and producer Sony Pictures Television are reviving The $100,000 Pyramid, bringing back the iconic 1970s and '80s game show as a weekly prime-time series. Vulture has learned that former NFL superstar Michael Strahan (Live! With Kelly and Michael) will serve as host of the reincarnated classic, which is expected to get a ten-episode run on ABC this summer. Strahan steps into the shoes of late broadcasting legend Dick Clark, who hosted most incarnations of Pyramid during its peak (from 1973 until 1978). Save for a few specials (including 1979's All-Star Junior Pyramid), Pyramid has heretofore always aired either in daytime, on cable, or as an early-evening syndicated show. The 2016 model will be the first time Pyramid has aired as a regular prime-time network show.
Despite the time-slot upgrade, the basic format of the show is expected to remain the same: Two teams of celebrities and civilians partner up to give and receive clues in various word-association games. The winning team then gets a chance to play in a big-money bonus round, which over the years has ranged from $10,000 to $100,000. The most recent version of the show aired on cable's GSN in 2012. As for ABC, the network has already proven adept at reviving classic game shows, with last summer's Steve Harvey–hosted Celebrity Family Feud ending up as one of 2015's most successful new series launches across all of television. ABC hasn't officially announced a second season of Feud, but it seems logical the show will return (and possibly air at least a few episodes in tandem with Pyramid). Strahan will serve as executive producer of the new Pyramid, along with Constance Schwartz and Vin Rubino. Sony already produces Shark Tank and Beyond the Tank for ABC, in addition to its massively successful syndicated game shows Jeopardy! and Wheel of Fortune.