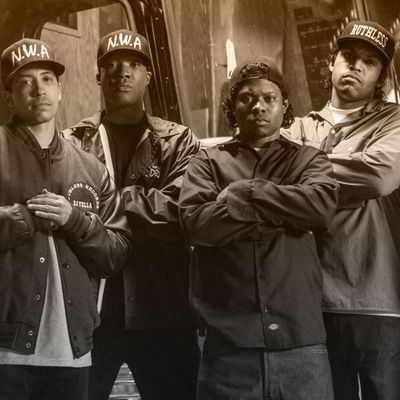 Every year, post–Oscar noms, we talk about who got left out. But today, the biggest snub wasn't Carol or Johnny Depp: It was people of color.
Across all 20 of its acting nominations, including Best Actor and Actress and Best Supporting Actor and Actress, the Academy neglected to nominate a single actor of color. Left out were viable candidates Idris Elba (Beasts of No Nation), Benicio Del Toro (Sicario), and Michael B. Jordan (Creed); all received awards buzz in the weeks leading up to the nominations (Jordan took home a National Society of Film Critics award for Best Actor), with Elba considered to be the likeliest of the three to get nominated.
In addition to the individual snubs, the Academy didn't recognize Straight Outta Compton, a movie with a largely black ensemble, in either the acting or Best Picture categories, leaving us with no Best Picture nominees that feature a nonwhite lead or a predominantly nonwhite cast. (Straight Outta Compton did receive a nomination for Best Original Screenplay — which was credited to four white writers.)
This is the second year in a row that the Academy neglected to honor any actors of color. The last time that wasn't the case was 2013, when Barkhad Abdi (Captain Phillips), Chiwetel Ejiofor, and Lupita Nyong'o (12 Years a Slave) all received nods; Nyong'o would win Best Supporting Actress. However, last year's Oscars did feature Selma as a nominee for Best Picture, making these nominations stand out in a very unfortunate way.