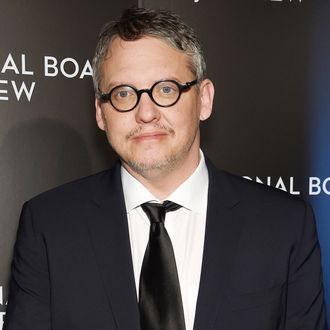 Photo: Dimitrios Kambouris/Getty Images
Since its release, The Big Short has made good money and vaulted into the ranks of Best Picture front-runners. But even more improbably, it's turned Anchorman and Step Brothers impresario Adam McKay into a Serious Director, a polemicist whose film is likely to earn multiple Oscar nominations. With the most optimistic projections of Jessica Pressler's New York cover story on The Big Short coming to pass, Vulture caught up with McKay before Amnesty International's Art for Amnesty Pre-Golden Globes Recognition Brunch to talk about the future.
Now that The Big Short is earning accolades and you're a serious prestige filmmaker, do you have any sense of what you want to do next?
[Laughs.] I don't know if I'd go quite that far, but I'll take it, I'll take it. What I loved about The Big Short was making a movie that's about now, and even though the collapse was in '08, it's still happening now. We're still dealing with it. That was a level of energy and excitement that I didn't expect. Every day, being on the set, there were articles coming out and people discussing it. So I'm not exactly sure what I'm going to do next — I have about two or three projects I'm kicking around — but I would love for it to be about right now.

You mentioned an immigration story to Jessica, right?
We're discussing that with Will Ferrell. I have another idea about climate change, which is tricky, but I think I have something that's kind of cool. I have another one about sociopaths, and kind of a science-fiction movie. But you know, I've been learning through the years whenever you take these movies around, whatever I say I'm going to do next I never end up doing. I'm going to give myself a little break when this is all over with to figure it out.

Do you know if you're going to be involved with the next Ant-Man movie yet?
I'm talking to them. I just talked to Peyton [Reed, the director of Ant-Man] the other day. I've talked to [Paul] Rudd. I think they have a process they do where they bring a bunch of writers in and toss around ideas, so my hope is that they'll write a script and I can rewrite it again, because that was a great way to work, and I got to really get my imprint on the movie and have a great time doing it. Kevin Feige knows I love Marvel, so I'm game. I grew up on it. Whatever they need, I'm there.

Would you direct a Marvel movie if you got the offer?
Oh, heck yeah.