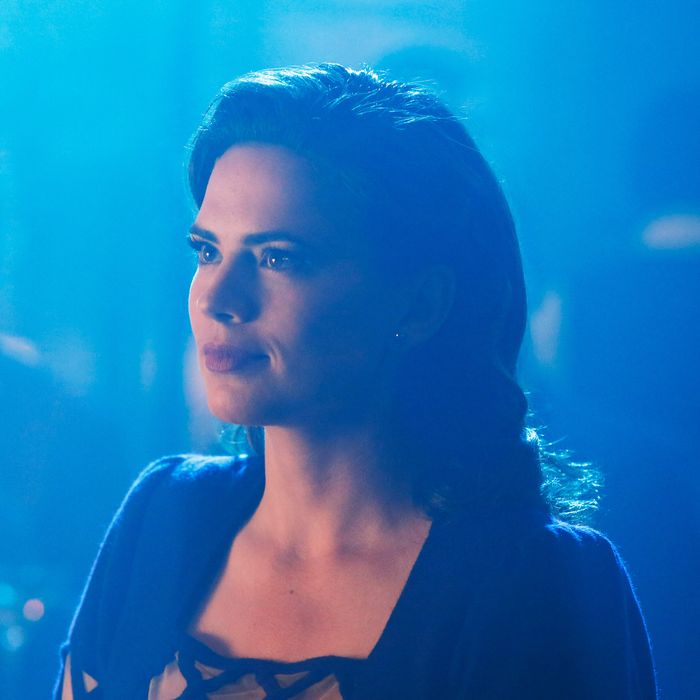 Agent Carter
The Lady in the Lake; A View in the Dark
Season 2
Episodes 1 and 2
Hayley Atwell as Peggy Carter.
Photo: Kelsey McNeal/ABC
If Agent Carter's second season had a subtitle, it'd be "L.A. Woman" — the same name that's appended to another acclaimed Marvel story about a heroine who trades the Big Apple for sunny California. The season may begin in the familiar confines of an SSR interrogation room, but just minutes into the premiere, Peggy Carter (Hayley Atwell) is climbing out of a jet, putting on a stylish pair of sunglasses, and starting a brand-new mission on the West Coast.
The message is clear: This is a brand new Agent Carter, and a brand new Agent Carter.
The show's new direction fits with Agent Carter's comic-book origins, where reboots and re-reboots are treated as typical happenings. But television is a less-experimental medium than comics, which makes Agent Carter's sharp pivot feel much more bold — and a bit more jarring. There are narrative justifications for moving the story to Los Angeles, of course. On a more practical level, there are plenty of extra-textual reasons for the shift: Agent Carter has a whole new sandbox to explore, and a fresh setting makes the show more appealing to prospective viewers who missed season one. And, as the show's creative team has openly acknowledged, it's an easier storytelling proposition: The show's production is based in California, after all.
I certainly won't call this experiment a failure after two episodes, but I'm skeptical about the new setting. Many of the compelling wrinkles from Agent Carter's first season got lost in the shuffle. Peggy has vacated the women-only Griffith Hotel — a reliable venue for both hijinks and danger — for the relative blandness of Howard Stark's swanky, empty Los Angeles mansion. Along the way, we also lost Angie Martinelli (Lyndsy Fonseca), the waitress who served as Peggy's much-needed, non-spy ally. The show's freshman season built a fun, stylized world — and ended with a clear path for more of the same — so it's surprising to see such a big makeover.
Fortunately, Agent Carter has brought along several familiar faces, including Daniel Sousa (Enver Gjokaj), the newly appointed West Coast chief of the Strategic Scientific Reserve, who spent much of the first season nursing a crush on Peggy. In the months that passed between the events of last season's finale and this season's premiere, though, it's clear that something weird happened between Sousa and Peggy. Their relationship has flipped: Now Peggy chases Sousa, who dodges her calls, hiding that fact that he's about to propose to another woman.
And, of course, we can't forget the return of Peggy's platonic work husband, Edwin Jarvis (James D'Arcy), who is conveniently relocated to Los Angeles. Jarvis's fussy brand of courage and loyalty was an unquestionable highlight of Agent Carter's first season, but his appearances in these episodes feel like an over-spiced dish. D'Arcy's energy is off, undercut by long comic gags that shade into pandering. There's a new, big wrinkle to Jarvis's narrative, too: We finally meet his wife, Ana, played by Outlander's Lotte Verbeek.
The introduction of Ana is yet another bold choice. In the first season, Agent Carter treated Jarvis's wife like Mrs. Peterson from Cheers — she's often mentioned, but never seen. It's a tall order for any actress to step into a character like that, and Verbeek does an admirable job with limited screen time. (Ana proves to be just as capable as her husband, though far more unflappable.) With any luck, she'll become a reliable ally as Peggy weaves her way through Los Angeles.
Of course, Peggy doesn't exactly have time to kick back at the pool with the Jarvises. The first episode, "The Lady in the Lake," serves up a classic noir mystery. After the L.A.P.D. fishes a body out of the water, we see there's a distinctly Marvel twist: The victim, Jane Scott, is frozen in a block of ice that's unaffected by the California heat.
Peggy follows Jane Scott's trail to Isodyne Energy, the company where she worked, which specializes in the kind of technology that could freeze a person to death. Isodyne is a sketchy place, with a front-desk receptionist who stonewalls anyone asking questions. Fortunately, Peggy makes a fast ally in Jason Wilkes (Reggie Austin), a scientist who works on the company's biggest and most classified project: A mysterious element called Zero Matter, which will look awfully familiar to anyone who watches Agents of S.H.I.E.L.D.
Zero Matter is the season's big MacGuffin. It was accidentally discovered during an atom-bomb test, and no one really understands how it works. Despite a front-row demonstration of Zero Matter's power — it absorbs the energy of everything in its path, including the aforementioned Isodyne employee-turned-frozen corpse — it's instantly less interesting than the political culture that surrounds it. A like-minded group of power players are vying to obtain it, including senatorial candidate Calvin Chadwick (Currie Graham) and his wife Whitney Frost (Wynn Everett), a famous Hollywood actress.
Obviously, this is a lot of story to dole out at the beginning of a season. That's probably why Fox chose to air these first two Agent Carter episodes back-to-back, which gives us just enough time to digest everything. However, the emotional beats seem to get lost within the premiere's heightened pace. In theory, Peggy's romance with Wilkes seems ripe with potential. Jason is a black man, living in a bigoted era that forces him to contend with incredibly unfair obstacles. His rise to a leading position at Isodyne — an evil corporation, but also the only place willing to give him a fair shake — is a rich and emotionally compelling story worth exploring.
Unfortunately, the needs of Marvel's synergistic narrative lead Jason into an abbreviated, disappointing arc. At the end of the second episode, he gets caught in a Zero Matter chain reaction and vanishes, presumed dead. He'll almost certainly come back — this is a Marvel series, after all — but after such a disastrous first date, it's hard to imagine that he and Peggy will pick up where they left off.
As "A View in the Dark" ends, Agent Carter is left with plenty of story threads for the season's remaining eight episodes. There's Dottie (Bridget Regan), the Russian sleeper agent from season one, still fixated on Peggy. There's Calvin and Whitney and the rest of their slimy organization. There's the question of what happened between Peggy and Sousa, and where their relationship will possibly go, and the nagging sense that Jason Wilkes will reemerge. And there's the small matter of Zero Matter, which ties everything together with potentially Earth-shattering consequences. (Though not too Earth-shattering, since we've already seen the future of this particular universe.)
If I have one hope for Agent Carter, it's that these well-drawn characters don't become grist to the mill of the greater Marvel Cinematic Universe. Hayley Atwell is as strong a performer as any actor on Marvel's payroll, and she occupies an underexplored chapter within its multi-platform narrative. Agent Carter is just far enough removed from Marvel's grand plans that the show can afford to take risks. This dual premiere doles out some clunky exposition, but it also builds a compelling foundation for a strong season.
In other words, I'm ready for Agent Carter to reclaim its title as the sharpest, snappiest comic-book show on television.
Stray Bullets:
Whitney Frost (Wynn Everett), a.k.a. Madame Masque, is a villain best known to modern comic readers from Matt Fraction's acclaimed run on Hawkeye. In brief: Frost is the socialite daughter of an Italian crime lord, who successfully shed much of her family's baggage to become an expert strategist and hand-to-hand fighter. In the comics, she hides her scarred face behind a golden mask. It's very, very likely that Frost's scarring encounter with Zero Matter will lead to a similar character arc on Agent Carter.
What's the deal with Violet (Sarah Bolger), Sousa's soon-to-be-fiancée? She's so over-the-top nice, with an omnipresent nurse's uniform and penchant for baked goods, that she must be evil.
One character I was surprised (and happy) to see again: Rose Roberts (Lesley Boone), the fake telephone operator who now works as a fake receptionist for a fake talent agency.
And one more returning character who will surely play a large role this season: Hugh Jones (Ray Wise), the industrialist rival to Howard Stark, who's involved in the overarching creepy-old-guy conspiracy.
This week in Marvel synergy: Zero Matter is Agent Carter's name for Darkforce, an ultra-powerful source of energy that will reportedly play a role in the Benedict Cumberbatch–starring Doctor Strange.
"The Lady in the Lake" is a clear reference to Raymond Chandler's novel, a top-tier example of L.A. noir. As far as I can tell, "A View in the Dark" isn't a reference to anything.
Next week: Dominic Cooper returns as Howard Stark, and Peggy digs deeper into the Case of the Missing Zero Matter.
Scott Meslow is the entertainment editor at TheWeek.com.