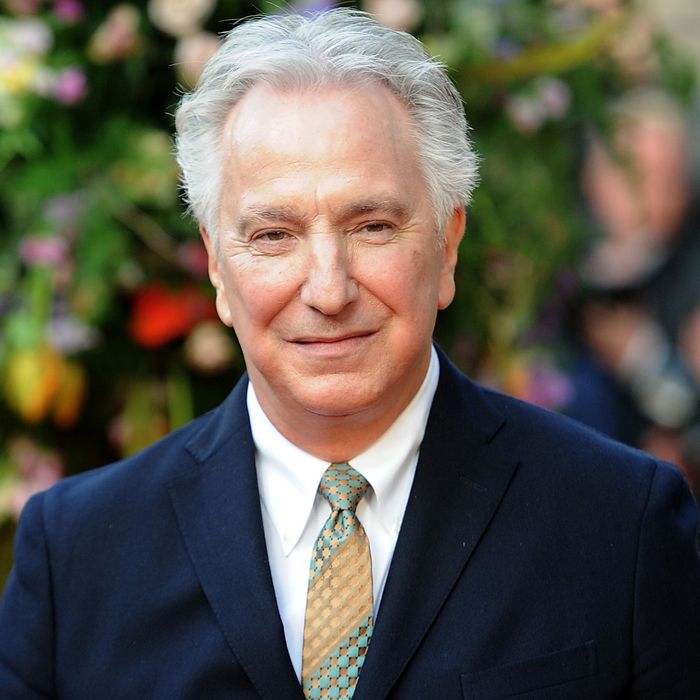 Alan Rickman died at the age of 69.
Photo: Dave J Hogan/Getty Images
Beloved movie and theater actor Alan Rickman has died in London "surrounded by family and friends" at the age of 69, a spokesperson told the BBC on Thursday. He had been suffering from cancer. Born in Acton in West London, Rickman grew up in a working-class household with a single mother, and originally pursued a career in graphic design — though, as he recalled later, "theater was always lurking in the background." After working for a radical left-wing newspaper, and enjoying the "'70s fantasy" of starting a design studio with a few friends, Rickman found the pull of the stage inescapable, taking roles in the fringe-theater scene, then attending Britain's prestigious Royal Academy of Dramatic Art. Upon graduating, he joined the Royal Shakespeare Company, playing roles in The Tempest and Love's Labour's Lost. Later in life, Rickman would become a vocal critic of the RSC, calling it "a factory" that treated its young talent as assembly-line products.
Though Rickman worked frequently in British TV in the early '80s, theater would give him his big break: Rickman won a Tony nomination for his portrayal of the villainous Valmont in the Broadway production Les Liaisons Dangereuses (a part he first played in Stratford with the RSC). The role caught the eye of the film producer Joel Silver, who got Rickman cast as criminal mastermind Hans Gruber in Die Hard, kicking off his three-decade career playing dastardly, devious scoundrels onscreen, in films as varied as Robin Hood: Prince of Thieves, Love Actually, and Sweeney Todd. And yet, some of Rickman's most notable roles came when he was playing against type, whether as a warmhearted soldier in Sense and Sensibility, or a comically exasperated actor in Galaxy Quest. For younger fans, Rickman is undoubtedly best-known for his nuanced portrayal of enigmatic potions professor Severus Snape in the Harry Potter films, a role that seemed to affect him as well. "Every time I put that costume on, something weird took over," he recalled to HitFix in 2011. Each of these made fine use of Rickman's distinctive voice, which in 2008 was found to be a key ingredient of the "perfect male voice."
Despite his long career, Rickman was never nominated for an Oscar, though the lack of one did not seem to sting: As he explained, "Parts win prizes, not actors." He is survived by his wife, Rima Horton, a Labour politician; the couple secretly married in 2012 after dating since they were teenagers.