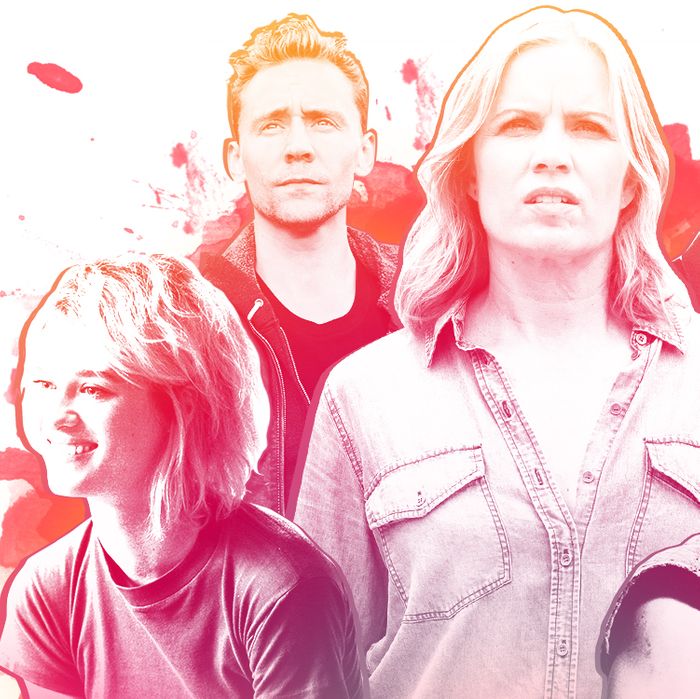 Photo-Illustration: Maya Robinson and Photos by AMC
Late in the summer of 2013, as Breaking Bad was nearing the end of its run, AMC unleashed a flurry of announcements about its post–Walter White future. Within a space of just a few weeks, the network revealed plans for a prequel to Bad, green-lit development of a new chapter in The Walking Dead saga, and said that the final 15-episode season of its beloved signature drama Mad Men would be spread out over two years. To put it mildly, the internet was not impressed. Former head Vulture Josh Wolk, echoing sentiments heard all over social media at the time, bemoaned what he saw as a looming creative bankruptcy at the theretofore critically beloved channel: "Get it together, AMC," read the headline on Wolk's screed.
Coming as they did in the wake of the commercial and critical failure of Low Winter Sun and the decidedly mixed reaction to the twice-canceled (and then rescued by Netflix) drama The Killing, the doubts about AMC were perhaps understandable. But two years later, there's plenty of evidence to suggest that said fears were also misplaced. A trio of AMC 2015 series premieres — Fear the Walking Dead, Bad prequel Better Call Saul, and martial-arts actioner Into the Badlands — ended up scoring the three highest-rated cable openings in history (at least among TV's favored demo of adults under 50). These new hits, combined with the continued success of the original Walking Dead, turned AMC into a top-five cable network for the first time and helped it add audience in a year when most big cable nets bled viewers. Nearly as important, AMC's brand — a destination for quality shows — has remained strong even following the denatures of Breaking Bad and Mad Men. Saul was one of 2015's most critically acclaimed series, Fear the Walking Dead garnered mostly decent notices, and critics warmed up to the second season of the network's period drama Halt and Catch Fire in a big way. To find out how AMC put together such a watershed year — and what its plans are for 2016 and beyond — Vulture called up AMC network chief Charlie Collier and programming boss Joel Stillerman for what turned into a nearly 75-minute conversation. We dove deep into the strategy behind last year's hits, explored whether The Walking Dead is nearing the end of its run, and asked the duo whether they they agree with the notion that there's now too much (good) TV.  What follows is an edited transcript of the discussion.
When you announced plans to do the shows that would become Better Call Saul and Fear the Walking Dead, more than a few critics in the press and TV industries reacted with skepticism. It seemed like you were just doing the very old-school network thing of making more of what already worked. Yet both the critical and audience reaction to those shows was positive. So was your strategy really that simple — to play off of existing successes? And do you feel vindicated at all?
Charlie Collier: Every network looks to take its successes and build upon them. But where I will say it's different than the way you set it up is, it was never to extend anything. It was very much to create unique worlds — from the day we heard the [Saul and Fear producers'] interest in telling these stories right through to how we talked about how we would market them. I remember a very specific meeting, for example, with Better Call Saul, where we talked about how we would absolutely never, ever talk about that as being season six of Breaking Bad. We wanted to make sure that this was an original series created by Vince [Gilligan] and Peter [Gould].
Joel Stillerman: And I'd say our strategy hasn't really changed that much from the beginning [of the network's push into originals]. It has been, as sort of fundamental as this sounds, to try and present the best stories on television. The knock on [Saul and Fear] was something we understood. But at the end of the day, we were looking across the table at guys like Vince Gilligan and Robert Kirkman, and hearing creative that we loved, and passion that was palpable, so they were not difficult bets for us. It was just a variation on that same strategy that's got us to where we are.
It certainly paid off in the ratings: AMC finished 2015 as a top five network for the first time. Other than bragging rights, is there a measurable impact from such an achievement?
CC: I think it actually has very positive real-world consequences against all sorts of constituents we serve. In many ways, the success, and the way it's compounded for us, has never mattered more. On a very macro basis,  we have our consumers and viewers as one constituent we serve, and we have advertisers, and we have distributors — it matters to all three. We're able to use the success of a show like The Walking Dead to launch new shows like Saul or Into the Badlands, and reach new people with that product. We [can] have more people say what we hope they'd say, which is, "I never thought I'd watch a show about advertising or zombies or a teacher who makes meth with a former student. But I tried it because it was on your air … and now I'm a fan of that, too." That is organic and wonderful, and it happens more when you have audiences of scale. That's one impact.
As for advertisers, they're obviously looking not just for audiences of distinction, but for audiences of distinction that are sizable — and we've been able to deliver that more and more. Among adults 18 to 49, we are the No. 1 programming outlet for original premieres on all of television. Meaning, on average, the premiere airing of our originals in 2015 delivered the highest average adult audience [in the key demo]. That's a big deal, because advertisers need … weekly episodic television. And we're doing that as well as anybody. Then, obviously, our distributors are thrilled when a product of theirs connects with their consumer.
Speaking of Saul and Fear the Walking Dead, is there any doubt both shows are now going to run at least four, five seasons?
JS: Look, of course you're always optimistic. But one of the trademarks of how we've approached programming, and Charlie running the business, is that it's all very deliberate. You never get ahead of yourself. So giving Vince Gilligan a two-season pickup did not seem like an enormous risk or stretch in the beginning. Moving quickly to renew Fear, same thing. For us it's always one step at a time. Right now, both those shows are early days, so we certainly would be optimistic that they'd go on for a long time. But we're never taking anything for granted.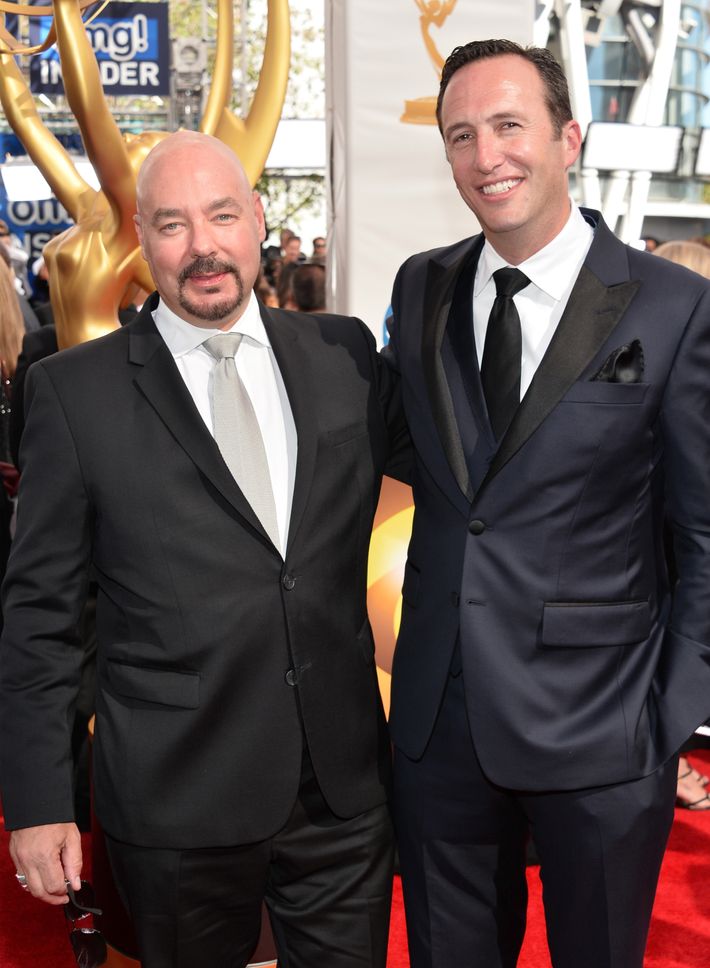 Next season, The Walking Dead will match Mad Men as your longest-running series. Death is a natural part of life in TV, so even though this franchise is massive, do you have to start thinking about an endgame? Particularly now that you appear to have launched a show that can speak to the Dead audience even after the original ends?
JS: What's so fascinating about The Walking Dead is that Robert Kirkman set out to do something that proved to be remarkably brilliant in a couple of very fundamental ways. One is he wanted to use the world of the zombie apocalypse as a way to get at social commentary. That was always the killer app for the show. But if you ask Robert what his motivations were for writing The Walking Dead, he would say, "I loved zombie movies, but I just felt like the worst part of them was always the ending. You always had to manufacture some ending." So he set out to write this totally open-ended story, and the proof of that is in how vibrant the comics are.
The answer to how long the show will go on in some way is directly correlated with the health of the storytelling in the comics. Those comics are firing on all cylinders. He still writes every line of dialogue in those books, and is as engaged as he was when I think he was sitting around in Kentucky writing the first issue. That is very much part of the DNA of the show. He sort of felt like, in real life, this goes on for a very long time. We're along for that ride.
CC: I will tell you we are not actively talking about the end of The Walking Dead. We're talking about how to keep this No. 1 show on television feeling as fresh as it does in season six. As a brand, we're very sensitive to making sure that every aspect of it feels fresh and original, and that it's not treated in any way that's derivative or taken for granted. Our planning is current and future-focused, and it is not focused on the end at this time.
You've mentioned how patient you were in doing the Walking Dead spinoff. But is there any reason not to do another one? CSI, Law & Order — they thrived for many years with multiple incarnations. And the Norman Lear sitcoms of the 1970s spun off a slew of successful shows, and most of them were well done. Why stop at one spinoff?
CC: First of all, we made a deliberate decision, which was to not spin off the series. If we had taken a couple of characters out of the camp and sent them on the road and followed that — that would have been a spinoff. We didn't do that. We made the decision … to do a companion series, and, in fact, to show you what was happening in the world when Rick was sleeping in the original series. It wasn't just, let's do more for more's sake. We waited a few seasons. We wanted to get Robert to feel like he had a world that was very different, as opposed to just an extension of the world we were in.
I stand corrected on the terminology! But I'm still wondering, given the success of this new show, is there a reason not to explore doing another one?
CC: The answer is we are open to ideas that feel organic to the creators in whom we've put our trust. So if Robert had a world he wanted to explore, you can bet that we are not just leaning into that conversation, but we're actively engaging in it. Right now we're not in that conversation, and there's nothing to report at all. I'm a huge believer in Robert and the executive producers of these shows. We wanted to create a place where they would bring us their creative dreams and bring us their passion projects. If Robert had another one, we would absolutely engage. This is a world that is rich enough to handle it. Right now we're just focused on these two.
Let's talk about Halt and Catch Fire. We live in a world where FX can put on Fargo season two, get a lot of acclaim, and the numbers don't go up, they go down. HBO's Leftovers had more acclaim this year; its numbers were down. On your network, Halt and Catch Fire blossomed into this critical darling its sophomore year, but once again: no ratings bump. And yet all three shows have been renewed. Are ratings irrelevant now?
CC: What I'm very proud of is being able to build businesses where we can have the permission to measure things individually and really look at their unique attributes. If you would stack up all those shows on those networks you mentioned, and you just looked at one metric — say, live-plus-three-day or live-plus-seven-day — that would be a horribly linear and non-creative way to approach the business. It has to be a balance of different metrics.
It didn't get the same sort of attention as some of your other shows this year, but Humans also launched in 2015 and was renewed for a second season. How does it fit into your portfolio?
JS: We've been searching for a long time for a way into the grounded science-fiction space. We're pretty selective. We don't put that many shows on to begin with, so I'm really proud that we found something — even if it came through our co-production channel — [that] felt like the AMC version of a sci-fi show. If you've been following the AI discussion over the last year or so, it's really become completely fascinating and, in many cases, sort of front-section news. It's a great piece of storytelling, but also relevant and timely. That's a good combo for us.
The ratings for Into the Badlands, to me, seemed pretty darn good. Even after it lost its The Walking Dead lead-in, it was still a top cable show. Will it be back ?
CC: We feel very good about it. Launching anything today in the fourth quarter on Sunday nights is a challenge because of football. We, as you said, did launch it with The Walking Dead, and then we left it alone to stand on its own, and it did quite well. We talk a lot about serving the underserved, passionate audience. When we're in those fight scenes, and I'm watching with all my various social guides open, we are hitting a high note that I think is palpable. I like that as much as I do the numbers.
If Badlands returns, will it air permanently after Walking Dead? Or will it have to fend for itself on another night or in another slot?
JS: We have a permanent show at ten o'clock on Sunday nights, and it's called Talking Dead. We preempt that with great consideration for The Walking Dead and the Talking Dead audience. So while we haven't made any decisions about long-term scheduling, and we haven't even made a decision about whether or not to renew Badlands yet, I think it's just safe to say that the Walking Dead/Talking Dead combination is something that we consider to be very important. It's right at the heart of our mission of super serving fans, right at the heart of our mission of creating event television out of scripted programming. So if we choose to use it [for Badlands], it will be with great care, and probably judiciously.
CC: I  think it's worth noting [Talking Dead host] Chris Hardwick is someone that we love having as a part of our network.
So I think there's a law now that says I have to ask you about the glut of good TV shows on the air right now, what your colleague at FX, John Landgraf,  last year famously labeled "Peak TV." Do you think there's too much TV right now? And do you think too many networks are trying to find success the way AMC and FX have done in the past five years, by sort of doing premium TV shows on ad-supported TV?
CC: First of all, it's never a bad thing to be doing and excelling at the thing people want to do. That is a nice position to be in, and I think AMC and a few notable others have now established a years-long track record of being a home for some of the finest content in this area. That's something we covet, and certainly a position that we've worked hard to create. We are now working with creators that we've admired for a long time, and when they tell us, "I built this with AMC in mind," or "I wanted to come and make my home at AMC," those are things I don't think any of us take lightly.
I will say … I don't think too much television is the problem we're facing. We joke a lot about how you could walk into a Whole Foods and argue there's too much food, but it doesn't stop me from loving being in there and finding what I'm looking for and being well taken care of by it. But I do think breaking through the clutter, and then finding a way to have the best stand out, is certainly more challenging than ever.
But does the TV industry risk exhausting a limited supply of talent by trying to produce so many shows?
JS: The quantity of great creatives is as good as it's ever been. I don't think we've even come close to sort of a point where there aren't any more good ideas left … There's an extraordinary amount of really fresh, interesting voices coming into the market with interesting ideas. So I don't think we wake up in the morning and think, We're out of good ideas, or even that there's too much good television. We're pretty bullish about the state of creativity in the television business.
So let's move on to how you make your shows. Five  years ago, New York Magazine wrote a fairly detailed story about the bake-off process you've used for pilots. But you're doing something different this cycle with development. Can you explain what you're doing, and why you decided to change?
JS: What we're doing is we've decided to take a small number of projects, and instead of producing pilots, after having developed the pilot scripts, we've opened up writers rooms. We let them write for a few months, come back with a handful of scripts — somewhere between four and seven — and then instead of making a pilot, we are making series decisions off of those scripts. That's not unprecedented, but I think, for us, we wanted to take a test-run at seeing how it felt on a slightly more institutionalized basis. In other words, not just as a one-off.
Why we did it is pretty simple: I don't think you'd find anybody who would defend the pilot process as being perfect. It's highly imperfect with respect to the development of true serialized dramas, where the success creatively … is entirely based on the quality of the long-term storytelling. And we're not in the pilot business. We're in the series business. If we can look at six, seven scripts, and a really solid vision for a full season, I would take that as a basis for a decision any day over a great 42 minutes [for a pilot]. Beyond that, the process actually is faster, meaning there's less time between a pilot script and a series pickup. So, for creators who want to get to the decision point and figure out whether they're going to spend the next year-plus producing the show or looking for their next gig, that's a plus. We think it's sort of user-friendly.
How many projects are you developing this way?
JS: We put three into this process in the summer, and those are just now sort of coming to fruition.
How is it going so far?
JS: A little too early to tell. But I think we have some very positive early results. A couple of these projects are now through their writing period, and we're coming up on decisions. We're very encouraged by the difference between looking at seven scripts, as opposed to one produced pilot, in terms of our ability to get a grip on whether or not we feel like the vision is there.
What I do think is critical is that you are constantly … think[ing] about the process differently. The development process — that idea of writing a pilot script, making a pilot, and making a series decision — has been in place for decades, really, probably largely since the beginning of scripted television. You have to ask yourself, Is that the right process for something like the serialized shows that we all talk about now as being part and parcel of the golden age of television? Or does it require a different way of thinking about it? I would suggest that it's always good to be exploring different ways to get there and ways that are more tailored to what we're trying to do.
Let's talk about 2016. What's does AMC's programming mix look like in the year ahead? And is it evolving?
JS: We're very much dedicated to continuing our Sunday night strategy, which is more geared towards millennials and fanboy [viewers] and maybe some genre content. And then, on Monday and Tuesday, we will continue to be committed to great adult dramas. So the mix of Preacher, which will be part of that first lineup that I mentioned, and things like The Night Manager and Broke [working title] are sort of the essence of what AMC always has been, which is this idea of being eclectic by design and embracing both ends of the spectrum. I feel like we're sitting in a place where we can be pretty confident about '16.
Will there be more hours than in 2015?
CC: We can get you the total number of hours, but we're up. [An AMC exec followed up and confirmed that, with both scripted and unscripted, AMC will produce a network record of over 150 first-run hours in 2016.]
A positive development over the last few years, at least in my mind, is that TV networks and film studios are getting asked more frequently about the racial and gender diversity of their shows, and of the people making their shows. How top-of-mind is this issue at AMC? And do you think you have room for improvement?
JS: Like everybody, we're acutely aware. It's an extremely important issue. We're really proud of our Walking Dead cast, which is incredibly diverse. We're really proud of a diverse cast on Into the Badlands, and Daniel [Wu] has been very outspoken about what it means for him to be an Asian lead on a show. On the larger level, I would like to believe, like everybody in this business, we always have our eye open for the show that comes from a diverse voice or diverse point of view, or deals with diversity in a way that feels right for our network. You have to just balance that with making the right decisions, and picking the shows for your network. We try and do both of those as well as we can. It's definitely an issue that gets discussed here. I think we always feel like we can do better.
One area that you started dipping your toe into a few years back, and then didn't go into in a major way, was half-hour comedy. You sort of do have elements of dark comedy in Better Call Saul, but are you even taking any pitches on the half-hour side? Or does comedy fall into the category of "not right now" for you?
JS: For the time being, we're in "not right now" mode. For the last few years, we have had a very small handful of comedy [projects] on our slate, and I think if we found the one that we thought was the lightning strike, we would have found a way to get it done. But we didn't, and the focus is clearly on drama series right now. That is what's driving the brand. But we never shut the door entirely, because why would we?  
AMC used to stand for American Movie Classics. But since 2007, you've transformed into a series-driven channel, even though there are still many movies on the network. How important are feature films to your business, particularly when so many viewers now watch via streaming?
CC: We're very proud of our movies still being at our core. You look at what we did in December with our curation around holiday films. We have a franchise that's almost two decades old in Fear Fest, which happens every October. We dedicate a significant portion of our air to films in that genre. And we've done very well with other things like Westerns and war and antihero films. So I feel very good about the state of our movie business, even though it sort of sounds strange in this day and age where movies are so ubiquitous and on-demand. We still do a very good job, I think, curating and elevating a lot of the best titles of all time.
Netflix seems to have gotten viewers into the notion of watching all episodes of a season at once. We've seen some broadcast and cable networks experiment with variations on that model. Do you see any reason to experiment? Would you ever consider putting out all episodes of a season at once?
CC: We haven't yet. I don't want to ever say never, but I'm a big believer in the watercooler event. I still believe that when we and others do what television does best, we are influencing popular culture in a way that is mass and shared. If you've experienced The Walking Dead in the past few weeks, or Into the Badlands … those are still happening with a linear launch that is successful. And it's not just one show. It's kind of crazy in this world of fragmentation that we at AMC would have the three biggest launches in cable history all happening in 2015, when you would think records shouldn't be broken anymore. A lot of that has to do with the fact that we made a lot of these events. We spend a lot of time looking down at our screens. Those moments where we're all looking at the same screen, and looking up together? I think they're more special than they've ever been.