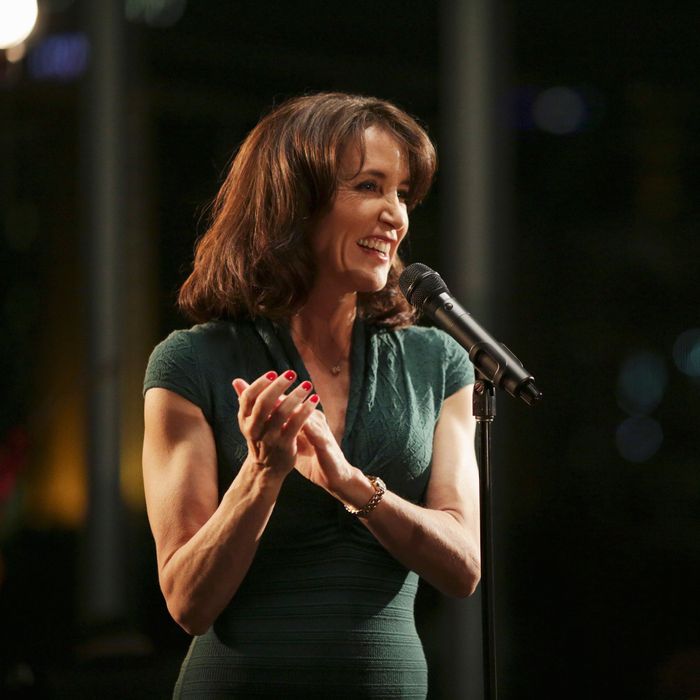 Felicity Huffman as Leslie Graham.
Photo: Ryan Green/ABC
Every detail of American Crime may have changed in its second season, but creator John Ridley's intent remains the same. Just as in the first season, Ridley wants to explore themes without offering the common, definitive answers we expect from network TV. Once again, he's more interested in the effects of a crime than the crime itself.
That said, this season feels even more ambitious than the first. Dozens of shows have tried to get into the mind of criminals and cops, but few deftly examine the ripple effect of illegal behavior — or even the accusation of it. American Crime is among those few.
Class, sexuality, race, assault, social media, and bullying will collide this season, which features several actors from last year, but in different roles, including Timothy Hutton, Felicity Huffman, Lili Taylor, Elvis Nolasco, and Regina King. They're joined by an excellent group of newcomers to Ridley's repertory troupe, including Hope Davis and André Benjamin.
In the season's first scenes, Ridley (who wrote and directed the episode) defines his characters through their behavior. While Leyland Academy basketball coach Dan Sullivan (Hutton) runs drills with his boys, Eric (Joey Pollari) has trouble guarding Kevin (Trevor Jackson). Every time Kevin drives to the rim, Eric gets knocked down. Meanwhile, as a boy named Taylor (Connor Jessup) sits in the bleachers, we flashback to a conversation with a guidance counselor, in which we learn that this young man doesn't think he has a lot of options for his future. He isn't like the other kids at Leyland. He doesn't come from money; he doesn't have the grades to land a scholarship. Back in the gym, Taylor gets texted a few photos of himself. He's in his underwear, clearly drunk.
A week later, the episode introduces Anne, Taylor's mother, played by Lili Taylor. As they do laundry together, they talk about that future he believes will be so dim. He thinks, like all teenagers do, that his mom is too optimistic. As the conversation unfolds, Taylor gets emotional and says he never should have gone to Leyland. He's on the verge of tears as he says, "I don't want to go back to that place." Why? Is it just the photos? Or is he hiding a secret?
Coach Dan walks in as the boys finish practice. They're casually joking around in a cruel, misogynistic way. Eric shows Kevin a dirty picture on his phone and punctuates it with "… SO want to rape that." As Dan packs up to leave, he stops to film a cheerleader doing a routine for another student that looks a lot like a lap dance. Is he being a creep? The scene is designed to make us think so, but later, we learn that he's her dad. Dan wanted to show his wife, Steph (Hope Davis), what their girl is up to.
This unexpected turn is key to the premiere. Anything we see on American Crime may not tell the whole story — even a man filming a young girl as she dances. We also get a key line of dialogue from Coach Dan; during the family dinner scene, he mentions the boy who got a lap dance from his daughter, saying, "Wes is a good kid, it's not about him." It suggests how far he'll go to protect his players. He might as well have said, "Boys will be boys."
Before that, we meet the rest of Kevin's family, including his cheerful father Michael (a perfectly cast André Benjamin) and controlling mother Terri (Regina King, who won an Emmy last season). Mom doesn't like Kevin's girlfriend Val. She's believes everyone is trying to use her son, arguably crossing the line from protective to smothering.
Taylor is called into the principal's office, where mom is waiting. They're told that Taylor will be suspended for three weeks because of the pictures, but they won't show them to Anne. She's furious, saying, "When you get home, you are gonna be telling me some things." He won't get in the car, though, then runs off. Lili Taylor is phenomenal here, trying to deal with a wave of emotion but unable and exasperated. She's always in the moment, one of those actors who really seems like they're listening and responding, rather than simply waiting for their lines.
Then, we meet Headmistress Leslie Graham, played by Huffman. From her introduction, she's framed as a villain. I was hoping Huffman would play a more lovable character this year, but she's excellent at portraying women who don't think they're doing anything wrong as they inflict emotional damage. Even in her first scene, Graham is skin-crawling.
We learn the school has raised $32 million, but need another $18 million in donations to hit its fundraising goals. A lot of money is on the line here — an important detail to remember, given how people will try to protect the school's reputation in coming episodes.
Finally, we meet Evy (Angelique Rivera), Taylor's girlfriend. She's introduced as a saint, helping her sore father and bedridden mother before going off to meet with Taylor's mom. Anne wants her to spill the details. Evy gives it up, showing her the pictures of Taylor, some of them even hashtagged with "#WT" for "white trash." She explains what happened at the party, then explains that Kevin invited Taylor. He was excited, they split up, and by the time Evy found him again, "He was messed up and they were standing around taking pictures."
Cut to a loud basketball game: It's packed with music, cheering, dancing, and coaches yelling. This is what really matters to this school. Sports are important. We see another crucial dynamic: After Eric drops the ball, Kevin later passes to him to take the game-winning shot. Terri isn't happy about her son's magnanimity, though. The team won in exciting fashion, but her kid didn't take the big shot. Again, this is crucial character definition for upcoming episodes.
The episode ends with a series of season-defining actions. First, Anne confronts her son. She's seen the pictures and she's angry and confused. He's upset. He doesn't remember what happened the night of the party. He had a couple of beers, but people kept shoving more in his face, saying, "Be fun! Why don't you be fun?!" Keep an eye on Lili Taylor in this scene: Anne's tone goes from angry to compassionate to pained as she realizes the extent of what happened to her son. As Taylor reveals, "They did something to me; I think they did something to me," she finally hugs him.
Anne meets with the Headmistress, who has clearly handled accusations like this one. Listen to how carefully she chooses her words when she says, "Tell me what you believe happened." Anne repeats Taylor's claims, then asserts that her son was sexually assaulted. Graham goes to Dan with the allegations, asking him to talk to the team. Again, listen to her words: "We have to make it clear we take this matter seriously." They're placing perception above action. In a surprising move, though, the show cuts to commercial right as Dan tells his team, "We need to talk about that." What does he say? What do they say? We may never know. After the commercial break, Dan and his wife make it clear that he didn't want to do it. He's already siding with his boys.
Finally, we're back with Blaine and Graham. She tries to appease the wounded mother with promises of forthcoming discipline, but mom isn't satisfied. After Graham accuses Taylor of being complicit in whatever happened, Anne brings out the big word — "My son was raped." Graham's look and demeanor immediately changes. She knows what this could mean for Leyland, and advises Blaine to "be very careful with that word." The episode ends as Anne calls 9-1-1: "I want to report a rape."
Other Notes:
Elvis Nolasco, who played Carter last season, isn't in this episode. He'll return next week, if you're wondering — and he'll play a crucial role.
It's interesting to consider how each role has changed for the returning cast. Hutton is playing another father, although this time, he's in a relatively happy marriage. Huffman is again in the role of a woman who rarely thinks she's wrong. King seems the farthest removed from season one, when she brilliantly played a woman looking for power and control. This time around, she already seems to have a lot of it.
The young cast is filled out so well. Jessup, Pollari, Jackson, and Rivera will have to carry a lot of the season, and they all seem up to the challenge. It's nice to see new, talented faces alongside the familiar ones.
I love Ridley's use of setting, from the Chicago street signs and the very Midwestern-looking homes to the restaurant where Anne works. It's not flashy, but it all feels lived-in.
We still don't know much about the actual crime. How were Kevin and Eric involved? Is Taylor telling the whole story? Does Evy know more? Only time will tell. I hope you'll come along for the ride.