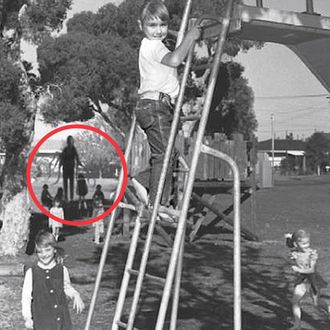 Ugh, this is going to be so creepy.
American Horror Story has a new theme in its grasp, but only Ryan Murphy and a select few actually know what it is. Us Weekly reports that the AHS writers are currently eyeing a script about Slender Man for the sixth iteration of the FX anthology show. An "insider" told the magazine, "Someone else wrote the script, and AHS wants to adapt it to fit the show. They have to buy the rights. Then they're going to figure out the cast from there." Slender Man is a fairly recent entry into the horror canon (although tall creepy men have long existed in children's nightmares), starting as a meme in 2009 before eventually making headlines in the 2014 "Slender Man stabbing," in which two 12-year-old girls stabbed another girl because they worshiped Slender Man.
But wait! E! News refutes these reports, saying that, according to their inside source, next season's theme most definitely isn't Slender Man; instead, the source says, the show will revisit an idea mentioned in previous seasons. (FX had no comment when we reached out.) One possible idea we have is a version of American Horror Story: Antichrist. Talking about Hotel, showrunner Ryan Murphy has said that we might see the Antichrist baby from Murder House in season one again. You remember that nasty little baby that murdered Connie Britton from within, right? Might we get a touching bildungsroman of the little tyke himself?