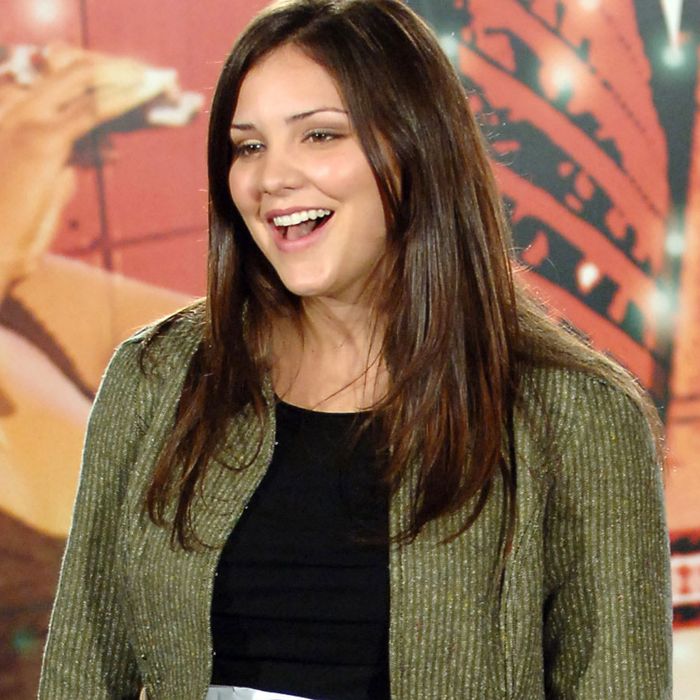 Baby Katharine McPhee!
Photo: Ray Mickshaw/Getty Images
I have watched every single season of American Idol since the beginning, when Ryan Seacrest co-hosted with Brian Dunkleman. Brian who? Exactly. Let's all pour one out for that homie. And while we're at it, let's pour some more for another homie: my youth. When AI began 15 years ago, I was single and getting used to having periods. Now I'm single and getting used to having gray hairs. Boo! Finally, let's pour one last droplet of liquor for American Idol because this is the final season!
One of the things I love about Idol besides the drama, the backstories, and the crazy arrangements on popular songs is the auditions, when everyone is full of hope and nerves. I mean, remember how nervous Kelly Clarkson was? Or how much of a diamond in the rough Jennifer Hudson was? Or when Phillip Phillips set hearts a-flutter with his rendition of "Superstition"? Yeah, I do, too. With that in mind, let's revisit some of the most memorable and greatest Idol auditions ever.
Fantasia Barrino, Season 3, "Killing Me Softly" and "Proud Mary"
At just 19 years old, Barrino was clearly a firecracker. She had a great personality and a great voice, and she was hungry. So hungry that she tackled two iconic songs and blew the socks off the judges. She got a "yes" three times and went on to win the season, release albums, star on Broadway, and have a Lifetime biopic about her life. #Winning:
Bonus: Lol at Paula Abdul, of all people, telling Fantasia to stay on key. That comment had me like: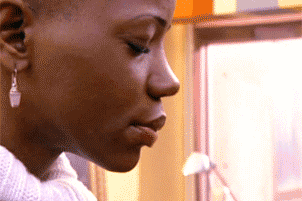 Moving on …
Katharine McPhee, Season 5, "God Bless The Child"
If I'm going to be honest, I was scared when Katharine McPhee auditioned. She's the child of a music teacher, and she admitted to the judges that her mother is a stage mom who lives through her daughter a little bit. It seemed like this was going to be a disastrous audition, and then McPhee belted out "Child" with the maturity and skill of someone twice her age. It's a shame her music career never took off because her voice is incredible, but she's doing all right: McPhee is collecting checks on that CBS show Scorpion, and it's all thanks to this fateful day back in 2005:
Chris Sligh, Season 6, "Kiss From a Rose"
As much as I love this show, one of the things that always made me cringe is the preoccupation with contestants' looks. I get that that happens in real life, but to see it happen so overtly on TV can be a little tough to watch. Simon Cowell was always the first to write someone off if they were not traditionally good-looking, but thankfully, Sligh immediately charmed the judges, who were stunned when he crushed "Rose":
Clay Aiken, Season 2, "Always & Forever"
I thought I remembered this audition perfectly and then I rewatched it. Aiken had swag. Like serious swag. Sure, he dressed nerdy, but his confidence was sky high, like when he told the judges that if he competed in the first season, he would have definitely made the top ten. Normally, this means the person is going to be a terrible singer, but Aiken's voice was flawless. And not only did he make the top ten, he was runner-up to eventual winner Ruben Studdard. (In my opinion, this was the best final two in the show's history.) But it all begins with this ah-mazing audition:
Bonus: He delivered possibly one of the greatest AI performances (alongside Barrino's "Summertime") when he covered "Bridge Over Troubled Water."
Jordin Sparks, Season 6, "Because You Love Me"
Let's just get this out of the way. Sparks's song "No Air" is one of the best pop duets of the past 20 years. This is not surprising because she straight-up walked into her American Idol audition at the age of 16 and was like, "I'm about to sing some Celine Dion. And???" And she killed it. Holy hell. The poise, the personality, the camera-ready looks. How is this fair? It isn't, and she ended up winning the whole dang season:
Chris Medina, Season 10, "Break Even"
Man, oh, man. I honestly can't type too much with this one because every time I watch or talk about this audition I cry. Medina's fiancée suffered severe brain damage following a tragic accident, and he sings to her and takes care of her. Sure, his music career is far less impressive, but dammit if this audition doesn't make you believe in love:
Paris Bennett, Season 5, "Cowboy Take Me Away" and "Take Five"
This is THE GREATEST audition on American Idol. Come at me, bro, but I stand by this. Bennett can sing the Dixie Chicks and Billie Holiday expertly at the age of 17. Her personality is infectious. I mean, what else is there to say? Just watch and be blown away:
Melinda Doolittle, Season 6, "For Once in My Life"
Speaking of infectious charm, there's season-six third-place finisher Melinda Doolittle. She spent a lot of time in the music industry as a background singer and decided to step into the spotlight. Timid and quiet, she absolutely nails "My Life" and then looks at the judges like she crapped the bed. She eventually started believing in herself as the competition advanced, and thank goodness, because she continually nailed performances:
Elliott Yamin, Season 5, "Song for You"|
It's not entirely fair to include this song because it's one of my very favorite songs and also one of my dad's, which makes it near and dear to my heart. Cowell was a hater, but Abdul and Randy Jackson knew what was up and put Yamin through to Hollywood. He ended up in third place and released a couple of albums, but his best moments were on Idol:
Kimberley Locke, Season 2, "Somewhere Over the Rainbow"
What I love about Locke is that she shows up to this audition dressed like Felicity Porter's best friend on Felicity. Point is that Locke did not scream star until she opened her mouth and did a pitch-perfect rendition of "Rainbow" that would've made Judy Garland give her a standing ovation:
Jessica Sanchez, Season 11, "Natural Woman"
It is a travesty to me that Sanchez is not a household name because her voice is phenomenal. She was just a teenager when she competed, but she skillfully sang songs by Beyoncé, Jennifer Holliday, and Aretha Franklin. Sanchez's rendition of "Natural Woman" during her audition put everyone on notice that she was the one to beat, and she ended up coming up in second place to Phillip Phillips. Her audition begins at 0:26:
Bonus: Watch her bonkers performance of "And I'm Telling You I'm Not Going."
Taylor Hicks, Season 5, "Change Is Gonna Come" and "Swanee River Rock"
Sure, Hicks may be a bit of a punch line but back on Idol he had lots of fans with his blue-eyed soul. He was the guy next door with a really good voice:

Carrie Underwood, Season 4, "I Can't Make You Love Me"
Do I even have to say anything about this? We all know she is the most successful Idol winner (most albums sold and most Grammys won). It's hard to believe that someone so talented was oh-so-shy when she auditioned during season four, but it's easy to see why she's killing it — this audition shows all her raw potential:
Kelly Clarkson, Season 1, "Express Yourself"
She's the OG. The very first winner of American Idol has gone on to sell millions of records, win Grammys, and write tons of girl-power pop songs. But back on Idol, she was 20, and her backup plan was to be a fashion designer if the show didn't work out for her. What a silly little plan that was: