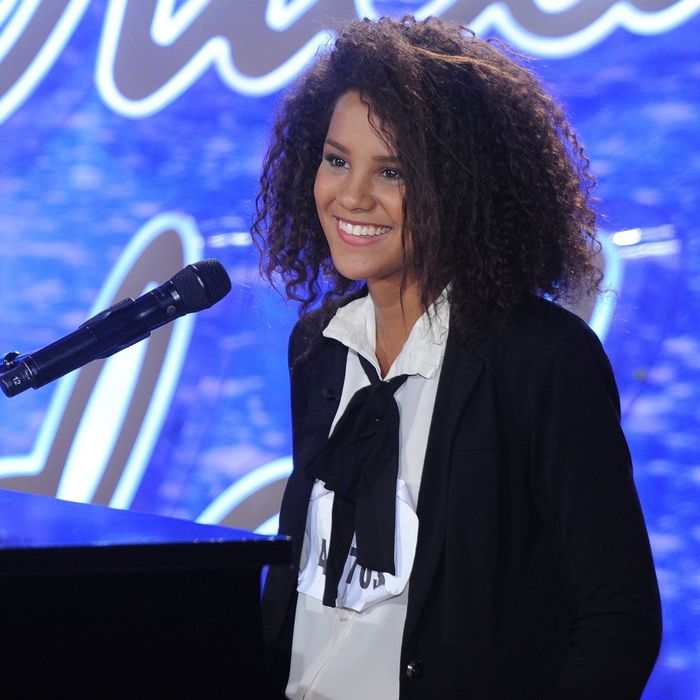 Tristan McIntosh.
Photo: FOX
This week, the FAREWELL SEASON Audition Experience rolls into Philadelphia for a blessedly short one-hour episode. American Idol, particularly in the early going, should never last more than one hour.
We start strong: Our first hopeful is 15-year-old Gianna Isabella, who is talented and adorable and turns out to be the daughter of Brenda K. Starr, freestyle star of the late 1980s. You may remember Starr for three reasons:
Her 1988 signature hit single "I Still Believe"
She employed Mariah Carey as a backup singer
Whatever she did to Mariah Carey that led her to swipe "I Still Believe," making it so popular that most people now remember Brenda K. Starr's signature 1988 hit single as a Mariah Carey song.
And now we're left to wonder what she did to everyone, because her daughter's best shot at a career in the music industry is through an American Idol audition. Gianna does "House of the Rising Sun" (an inexplicably popular audition choice through this show's entire run), and sounds good and seems great. She gets through. I look forward to watching Brenda K. Starr alienate a whole new generation of music and television executives.
Next, 24-year-old Derek Huffman brings in a boom box like he's a male stripper. He's one of these guys who could be a diamond in the rough, or might barely be hiding a severe mental illness; American Idol draws heavily from both camps. He does a version of Shaggy's "Angel" that isn't all that hot, and he doesn't make it through, and he expresses his frustration by taking his shirt off and putting it on his head. The whole moment is very Cops. You just know he injured his hand punching a wall later that day. Derek Huffman is that kind of guy.
Fifteen-year-old Isaac Cole looks like every one of the campers in Little Darlings. He's a Justin Bieber who will never age, particularly once 19 Entertainment intervenes to inhibit his puberty. He's from somewhere in rural Pennsylvania, but he sings Lee Brice's "Love Like Crazy" with a little bit of a southern twang. Come to think of it, Keith sings that way, too, so Harry's entreaties for Isaac to knock it off and sound like where he's from could be viewed as subtle Urban shade. I want to believe. Isaac is through.
Clay Aiken is helping out in the early stages of the Philly auditions, so I guess now is a good time to address his tweets from American Idol's FAREWELL SEASON premiere week. I guess Clay did not enjoy what he saw.
It's VERY clear now that @SimonCowell was the reason @AmericanIdol was a hit. I've watched root canals more entertaining than these judges.

— Clay Aiken (@clayaiken) January 7, 2016
While I agree that these episodes aren't the most thrilling, I should point out that they have always been this way. They were never fun. They were always tedious and cruel and interminable, even in the early seasons. You just didn't notice, Clay Aiken, because you were in them. But really, it's the "I've watched root canals that were more entertaining" that has me worried. This is the tweet of a man who is working a brand. This is the work of someone whose musical career has plateaued (at an enviably high level, it must be said), whose run for office and subsequent behind-the-scenes reality show went belly-up, who is actively seeking new opportunities. This tweet tells me a friend pulled him aside and said: "Clay, you're a great big bitch, and that's a job skill in 2016! It's time to show the world what you can do." Clay is going for the gay-guy spot on a panel show, he is using Idol to get there, and I am not having it. (Plus, have you watched root canals? Why are you watching so many root canals, Clay Aiken? This kind of sloppy joke-writing will not fly on Hollywood Today Live.)
Sara Sturm is a 17-year-old waitress at a breakfast place called "Eggspectations," which brings up uncomfortable memories of "The Eggers Family," a horrific, pun-based feature that ran in my hometown paper's Sunday funnies. She does Meghan Trainor's "Lips Are Movin'," which can't really be held against her. Sara makes it through. One day, she'll be an asset to her college a capella group.
(Just to be clear: In the world of "The Eggers Family," Meghan Trainor would be "Meghan Tr-EGG-nor," and there would be a child's drawing of an egg with an uneasy smile and a top knot, holding a microphone and a tambourine. I'm aware "M-EGG-han Trainor would have been the more obvious egg pun in this case. "The Eggers Family" never went for the obvious, though. "The Eggers Family" scarred me in ways I am only now able to see.)
Ellis Banks is this year's object of uncomfortable homophobic derision. He's a janitor in the mornings, but at night he becomes a glittering, bethonged androgyne named "Ellis Banks," which is his regular name, except he says it in a tantalizing whisper. (Also, before the chyron reveals the spelling, I just assumes he was named "Ella Spanx," which I think we can all agree is a much better way to go. Use it for free, Mx. Banks.) He does "Born This Way," which is the "Lips Are Movin'" of gay guys in their 20s. He doesn't make it through, but he leaves shiny Michael's fabrics for the judges to wear on their heads, because he's gay or whatever, and then he sashays … away.
Alert the authorities: A Drew Barrymore impression became sentient, necked a bottle of Robitussin, and took itself to the Philadelphia auditions. Jenn Blosil is a straight-up oddball, by which I mean she seems quirky and fun until you immediately develop concern for her. She strikes me as the kind of person for whom an intervention is always 75 percent planned, which makes the revelation that she's in "child care" that much more alarming. (I think that might mean she has a legal guardian who is an actual child, like some kind of '80s sitcom twist. It would explain her outfit.) She's through, because she does that Feist-y vocal-fry thing that the kids seem to like.
Harrison Cohen is Vanessa Bayer's Jacob the Bar Mitzvah Boy, all grown up. He brings his grandfather, who is the truth behind Robert De Niro's unforgettable Dirty Grandpa character, and who is straight up on some Neil Strauss shit. (Gramps's love advice to young Harrison: "Find the thing she hates about herself, and build it up." It is sociopathic and bone-chilling.) Harrison performs an original song, focuses his teenage pickup artist sexual energy directly onto Jennifer, and does not blink even once. It is unsettling, and it works.
Then, our final auditioner John Arthur Greene goes into his whole sad story about how when he was 8 and his brother was 13, they were playing Cops and Robbers in their big, empty house, and the guns were loaded and not locked up properly, and he shot his big brother by accident and held him as he died, and you think, How can a person live after something like that? And then he walks into the audition room and you wonder, How can a person sing after something like that? And then he starts his audition and you think How can a person sing like Jason Mraz after something like that? There is no angst or darkness at all. Dude has received some excellent counseling. (Dude was also in NBC's Peter Pan Live! and is married to Mackenzie Mauzy, who played Rapunzel in the movie version of Into the Woods. Dude is doing just fine.) He is through. I don't think that means we'll have a substantive discussion about gun control on American Idol, but I can hope.
Tomorrow we return to two hours! I'll have what Jenn Blosil is having.